I recently came across a funny photo on the Internet of a cat facing a basket of expensive toys. It was looking for the one treasured toy that had cost his owners nothing.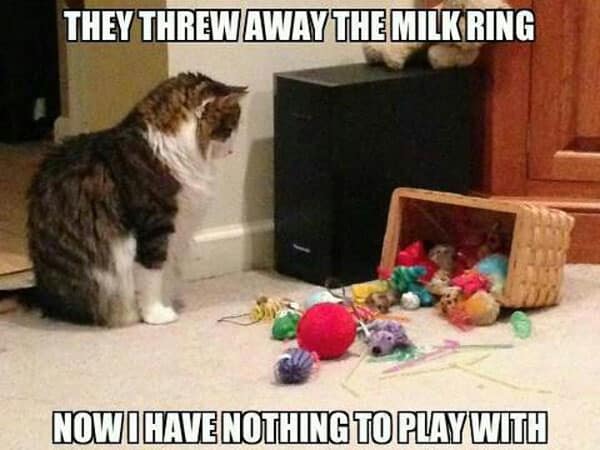 So true! Simple things like drinking straws, milk jug rings, paper wads, and pom poms become their prize possessions.
Tucked beside my mom's refrigerator is a yellow wooden yardstick. It sees a lot of use, but not as a typical measuring device — it is a retrieval apparatus to gather cat toys from under kitchen appliances.
What strikes me is how nearly every cat in my mom's house will come running to the kitchen when they hear that yardstick tap the linoleum floor. They know that it marks retrieval time, and they must observe.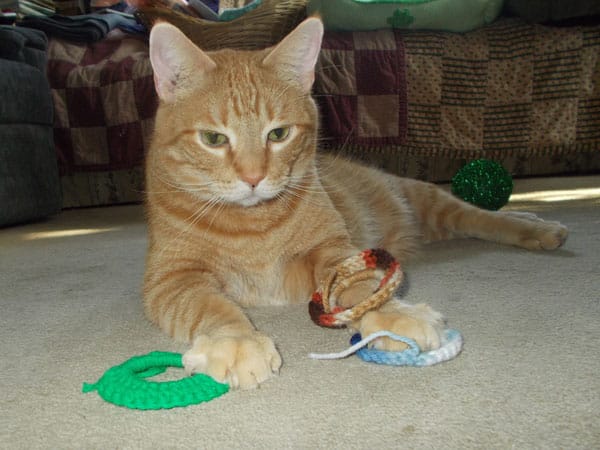 I find it highly entertaining to embark on the retrieval process with a flashlight, lying on the floor shining under the cabinet, the yardstick in my hand. I rest on my knees and have to put my head on the floor to see what I'm searching for. When I look up, observing cats surround me ÔÇô- most of my mom's cats are black. Some of them rest their chins on the floor to look underneath the cabinet with me.
They watch this process to see what toys are unearthed. Once the toys are gathered in a pile, they conduct a visual inventory.
I have heard from ferret owners that ferrets act this way with toys. They like to hide them under sofas, chairs, and beds. It seems that my mom's cats are much like ferrets. The kitchen floor linoleum adds an extra-special slippery surface for them to zip the toys with a bat of their paw into these dark, confined hiding places.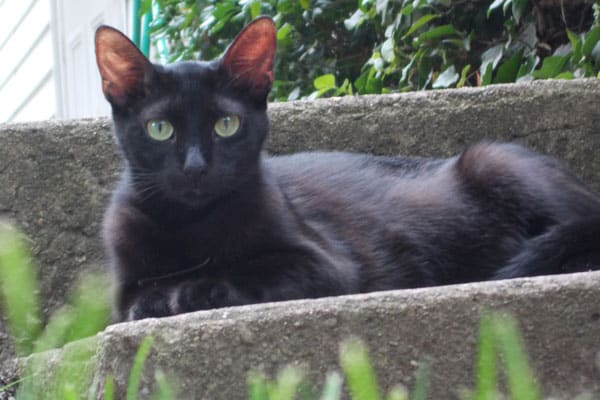 They'll flop about on the floor trying to reach under cabinets and appliances with their front paws to get to the toys. When they no longer can retrieve a toy, they find another toy to hoard in the same place. This game can last for hours.
Some of the notorious toys they prefer to hide include plastic spoons, straws, one-inch sparkly craft pom poms, felt or cloth mice, rubber balls, and milk jug rings. Snap a ring off and drop it onto the linoleum, and cats rush in from unknown places.
Several years ago on Christmas Day, my mom told me that she had heard something hard being batted around on the kitchen floor early in the morning. She also noted that a new plastic apple-coring device had vanished. I embarked on an expedition to find it.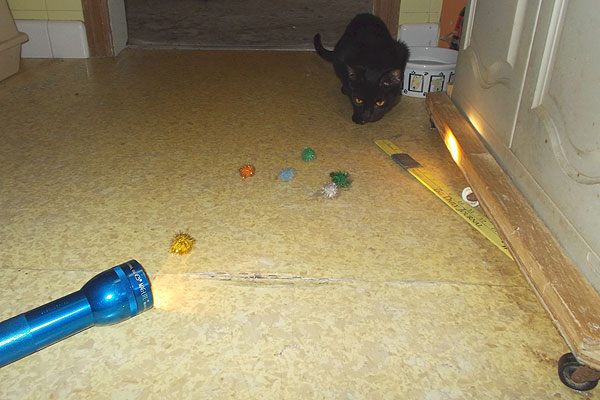 I found it under the kitchen storage cabinet, along with 15 sparkly poms and several stuffed mice toys. I brought the stash into the living room and left it in a pile on the floor. Multiple cats followed me and sorted through the treasures, taking each item back to the kitchen and sliding it back under the cabinet. My mom and I laughed at them while preparing dinner.
One of her black cats, Iris, has a fetish for these sparkly poms. They fit just right in her tiny mouth. She is one of the primary hoarding culprits. I watched and laughed one evening as Iris carried a stash of poms, one by one, from the dining room to the kitchen cabinet, and batted them under. Red pom, green pom, orange pom — she continued until her mission was complete.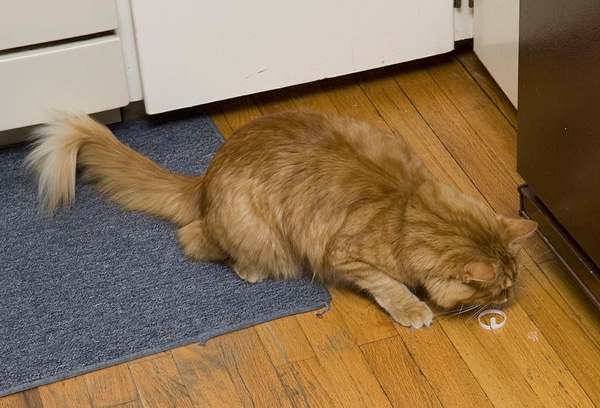 As I observed the cat's love of these little poms, I started buying the poms in packages and mailing them to cat owners I know. They were a hit with cats who also embarked on hoarding crusades. My mom and I also crochet around the plastic milk jug rings, leaving a tail of yarn to make the toys a bit more enticing.
My latest toy search happened by chance. My mom needed me to vacuum under her refrigerator. While doing so, not only did I find enough fur and dust to create a life-size rabbit, I started sucking up treasures. I paused to extract evidence from the fuzz: two plastic spoons with long handles, one drinking straw, six felt mice toys, six pom poms, and 12 plastic milk jug rings — and there were more rings still under there. I took the bounty to the living room and placed it in the middle of the floor.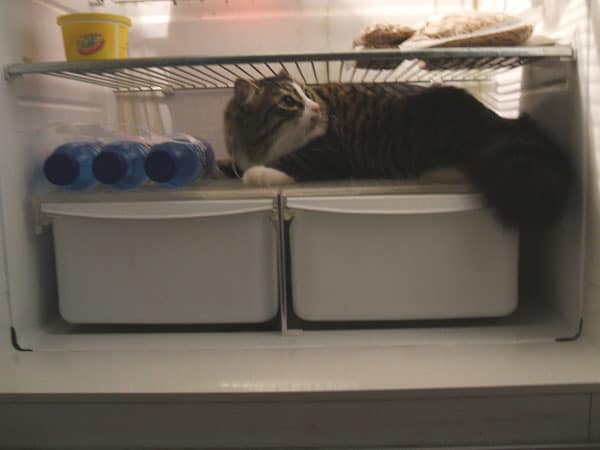 That evening, Iris sat and picked up each item in her mouth, testing them to see if they were satisfactory. Hours later, every treasure was gone, taken back to secret feline hiding places.
That's why you'll often see me on my knees at my parent's house, with a yardstick in one hand and a flashlight in the other — I'm on a search-and-rescue mission to make the felines happy.
Cat with too many toys by Shutterstock
Read more about cat toys — and things that aren't supposed to be cat toys at all:
Laugh with us: