Editor's note: Have you seen the new Catster print magazine in stores? Or in the waiting area of your vet's office? This article appeared in our March/April. 2017 issue. Click here to subscribe to Catster and get the bimonthly magazine delivered to your home.
Our vets tell us that dental disease is the most common health problem that cats face. Here is information telling you what to expect, signs that things are going wrong, and what you can do to help your cat's teeth and gums stay healthy.
Your cat's dental routine
Brush your cat's teeth at least several times a week, preferably daily.
First, get him used to you touching his teeth with some flavoring on your fingertip like tuna.
When he's ready, use a cloth or feline toothbrush.
Have your vet check his teeth annually to see if he needs a full cleaning.
Did you know?
Periodontal disease is one of the most common dental conditions in cats.
By the time your cat is 3, he will probably have some sign of periodontal disease.
Most dental disease occurs where you can't see it — under the gum line.
Signs of oral and dental disease
Bad breath
Sensitive to mouth being touched
Loose teeth
Swelling around the mouth
Discolored teeth covered in tartar
Drooling
Dropping food from the mouth
Bleeding from the mouth
Loss of appetite
Loss of weight
Irritable behavior
Pawing at the mouth
Refusing dry food, only eating wet food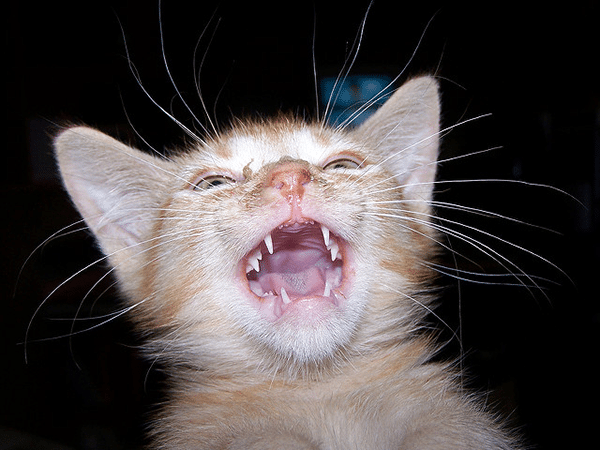 Teeth through the years
Kittens are born toothless.
All 22 baby teeth should be present at 6 weeks.
All 30 adult teeth should be present at 6 months.
By the numbers
Average Nationwide Pet Insurance claim for:
Pet teeth cleaning: $177
Tooth-related disease: $214
Amount spent by Nationwide members on pet dental conditions in 2015: $13.8 million
SOURCES: Nationwide Pet Insurance, American Veterinary Medical Association, Dr. Arnold Plotnick