Growing up I remember being a fan of the Sammy Hagar song "I Can't Drive 55." Of course, then Sammy joined Van Halen and ruined them. When I sat down to interview National Hot Rod Association (NHRA) champion driver Ashley Force Hood, it made me think of that old Sammy Hagar song — but if Ashley was singing it, it would be called "I Can't Drive 255"!
Ashley is the oldest of three Force sisters, who are all NHRA drivers. She has a love affair with cars, to be sure, but what many don't know is that she also has a lifetime love affair with cats. I talked to Ashley about life in the fast lane with cars and cats.
Catster: When did you get your first cat?
Ashley Force Hood: We actually got our first cat when I was six or seven, and over the years we have had several cats, as our neighbor bred them. We all loved animals. One of us was always rescuing some little kind of bird we found.
Can you remember all your cats' names?
Taffy, Caramel, Licorice, Licorice #2, Coco, Caramel Corn, Sierra, Snowy, Timber, Simba, and Gizmo. Simba (silver and white) and Gizmo (brown and black) are my current cats.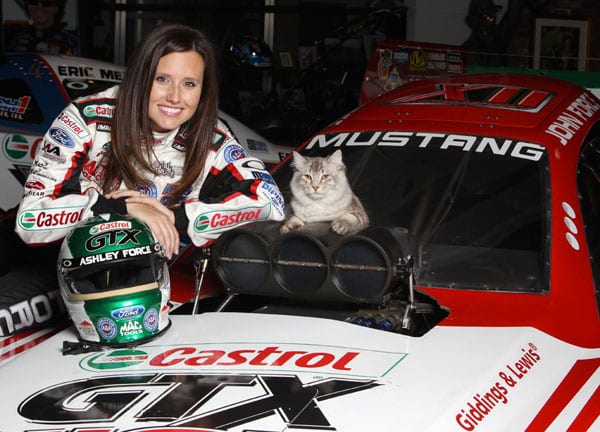 Gizmo? So how big of a Gremlins fan were you?
Actually my husband was the Gremlins fan as he got me the cat and named him. I had seen the movie, but I'm not much of a scary movie fan [laughs]. But if you saw my cat, especially when Gizmo was a kitten, he had the huge ears and this little face same color, so we were definitely like, he is a Gizmo.
How long have you had Simba and Gizmo? What are they like to live with?
Simba was a birthday gift to me from my husband the year we got married in 2008, and then we got Gizmo the following year so Simba would have a buddy. Both Simba and Gizmo are American Bobtails.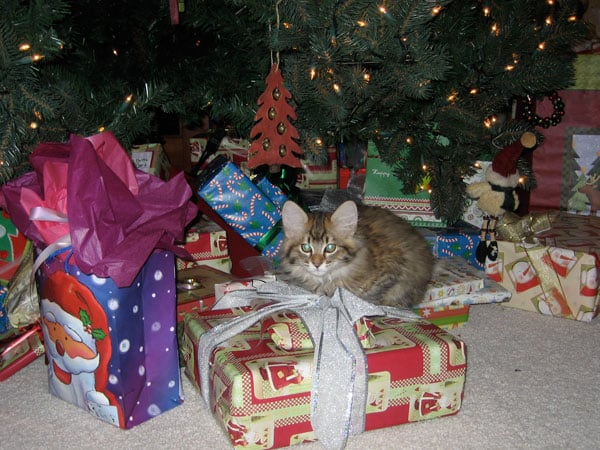 We have had several kinds of cats over the years, but what I like most about the American Bobtails is they are so beautiful, very personable, and good around kids. At the time I had a little niece and we knew there were going to be kids around so after researching cat breeds we knew the American Bobtails would be good with kids.
Our cats want to be on your neck when you wake up in the morning. They will push your face with their faces. It's the most adorable thing. I've never had a cat that is as personable as Simba, almost too much, as you're like, "I need my space, you're in my bubble." He so wants to be near you.
Gizmo is a little more crazy. He just wants to run around and be a cat. Sometimes he will come over to you but he is definitely more of the crazy one. It's amazing that they are both American Bobtails, because personality-wise they couldn't be more different.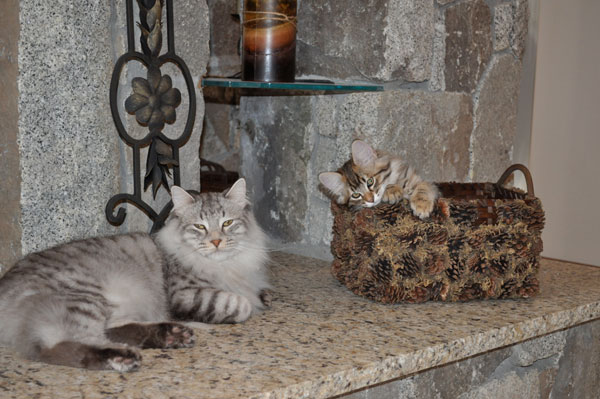 Is there a funny or cute story about Simba and Gizmo you can share with us?
I'm not actively competing right now, as we have two young sons. But when I was on the circuit we were traveling a lot and would take the cats on the road with us. During the summer we had a lot of races on the West Coast so we would rent an RV and all pile into it.
Being on the road with them was a lot of fun. However, one time were at a race in Seattle and we had our RV set up with all of the other racers. Gizmo somehow got out and under the trailer. We were really close to the track, and it would have been really bad if Gizmo had gotten onto the track as the cars are going 320 miles per hour.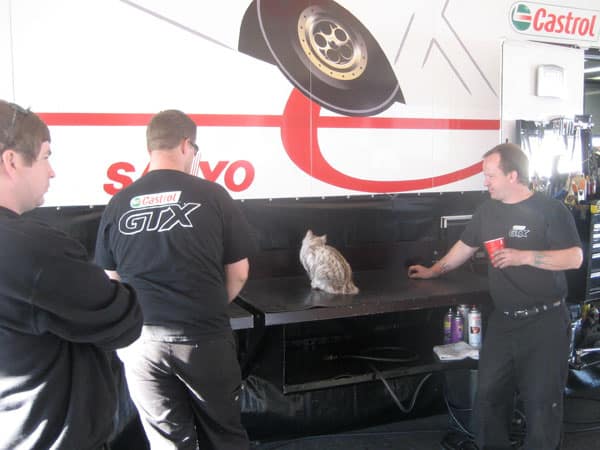 We had all the racers and their wives trying to get under the trailer to get Gizmo out, and he kept going from underneath one trailer to the next — having the time of his life being chased, of course. We finally got him and put him back in the RV, and we're like, "Okay, we have to be careful with this door!"
So what's the fastest you have ever driven with cats on board?
Sorry to disappoint, but probably just out there on the freeway in the RV, driving whatever the speed limit is on the highway [laughs].
Do the cats travel well?
In the desert there's this one area that has all these windy roads. Gizmo handled it fine but Simba would get car sick. Of course, it would always happen in the middle of winter, so there we were at a rest stop in the freezing cold, having to hose down the RV. Simba would always get sick over the same two miles of highway. We tried everything to avoid it. We tried going through the area fast, slow, stopping halfway, nothing worked.
Wait, you drive 320 miles per hour and you have a cat who is getting car sick at 60 m.p.h.?
Yes, I know it's pretty funny!
Why cats?
With our lifestyle and being on the road constantly, the commitment of a dog isn't ideal. Having cats really fits our lifestyle. Now that we have kids, adding a dog down the road is something we would like to do.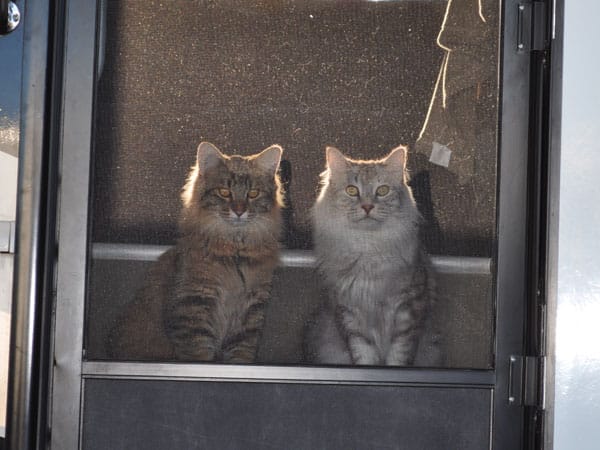 Having two little kids, how do the cats get along with them?
My two-and-a-half-year-old absolutely loves the cats, and Simba loves all the attention. I have to watch my son Jacob with them as he will get a little rough with them, but Simba could care less even if his tail is being pulled, as he just loves the attention.
Gizmo, though, will just go and hide somewhere, as he doesn't want the attention. Jacob just wants to pick them up and squeeze them and carry them around. Simba just lays there and takes it all happy as could be.
What's the toughest part about leaving your cats at home when you travel?
You always miss them. I'm just happy they have each other. We do have a woman who comes in to check on them, takes them out to play a little, but she is only there for a limited amount of time. You just feel bad leaving them.
We live in Orange County so we take them with us to the nearby races. It is a little loud for them so we don't take them out during the races, but after when everyone is servicing and working on their cars, there are a lot of fans around so we take them out.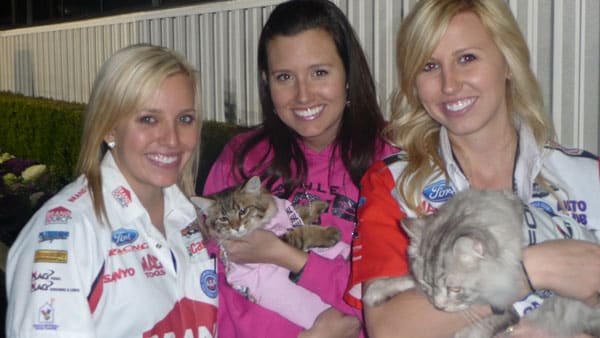 How do they respond to your fans?
I have a lot of young fans, and I swear I have gotten more attention because of the cats than anything I have done during a race. People will make poster signs for them. One time I was doing an interview on ESPN and in the crowd someone was holding up a sign that said "Simba and Gizmo." It was funny. I even briefly started a blog for them. The fans really love them.
Wow, it sounds like Simba and Gizmo have their own fan club.
I think the fans really like that I have cats. There are a lot of racers, and I think me having cats is something the fans can relate to. People will bring them little goodies and gifts, and even though they may not have a lot in common with a race-car driver, they do with someone who has cats. I have a lot of people who will bring me pictures of their cats; it's neat and interesting. You don't think of cats and puppies necessarily when you think of the drag-racing crowd, so it's something that is a little different.
It's seems like Simba and Gizmo enjoy the spotlight. Does your crew get along with them?
They love them. However, one time we were in Las Vegas, and you have these guys who are working really hard all day on the car, and I told my crew that I wanted to do a picture of all of us with the cats for my scrapbook. For the most part they were great sports. But it's the end of the day and we're in Vegas, so the last thing everyone wants to do is pose for a photo with the cats. So they were complaining a little.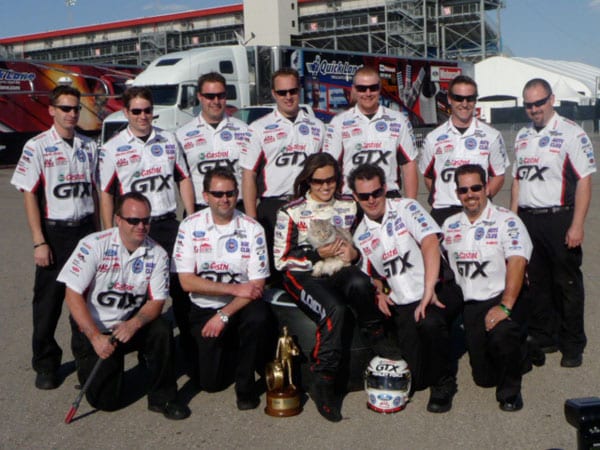 We do theme cars sometimes, and in this case, the photo was going to be put on the car, but the crew didn't know it. So while they were complaining I'm thinking, "You guys are going to feel so stupid when you see this and all of your faces are on the car."
A few months later we debuted the car and they were all shocked when they saw their faces on it. I said, "Remember when you were all giving me a hard time about that photo?" They loved it!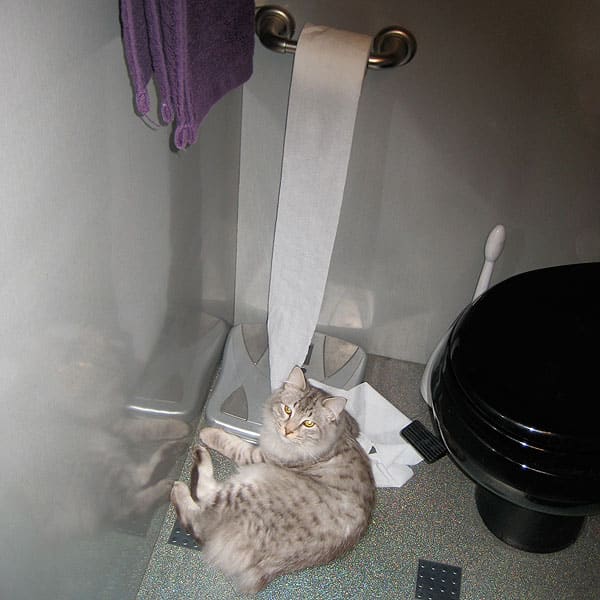 What's the best part about having cats in your life?
Well, now that I have my boys, it's seeing them interact with the cats. My boys are seeing things for the first time and every time one of the cats runs by they take a breath in out of amazement and just hold it, as if they are in awe of the cat.
To keep up with Ashley and the entire Force racing team, make sure to visit the John Force Racing website, subscribe to their YouTube channel, and follow them on Twitter. Ashley also has an Instagram page and her own website.
Read more about celebrities with cats:
Laugh with us:
About the author: Brian Fischler is a standup comedian and writer. He has been seen on The Today Show, published in Maxim Magazine as the Comedian of the Month, and on Top Gear USA on The History Channel. Along with writing for Dogster, Brian also writes for Cesar Milan's website and magazine. Brian also runs Laugh For Sight, a bicoastal comedy benefit featuring the biggest names in comedy that come together to raise money and awareness for retinal degenerative eye disease research. You can connect with Brian on Facebook and follow him on Twitter @Blindgator.