Star chef Richard Blais recently canoodled up to the Fancy Feast cat and colluded to get her to try the brand's new line of broth-based cat food. The association has cast the Top Chef: All-Stars winner and the luxuriously haired kitty as something of an odd couple — a burgeoning sitcom-styled relationship which you can witness in full in this video short.
While in New York City for promotional duties, I spoke to Richard about getting up close with the fabled Fancy Feast feline, found out what Larry David flavor cat grub is, and also asked him for a chef's expert take on exactly why cats are so seduced by gravy.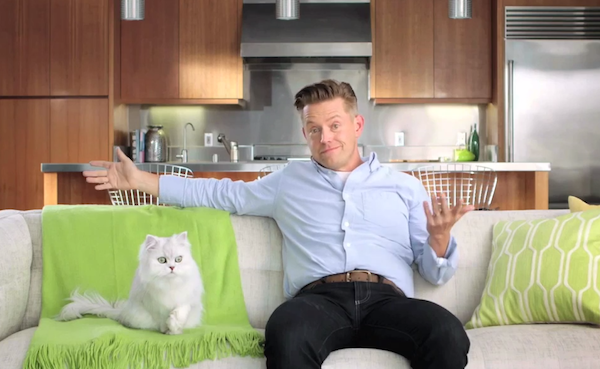 Catster: What were your first impressions of the Fancy Feast cat when you met her?
Richard Blais: The Fancy Feast cat is exactly how you might think she is — she's a little bit of a diva, to be honest, but she's adorable and she's definitely the star of the show. During the last few days here in New York City I've been hanging out with her a lot, and we kinda go back and forth between who's the real star — but more often than not it's been her. It's actually been a big ego check for me because everyone wants to meet the cat and everyone wants to take selfies with the Fancy Feast cat, and I'm off crying by myself in a corner.
Does she have a real name?
No, she's sort of just like Madonna; she's just the Fancy Feast cat. It's like Madonna or Pele — an iconic figure.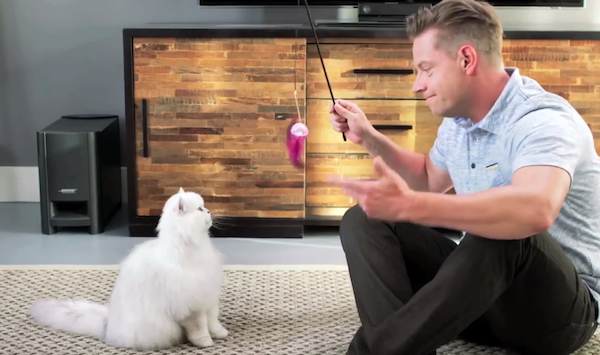 What's her personality like?
Today she was really upbeat. She's just like us — it can change from day to day. As we've gotten to know each other she's proved adorable and lovable and she definitely likes a good broth — that's what I've gotten to find out during the last few days. She's a little bit high-maintenance but she's lovable.
As a chef, do you have any theories about why cats love gravy so much?
I think that they're smarter than us in general. As a chef I always love condiments, sauces, gravies, and broths. To me, it's always the best part of a meal or the most telling part of the craft that goes into that meal; the saucier in a restaurant holds a very prestigious position. So the fact that cats enjoy sauce work so much just proves that they are possibly more intelligent than us.
Which of the new flavors do you think would best translate into a dish for humans?
I've been kinda joking around with the flavor that has whitefish and salmon — I'm calling that my Larry David flavor. Throw some capers and some red onions in there and it's sort of got this Lower East Side meets Upper West Side appeal to it as a native New Yorker like myself. So I think that's one of my favorite flavors; anything with whitefish and anchovies. But to me, I'm also comparing them to beautiful broths, and ramen is all the rage right now, so it's like cat ramen. That might be my next project — I think I need to open up a cat ramen restaurant, which would be very successful I think.
Unless it's already been done in Japan.
Oh, my goodness! [Pauses] Yeah, I've come to realize that all my good ideas have already been taken over the years.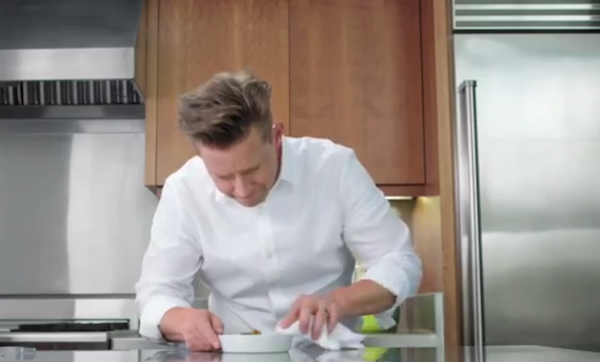 Are there any dishes at any of your restaurants that you think cats would really enjoy?
Yeah, I'm gonna hope to say all of them but my restaurant in San Diego (Juniper and Ivy) is very seafood focused — it's literally dayboat cuisine, and so maybe that's the one. But I think in general anything on the menu that has fresh seafood and fresh vegetables is something that I hope cats would enjoy in my restaurant. I've cooked for very discriminating clientele, and I can tell you that kids, bloggers, and cats have been the biggest critics of mine.
Have you ever had a customer attempt to bring a cat into one of your restaurants to dine with them?
Not knowingly! Although it's Comic-Con in San Diego, so maybe we'll have a few people show up dressed as anime cats.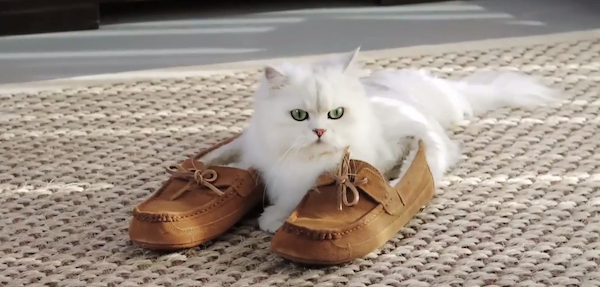 Now that you've gotten to know her, if you could take the Fancy Feast cat anywhere in the world for an upscale meal, where would you go?
I think for some reason she's just got this very fiery Spanish vibe to her, so I'm thinking a really awesome romantic getaway to Barcelona would be amazing for me and the Fancy Feast cat. I think she'd enjoy the Mediterranean scene with the fresh seafood and the spicy food, and I also think she likes eating late at night, which is very popular in Spanish culture. So, yeah, a romantic getaway to Barcelona would be great.
Where would she stand on dessert?
She'd be a big fan, I think! Anything that has a touch of cream or milk in it would be excellent for her. What cat doesn't like a milk-based dessert? And if we're in Spain it'd obviously have to be flan.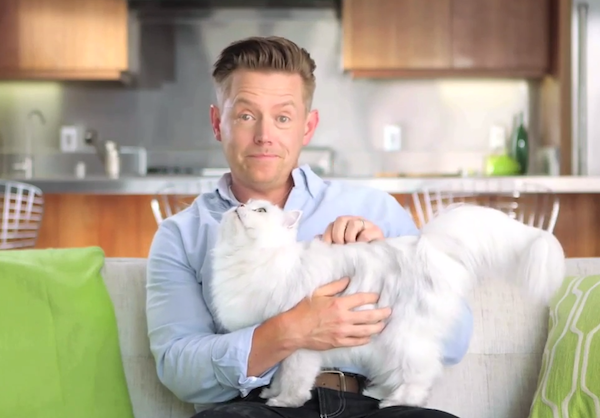 Do you have any cats yourself?
I'm in the market for some short-haired exotics. I have two young daughters who are six and three years old, and we're definitely in the market.
Could you kidnap the Fancy Feast cat for them?
Ha, it would be hard to get away with that. Although I'm sure my kids have definitely thought about it.
Check out Blais' website and Facebook page.
Learn how to live a better life with your cat on Catster:
About Phillip Mlynar: The self-appointed world's foremost expert on rappers' cats. When not penning posts on rap music, he can be found building DIY cat towers for his adopted domestic shorthair, Mimosa, and collecting Le Creuset cookware (in red). He has also invented cat sushi, but it's not quite what you think it is.