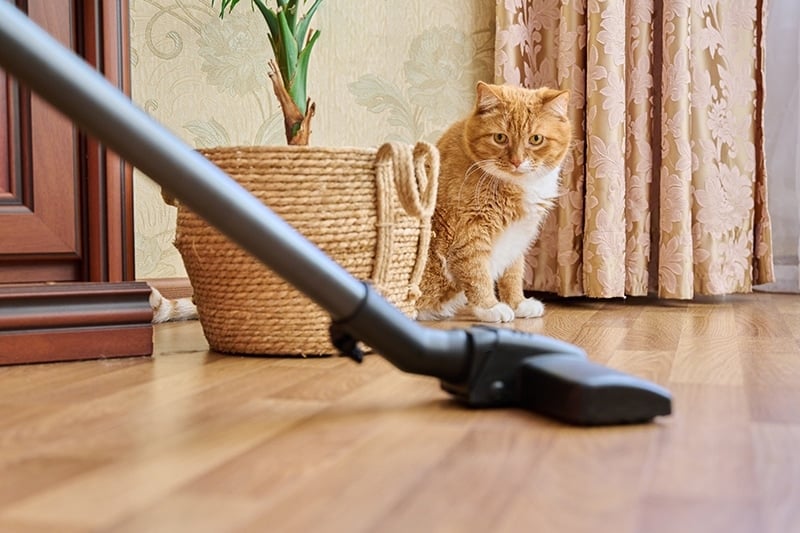 If you have cats, you're likely to have issues with your floors. Whether it's carpeting that catches every single cat hair and thrown-up hairball, wood floors that stain if your cat pees or vomits on them, or any number of other problems, keeping your floors in good shape is certainly a challenge. Here are some tips on getting the best flooring for cats:
The 6 Best Cat-Friendly Flooring Options:
1. Tiles and Stones
Tiled and stone floors are the best option when it comes to a pet-friendly floor. They're hardwearing and incredibly tough, so can cope with spilled food, litter box accidents, and the occasional scratch with ease. As an added bonus, tiles and stones are both completely water resistant, easy to clean and won't stain.
The downside is that while they're very hardwearing, they're uncomfortable. Tiles can be cold and hard, so you probably won't see your cat lying down for a rest on these surfaces. Some cats are likely to jump on the couch, but make sure that any tiled rooms also have a soft and cozy bed for your cat to relax in as well.
Of course, the perfect solution is to install radiant underfloor heating at the same time. If you do, then that combination is pure luxury but also easy to look after! And you might find your cat sprawled out on the warm floor in utter bliss.
---
2. Poured and Sealed Concrete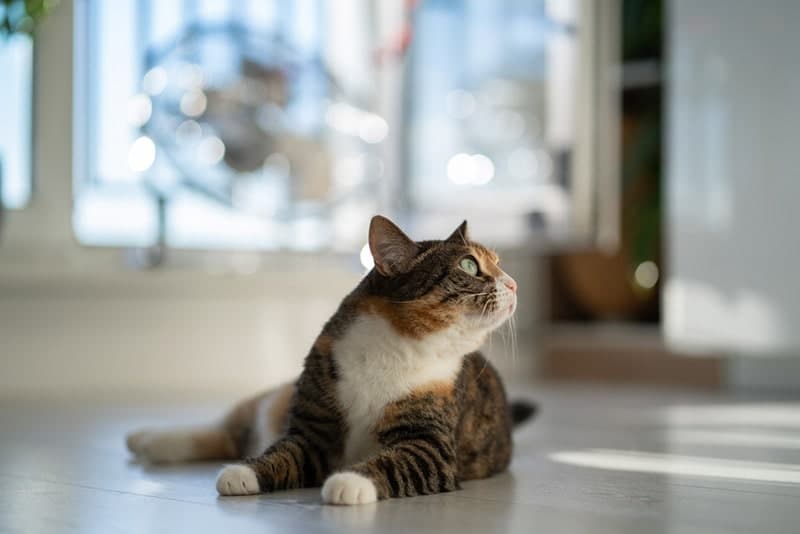 Poured concrete is hardwearing and can easily resist scratches and stains, as long as it's been sealed correctly. It can look amazing in an industrial-inspired space, although in a home with a softer vibe, it can look a little harsh. Adding soft beds and rugs for your cats to sit on is a great idea, as is installing underfloor heating if that's within the budget.
---
3. Luxury Vinyl Flooring
Vinyl flooring has come a long way in recent years, and modern vinyl flooring can be found as luxury vinyl planks (LVP) and luxury vinyl tiles (LVT). They can be manufactured to look like hardwood, stone, or tiles, but vinyl is softer for your cat's paws, and kinder to your budget than the genuine article.
Vinyl is very durable, so can be a great option in high-traffic areas like kitchens and hallways. Most options are scratch-resistant, and some are completely waterproof, too. It's also very easy to look after, and is pleasingly soft to walk on.
---
4. Cork
Cork is a natural wood product, which gives it the bonus that it's also antimicrobial. That means it can help keep your home free from germs, which is always useful when you have pets running around the place. Cork is also soft and warm underfoot, so your cats will definitely appreciate the comfort it offers.
Cork isn't completely scratch-resistant, so under heavy use it can get slightly damaged. While it's water-resistant, it's not completely waterproof so if your cat does have an accident by the litter tray, or tip over their water bowl, be sure to clean it up sooner rather than later.
The slightly soft nature of cork means that it may become indented from pieces of very heavy furniture. When exposed to a lot of strong natural sunlight, it can also end up losing its color slightly, but that's one of the joys of a natural product.
---
5. Bamboo
Believe it or not, bamboo is an extremely durable and pet-friendly flooring option. It's extremely strong once it's been shaped into planks, as well as being an eco-friendly option. As a natural product (bamboo is grass, not wood) it can get scratched if you've got particularly energetic cats who do a lot of running around, but on the whole it's hardwearing for regular use.
Bamboo flooring is water-resistant, but not entirely waterproof. So, be sure to catch any spills and clean them up as soon as possible. Bamboo planks are available in all kinds of colors and designs, too, so you're bound to find one to suit your style. It is quite an expensive option, but once installed will last for years.
---
6. Laminate
Laminate has been around for years and years, so it's a durable choice that's not going out of fashion any time soon. Laminate keeps on improving in terms of appearance, so you can choose from a wide range of textures and patterns.
Laminate is stain-resistant and super easy to clean as a result, but it can be a little slippery for those pet paws. If you can, select a textured laminate that will give your cats little purchase and grip. Laminate floors can scratch, but due to the nature of the material, the scratches are less noticeable than for some other options.
Laminate is a great budget-friendly option as well, so if you're looking to re-floor a large area then it's a great choice.
Tips For Choosing Flooring for Cats
Carpets and cats don't mix
If you have carpets, you already know why I'm recommending this. I don't know about you, but my carpets have endured just about every kind of cat mess possible. Carpet is very difficult to clean, especially if your cat urinates on it, because the urine goes through all the layers of the carpet and sometimes even into the underlayment and floorboards beneath. This makes the smell almost impossible to remove.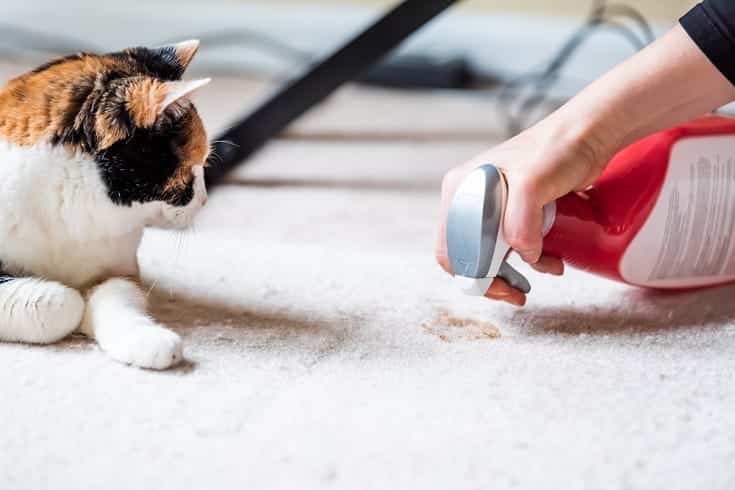 ---
Avoid porous flooring if you have cats
Hardwood floors are beautiful, and they're very popular for that reason. The trouble with hardwoods is that they are porous, and if a cat urinates or vomits on them, it will leave a stain that's almost impossible to remove. Add to that the fact that if there are any gaps between the floorboards, the urine or vomit will sink into the cracks and stay there until you remove the flooring.
---
Use area rugs that can be easily washed
If you need carpeting for noise abatement or comfort purposes, use area rugs that you can easily toss in the washing machine. Carpet tiles are another good option because you can easily replace soiled tiles before any liquids soak through to the flooring beneath.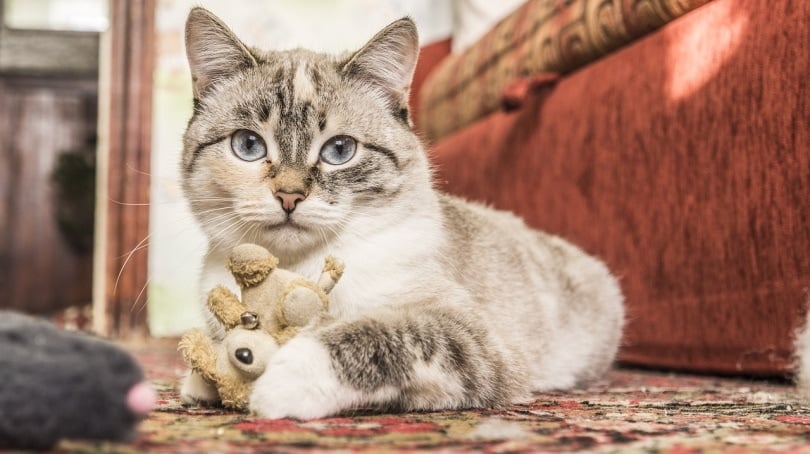 ---
Invest in litter and food mats
If you don't want your cats tracking kitty litter all over your house, invest in some good-size litter mats — at least a foot longer and 6 inches wider than your litter box. Also use inexpensive, easy-to-wash, 3-by-5-foot throw rugs as litter mats. Put mats under your cat's food and water dishes to avoid problems from spills there, too.
---
Flat flooring is best if you have cats
Any time you can use a flooring material that doesn't have cracks or crevices, you'll have better results. Some of those choices include poured concrete (this must be sealed, otherwise you'll have a porous floor that will trap odors and liquids), terrazzo, and even vinyl/linoleum.
Read more about cats and home decor on Catster.com:
---
Featured Image Credit: VH-studio, Shutterstock