Editor's note: This story originally appeared in the September/October 2015 issue of Catster print magazine. Click here to subscribe to Catster magazine.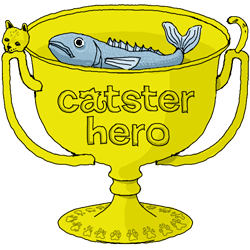 A playful, wide-eyed puff of a cat, Emilio looks like a miniature Siamese mixed with an Angora rabbit. Every day, he goes to the office with his human, where his duties include playing with toys and being the most adorable receptionist anyone could hope to hire.
Watching Emilio run and play, his disability comes as an afterthought. Born with a deformed pelvis, Emilio has required mobility assistance since he was a kitten. That's where Eddie's Wheels stepped in. The Massachusetts-based company has been making wheelchairs for cats and dogs for 25 years, allowing pets like Emilio to thrive in spite of disability or disease.
Not that Emilio wastes any time on self-pity.
"Dogs and cats don't feel sorry for themselves," said Leslie Grinnell, who owns the company with her husband, Eddie. "They just get on with it. That's a great lesson I've learned from the animals – they accept themselves as they are each day."
Leslie and Eddie made their first mobility assistance cart for their pet dog who woke up paralyzed one morning. Their vet suggested euthanasia, but Leslie couldn't bring herself to accept that solution. That's when Eddie, who worked as an engineer, figured out how to build a wheelchair for an 80-pound Doberman – no easy task in pre-Internet days.
A lack of visibility online also meant that most people had never seen a disabled dog. After Eddie built the cart, Leslie took their pup for walks, and many curious strangers approached her.
"At that point, people thought we were crazy," Leslie said. "But every day that I walked her in her cart, someone would stop and ask me about [it] and tell me with tears in their eyes about the animal they had to euthanize because it couldn't walk. We learned pretty early on that this was not an uncommon experience."
Leslie soon discovered that cats also needed their help – though, being cats, they're more likely to resist the cart than dogs. That's why Eddie's feline design includes a harness that pulls on the scruff of a cat's neck "like a mother cat does," Leslie explained. "Once they realize they're standing up and can move around, they're good with it."
Managing human expectations can be even more challenging than navigating feline fortitude. Leslie often finds herself explaining the difference between disease and disability, noting that disability is usually static, while disease gets either better or worse. Instead of selling wheelchairs, Leslie's main goal when working with her clients is "guiding them toward a humane solution for their animal."
More often than not, Eddie's Wheels is able to help pet owners "make lemonade out of the lemons" by allowing their beloved cat or dog to regain mobility. "The worst thing that can happen to an animal is to be ignored or cast away because he fails to meet some sort of physical standard," Leslie said. "My feeling is that as long as your animal is emotionally responsive, we are happy to do whatever we can to improve his quality of life."
In addition to Eddie's Wheels, Barbara Parkes at K-9 Karts in Washington has been building animal carts since she came to the United States from Scotland in 1961. She has no doubt that cats can thrive in wheelchairs. One of her clients, a cat named Scooter, happily used his cart for more than 13 years. "He was amazing," Parkes said. "His owner used to send me videos of him, especially at Christmastime, when she'd give him a roll of toilet paper, and he'd chase it around the room."
Parkes' main issue: Many vets don't recommend a wheelchair soon enough. She points out that a lot of animals only use the cart for a short while before they return to walking, so it's important to keep their muscles strong. And, the sooner an animal is introduced to a cart, the sooner he will adjust to using it. "We have a wonderful cat in Russia who got a cart as a kitten, and he was just batting a ball around, racing all over the floor," Parkes said. "They go back to their normal playfulness." Here's a video of that kitten, Dodoshka:
Even if an animal returns to walking after using a wheelchair, Parkes recommends keeping the cart on hand for any future mobility problems. "It's like using crutches," she said. "If you have a bad knee, you'll use the crutches as long as you need to; then you'll put the crutches away. If you get a twinge one day or you take a wrong step and it hurts again – well, out come the crutches again."
Through her four decades of experience, Parkes has learned that cats can live happily in carts – they just need the opportunity and a helping hand. "It's great to help all these different animals and realize you're giving them mobility back," she said. "It's amazing what you can do in a cart."
For more information, visit the Eddie's Wheels website and its Facebook page. See videos of dogs in wheelchairs from Eddie's Wheels on YouTube. Also visit the website of K-9Carts, the pet mobility resource center, or its Facebook page or YouTube channel. Visit K-9 Carts on Twitter.
Do you know of a rescue hero — cat, human, or group — we should profile on Catster? Write us at catsterheroes@catster.com.
About Angela: This not-crazy-at-all cat lady loves to lint-roll her favorite dress and go out dancing. She also frequents the gym, the vegan coffee joint, and the warm patch of sunlight on the living room floor. She enjoys a good cat rescue story about kindness and decency overcoming the odds, and she's an enthusiastic recipient of headbutts and purrs from her two cats, Bubba Lee Kinsey and Phoenix.