Bifford is the only cat in the family to enjoy out-of-state road trips. He flirts with the staff at his veterinarian's office and is his family's most successful mouse hunter among the other cats — and two dogs — he lives with. Last year, Bifford ran for president, on a platform of adoption advocacy, specifically focused on special-needs pets.
He also has cerebellar hypoplasia — a congenital neurological condition sometimes called "wobbly cat syndrome"— in which the part of the brain that controls balance, coordination and fine motor skills doesn't develop. But don't tell Bifford that — he doesn't know. And it sure wouldn't stop him.
Bifford lives with Suzi Langer and her husband Michael in Ohio. Six years ago, an acquaintance of Suzi's, who works in cat rescue, called her hoping she would agree to foster a CH cat who was not doing well amidst the chaos of the shelter.
"Just until he found his forever home," Suzi says. But the moment she met him, Suzi says, "he stole my heart," and it didn't take long before Michael agreed that "Bifford's forever home was with us."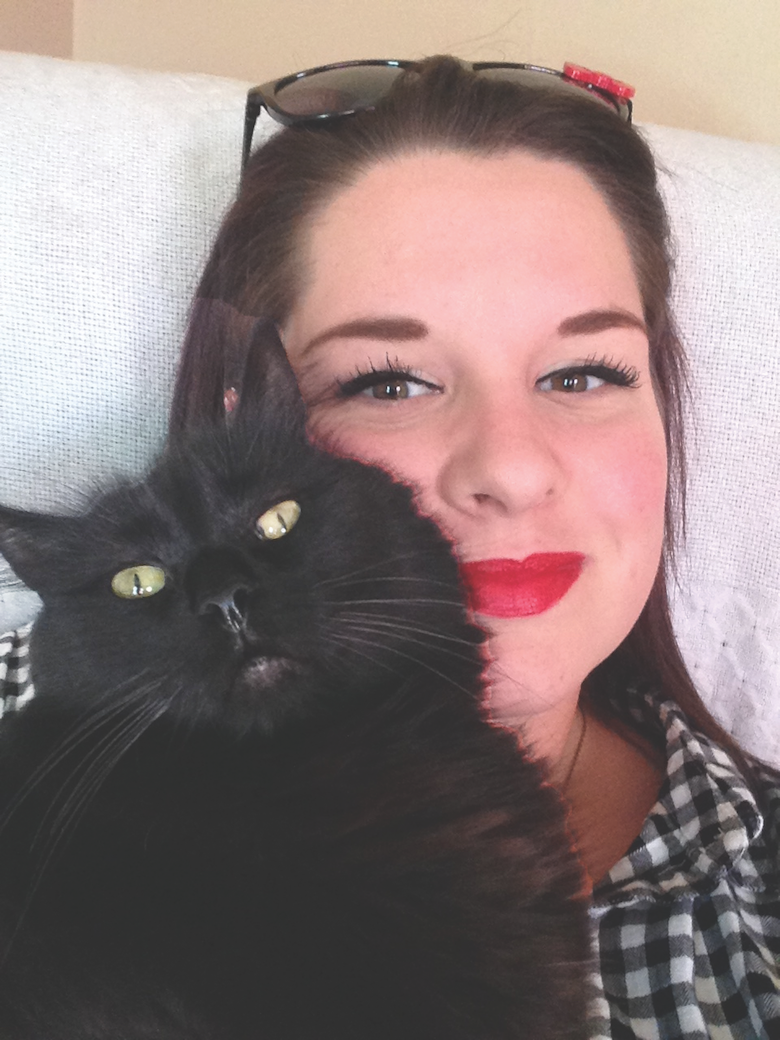 Life with a CH cat
Neither Suzi nor her husband had experience with CH cats, so she researched the syndrome and joined online forums to connect with other parents of wobbly pets. Mostly, says Suzi, "I learned about cerebellar hypoplasia cats from my on-the-job training with Bifford." To her surprise, there wasn't that much to taking care of a cat like Bifford. "Imagine someone had too much to drink and gets a little tipsy," she says. He stumbles and staggers and sometimes falls over. The only major accommodation Suzi and Michael have had to make for Bifford was to fashion a more stable litter box out of a plastic tub for their unsteady cat — so he wouldn't accidentally knock it over.
When people meet Bifford, "at first they feel sorry for him," says Suzi, "because they think he's suffering, or they're worried that he's contagious." She'll explain that her cat was born with cerebellar hypoplasia, and he's not in pain. Then Bifford turns on the charm, and soon it becomes clear that he's one happy feline.
With his outsized personality, it's no wonder Bifford has a social media presence with a website URL to match his ambitions: presidentbifford.com. Suzi created the site in 2014 after a trying visit to a local veterinarian, when the staff misunderstood her reason for bringing in a cat with obvious neurological issues; they thought she was there to euthanize him. "I was appalled!" she says. When a technician misinterpreted her response as a financial concern and offered the service as a courtesy, Suzi reacted with some not-safe-for-this-magazine words that she's not proud of and took Bifford to another vet.
Once she cooled down, it became clear to her that "there are still veterinarians and support staff that aren't well-informed about cerebellar hypoplasia pets." Now with Bifford's help and his online presence, she works to increase awareness of the adoptability of special-needs kitties she refers to as "handicats."
A feline role model
Suzi describes Bifford as a model of tenacity and resilience, never seeming to let his frequent falls and continual clumsiness cloud his sunny disposition. She attributes his friendliness to the fact that he's learned to be fearless in the face of so many challenges. Suzi herself has had to resist the urge to "bubble wrap" her klutzy kitty and, instead, to let him gain confidence by picking himself back up after he takes a spill. Suzi believes Bifford doesn't know he's different than the other "kids."
Bifford inspired Suzi to become a veterinary technician. Her experience with him taught her to encourage her patients to tap into their own courage and pluck.
To Bifford, his wobble is normal, and he's learned to navigate through life by adapting to it. Of course, that doesn't stop Suzi and Michael from spoiling him. The cat holds court in his own room in their home — complete with a television that Michael bought Bifford for his birthday, which is usually tuned to Amazon's Cat TV.
"There are tons of cats and dogs at shelters that you could adopt," Suzi says. "Cute varieties of every flavor." But it's harder for a black cat like Bifford, who comes with challenges, to find a forever home. Grateful that she was given the opportunity to foster Bifford — and thus get to know his "gifts" — Suzi encourages others to take a chance on cats in shelters who have disabilities or who don't seem outwardly friendly. Like Bifford, they could be overwhelmed by their circumstances. It may just turn out that the cat who seems flawed at first is actually just the opposite: absolutely purrfect.
Read Next: 8 Political Campaign Slogans That Cats Would Write