Many great artists produce cat-inspired designs, but none have ever caught my attention as much as Colorado artist Sara Wagner. She painstakingly handcrafts beautiful, tiny cat sculptures with incredible small detail and imagination, and will often blend her felines with mythical creatures like unicorns or dragons or make cat-human and cat-caterpillar hybrids. The results are simply magical.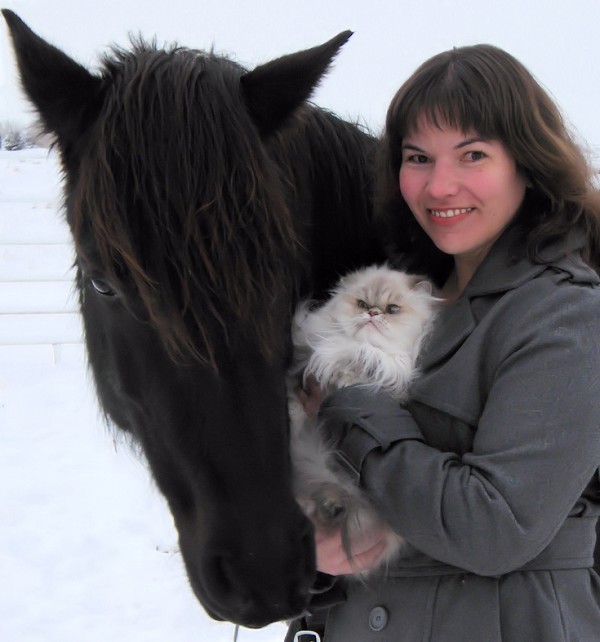 I caught up with Sara to have a little chat about her handiwork.
Catster: Apart from cats, what is your biggest inspiration and who is your favorite artist?
Sara Wagner: My favorite artist would have to be Leonardo da Vinci. He was much more than an artist. He was a great mind. An inventor. And he was dyslexic, like me, so I can relate to him. Furthermore, he said, "The smallest feline is a masterpiece."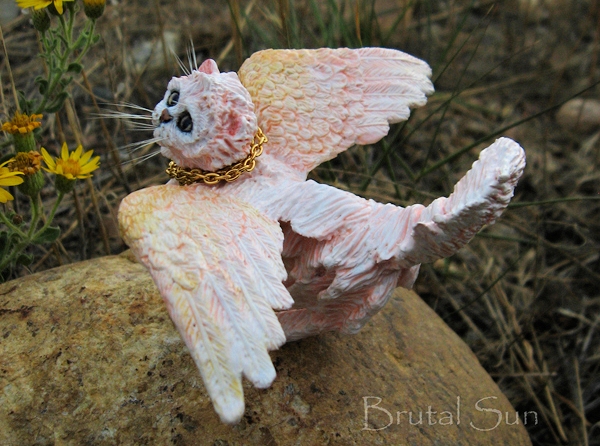 As for inspiration, some of it comes from pop culture and movies. Some comes from classic storytelling. Some from my love of space and science. But I'd have to say a great deal comes from my environment. For example, I can't not notice my neighbor's pig these days. It oinks at me every time I go outside. What if I sculpted a cat with a pig's body? How funny would that be? Seriously, how many of us have cats that are basically pigs?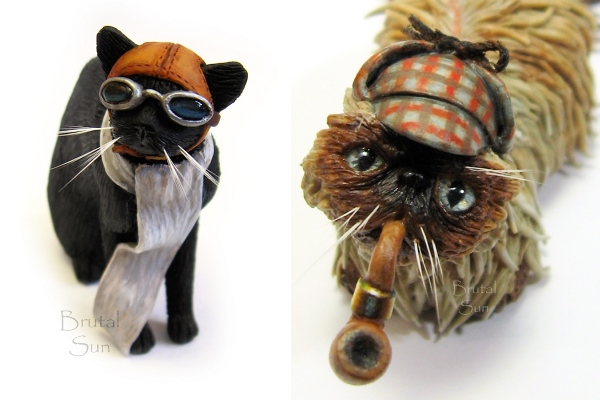 Ha ha, you have a point there, Sara! When did you start creating, and did you go to art school or are you self-taught?
I started when I realized crayons tasted like crap, and that they were better utilized for coloring my mother's furniture! When I was 11 and living in Costa Rica, where I spent a chunk of my childhood, my father hired an art tutor for about a year. Eventually, I took a smattering of art classes throughout high school and college. But that was all flat painting and drawing. A few years ago I was into customizing dolls, which involved sewing and repainting the dolls' faces. But sculpting? That didn't really start that until last year. The sculpting stuff is all self-taught.
Wow, that is cool. It sure looks like you have been doing it a lot longer. What is your favorite piece of work that you created yourself and why?
That's a tough one, and it could change with the next sculpture. But if I had to choose, I'd say Arabian Nights. Simply because she was so much fun to make. I felt like I was making a miniature float for the Rose Parade.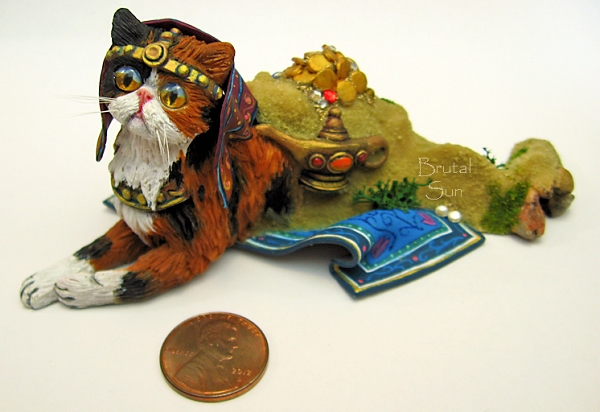 How long does it take to make one of your sculptures?
That depends on the complexity. My simple sleeping cats usually average eight hours. My more complex ones have taken more than 40 hours. Realistic eyes, dynamic poses (where I have to sculpt legs), wings, tongues, teeth, detailed paint jobs, or other details all add time to the project.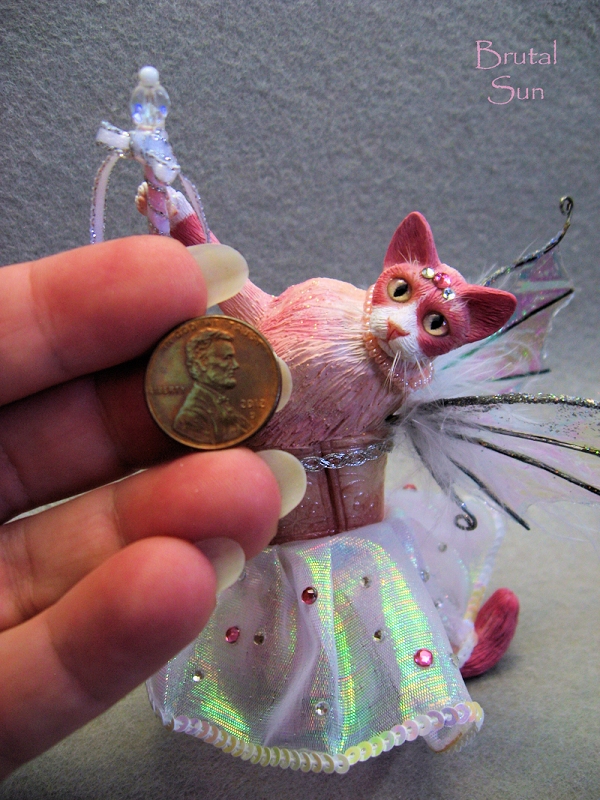 What do you do in life when you are not sculpting/creating?
Lately I've been riding my horses when the weather is nice. I have a young horse that needs mileage. When the weather is bad, I enjoy playing video games like Skyrim and Assassin's Creed with my lynx-point Himalayan, Lali. She likes to perch on the back of the couch when I'm gaming and let me know how much I suck at dominating virtual worlds, and that my time would be better spent feeding her.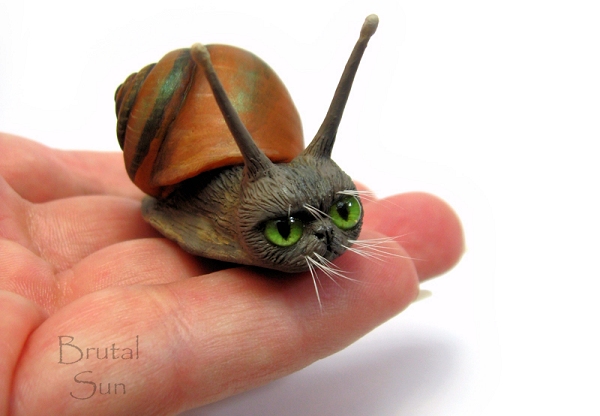 That's so typical cat — Lali sure knows who owns whom. What new things are you working on at the moment, and what have you got planned in future?
Right now I'm finishing up Jupiter from my series of solar system cats. He has the Galilean moons orbiting his tail. There will be more solar system cats after him, all the way to the theoretical planet Tyche.
In between the solar system cats, I'm thinking about a dressage queen cat. Maybe a rodeo queen cat. Those would be a hoot and a holler. Maybe that pig cat I mentioned earlier. I'd also like to do a carousel cat, inspired by the lead horse on the Disneyland carousel. Oh, and I have this cyborg cat with a sad face that is almost finished, with electronic-looking eyes and everything. And goodness, for all I know, I could think of something tonight that has to be started tomorrow. I like to permit myself a little randomness. It's more fun that way!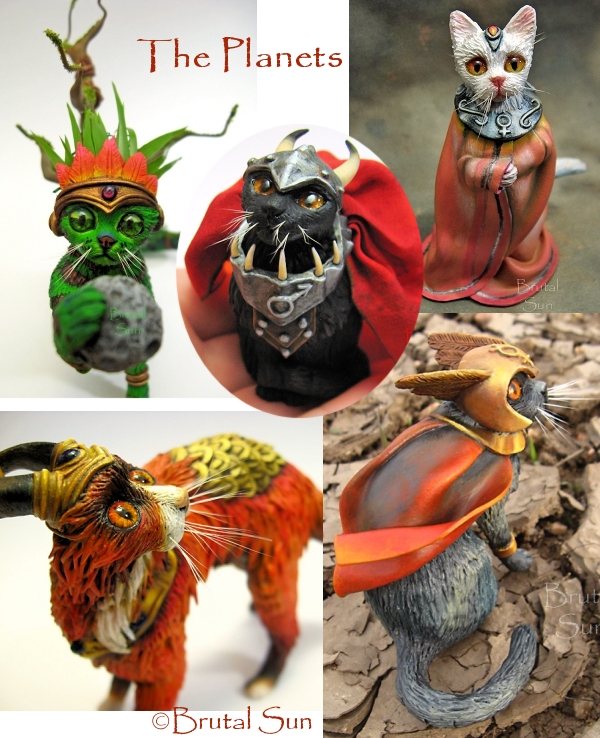 Indeed it is! And a cyborg cat? Can't wait to see that one! Any tips for aspiring artists?
Yes. First off, use a lot of reference pictures, and put in the time in to get things right. Humans are bad at producing good expression and anatomy based on memory alone. Even if the style is whimsical or exaggerated, art has more visual power if there is a certain truthfulness about it.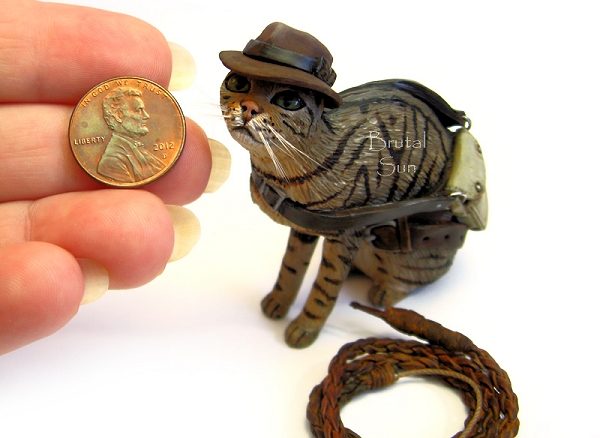 Secondly, be prepared to sell a lot of work cheap, at first. This will sound brutal, but art isn't worth the artist's time plus materials. It's worth what collectors will pay for it. Before a collector will pay a lot for a particular artist's work, they will typically need to have had a few wonderful business transactions with that artist. Beginning artists often price their work too high. No one knows them, so no one buys from them. And as a result, they never become known.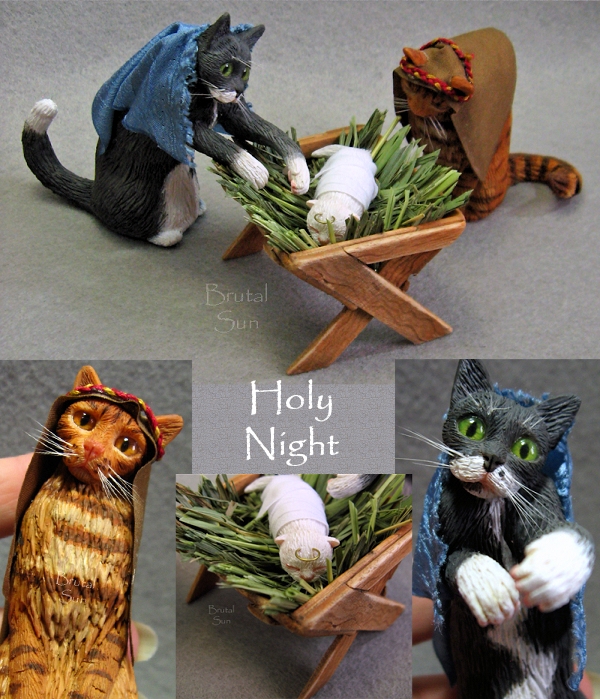 Where do you sell your creations?
Mostly on eBay these days. Some of my sculptures are snapped up and sold within minutes, which always surprises me. The best way to own one of my creations is to visit my website Brutal Sun (www.brutalsun.com) and join my first-to-know list. The second I have something available for purchase, I send the necessary info to this list.
What other sites and social media can we find you on?
I try to keep my Facebook page an interesting place to check out on a regular basis. It's kind of like my artistic journal, where I may share what I'm doing that day and why. This and eBay are where you can find out about my latest creations for sale. And you can follow me on Twitter, or visit me on DeviantArt and Pinterest and, of course, on my website.
Laugh with us:
About the Author: Barbarella Buchner — Ailurophile. Geeky Goth Girl. Photographer. Web Designer. Fibromyalgia + RA Sufferer. And totally mad! She originally hails from Hannover (Germany), then moved to London, and since 2004 has lived on the tropical island of Lanzarote, together with her tabby twins Lugosi & Spider, and ginger queen Ruby Akasha. Apart from being an avid hobby — and sometimes even paid! — photographer, she works as a freelance web and graphic designer and occasional Catster contributor. She designed and maintains her local cat charity 9 Lives Lanzarote's website.