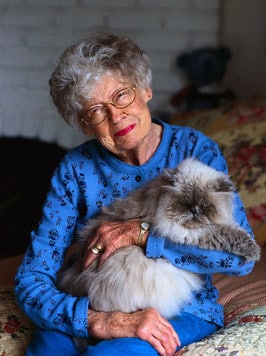 One item on many a New Year's Resolution list is to lower cholesterol. To that end, some will stuff themselves with bran; some will take the RX route and go on Lipitor or a similar drug. Neither is very fun, and drugs do have side effects.
A less conventional solution is to get a cat.
American Health Association and Center for Disease Control studies indicate that pets can decrease blood pressure, cholesterol and feelings of loneliness.
Pet owners have lower triglyceride and cholesterol levels than non-owners. One study showed that keeping a pet significantly reduced levels of cholesterol and blood trigylceride. This fact, combined with the reduction in blood pressure from being with a pet, may make pet owners less prone to heart attacks than non pet-owners.9
In addition, pet owners have better physical health due to exercise with their pets, and have better psychological well-being – purrhaps belying that "Crazy Cat Lady" moniker.10

9 WP Anderson, CM Reid, GLR Gennings: Pet ownership and risk factors for cardiovascular disease, Medical Journal of Australia, 1992
10 James Serpell PhD: Beneficial effects of pet ownership on some aspects of human health & behaviour, Journal of Royal Science of Medicine, Volume 84, December 1991