As I walk into the Best Little Cat House in PA, a cat sanctuary and hospice in the Appalachian Mountains northeast of Harrisburg, numerous resting felines perk up to greet me.
There's Charlie, a brown tabby with cerebellar hypoplasia, a brain condition resulting from a cerebellum that is not fully formed. He struggles to walk, but gives it an eager yet stumbling try.
"C'mon! C'mon!" Charlie is urged by Lynn Stitt, who founded the facility in 1980.
Charlie manages a brief, roly-poly, crablike walk before flopping down.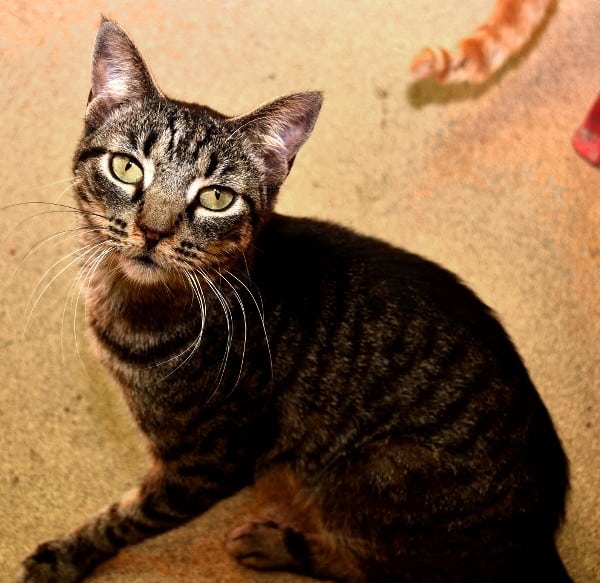 Nearby lies Suzy Q, another hypoplasia patient who spends most of her time in bed. And there's Victoria, a sweet black cat who has advanced diabetes. Joe, a Siamese, has a crippling bone disease. Friendly Clinton, an orange-and-white tabby, has kidney failure.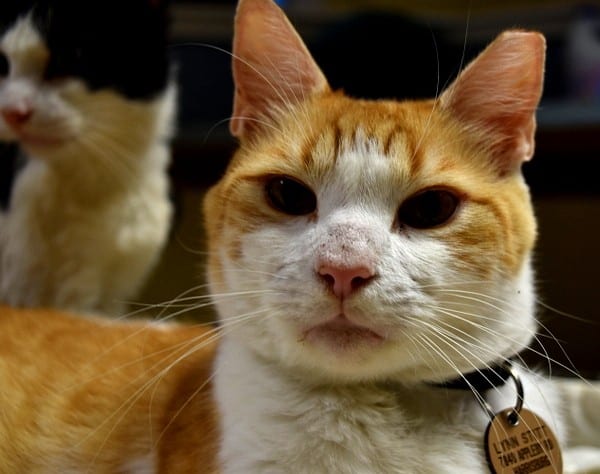 Most of the approximately 80 cats in the facility have a sad fate in common: They will die soon, probably within one to three years if not sooner. Many face terminal conditions such as feline leukemia. Others whose conditions are not fatal — such as the cats with cerebellar hypoplasia or others with the feline immunodeficiency virus — would face euthanasia or long odds at finding permanent homes because of a combination of their age and the severity of their individual cases. Most of the cats are old, but many litters of kittens with the feline leukemia virus come here, too.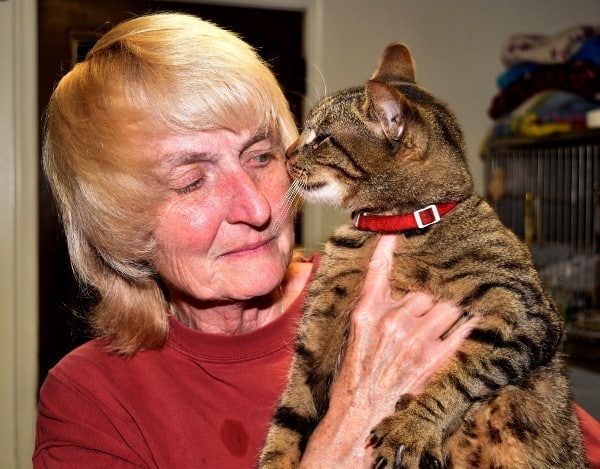 The nature of this compassionate business is unpredictable, says Stitt, 64.
"If you said, 'Who's going to die next?' I couldn't tell you," she says.
Stitt, who calls herself "the head can-opener," lives in the quirky, playful house that includes an eye-catching geodesic dome – a dome covered in little triangular shapes, like a miniature Epcot Center. She and her ex-husband built it more than three decades ago.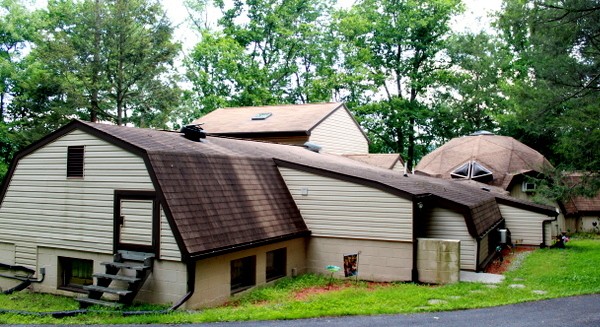 Stitt's room is tucked into a secluded corner of the house. Of course, a few cats always make it onto her bed. Usually, at least one or two people work at the house at a given time. Yet Stitt, who starts working as early as 4 a.m., sometimes is there alone.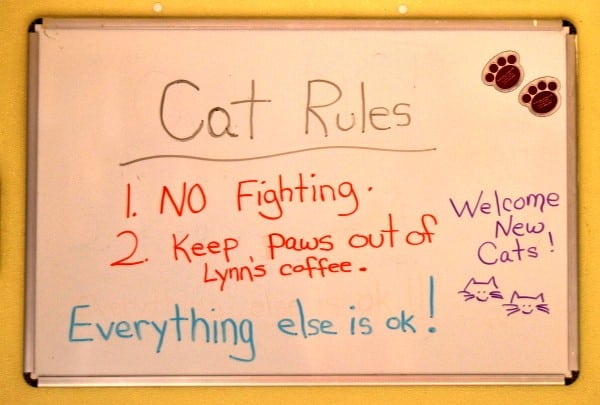 The Best Little Cat House in PA, a 501(c)3 nonprofit organization, serves strictly as a hospice rather than a shelter for big-hearted people who want to adopt and love a special-needs cat. Most of the cats come from shelters that would have euthanized them. The house initially got its animals from rescue groups and shelters in Pennsylvania, New Jersey, and New York. But as word about Stitt's organization has spread, some kitties are coming from farther away.
"These cats are here for the rest of their lives," Stitt says. "The shelters just can't keep them."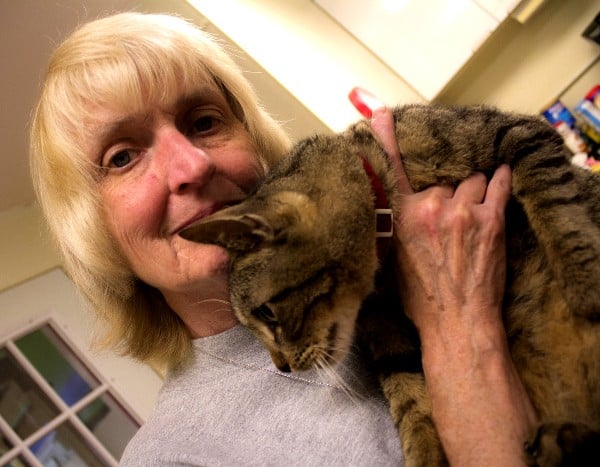 The Best Little Cat House in PA also gets some cats via owner surrenders, from people who can't or won't care for their sick, aging cats.
"It's not 'Till death do us part of natural causes,'" Stitt says about some people's commitment to their pets.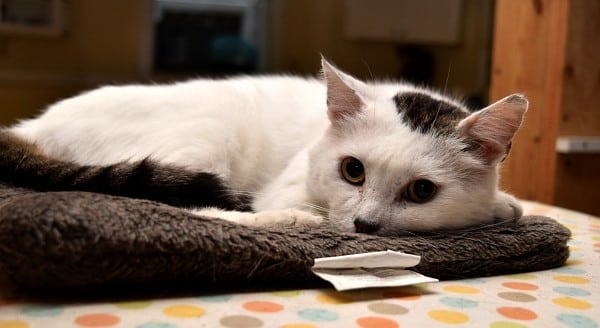 The organization doesn't charge people who bring cats, but expenses can be significant, says Stitt, who depends on donations. The house is usually at its 80-cat capacity, divided into a contagious and noncontagious side of the house. Stitt often takes a handful of new cats a month, depending on how many cats she loses.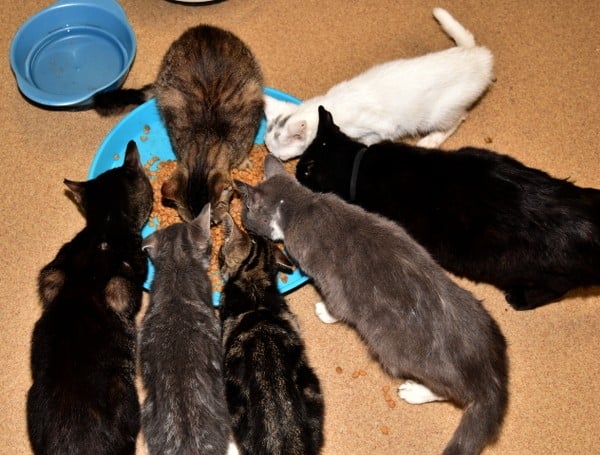 With death a part of everyday life, space continually opens up for new cats to spend their final days. Stitt goes through especially sad days when two or three cats die, but an occasional month will pass by with no deaths.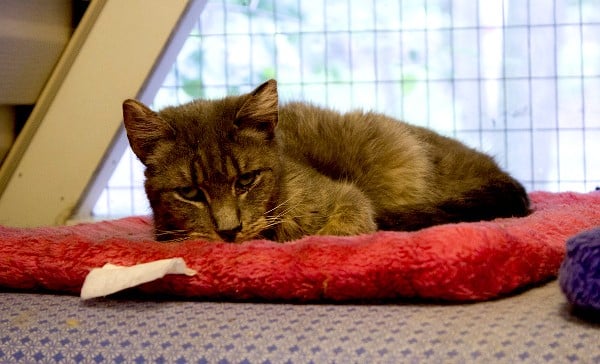 This is a sad reality to work and live with every day. After years of playing this role, Stitt says, one becomes accustomed to it. She focuses on the good of providing dying cats care and comfort.
"You know when they come in they're going to die," she says. "It's just a matter of time."
Carrie Weber, who works as a police officer, is one of about a dozen core volunteers. She says she focuses on life rather than death: "Here, they have whatever God-given life they have."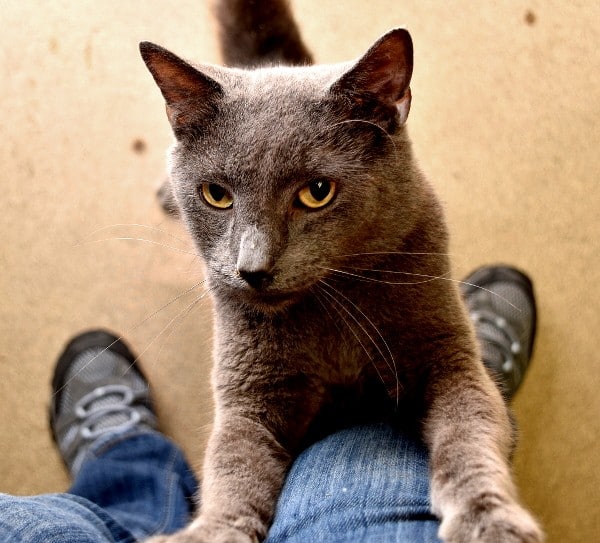 After the hypoplasia cats greet us in the entry, I walk into the area where most of the cats rest and mingle. I expected meows — but what was that "Oink?"
I meet Sir Lance-a-Lot and Max, two pigs who live in the house and hang out with the kitties. Sir Lance-a- Lot is especially enamored with the cats, who often pile up to sleep on him.
"All he wants to do — all day long, his entire day — is, 'What can I do to help the cats?'" Stitt says.
A noticeable part of the kitty housing complex is The Dome, a whimsical igloo that houses cats with FIV or FeLV. The big room is adjacent to a playhouse and enclosed porch, where the cats can get some stimulation and sun.
A staircase takes us to the upper floor of The Dome, where a catwalk beam stretches leftward across the open space to a little kitty loft-style bedroom. To the right is the door to the kitten room.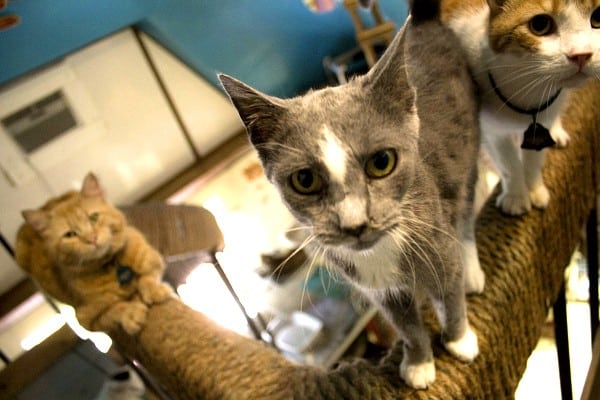 A kitten room. At a hospice. The thought breaks my heart.
We walk in and a tiny orange tabby about six weeks old meows and wants to be held. He is from one of two litters with two moms. On this day, 10 kittens were there. The mothers and their babies had FeLV, a fatal diagnosis.
I cupped this sweet, nameless kitten in my hands and gave him comforting pets. I felt so sad that he would have such a short life, but I felt grateful he was here rather than on the street.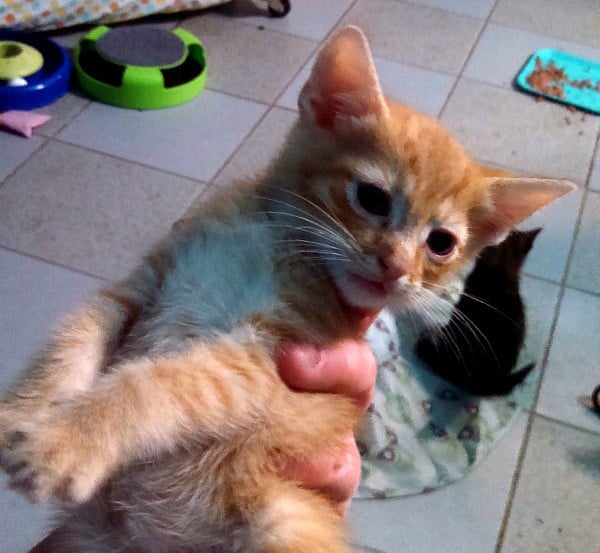 A few weeks later, when I called to touch base with Stitt, I asked how the little orange fellow was doing. Was he still alive, I hoped?
I learned the baby already was gone.
For people who want to help, Stitt says there is no such things as a small donation, because even $5 can buy a big bag of cat litter.
To learn more about The Best Little Cat House in PA and how to donate, visit its website.