When it comes to cuddling, cats (just like humans) have preferences that fall all over the spectrum. Some cats need cuddles like they need air, while others just need space. I happen to share my home with two cats who are at complete opposite ends of the cuddle scale.
My older kitty, Ghost Cat, is an absolute cuddle fiend, and has been since we adopted her when she was 11 months old. Our girl Specter, on the other hand, came home with us when she was just a wee kitten. We cuddled her all the time, but eventually she decided she was (mostly) too cool for non-cat cuddles. I respect Speck's need for space and independence, but I wonder why doesn't she cuddle with my husband and me the way Ghosty does. It must be her nature, because she was definitely nurtured by a clan of cuddlers.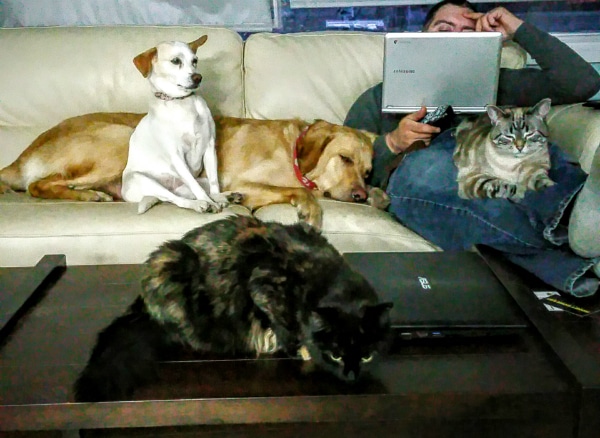 Specter was essentially raised by my husband, Ghost Cat, and myself. She was just a tiny fluff of fur when she came home with us. All three of us coddled her and babied her long past her being an actual baby (Ghost Cat even let this non-biological kitten pretend to breastfeed — something that still happens occasionally these days, even though Specter is now bigger than Ghost Cat).
Ghost Cat seemed to be a major influence on tiny Specter in the early days. It seemed like Ghost Cat's cuddle style (in which she needs to be on a person as often as possible, even at the most inconvenient times) was rubbing off on the younger cat.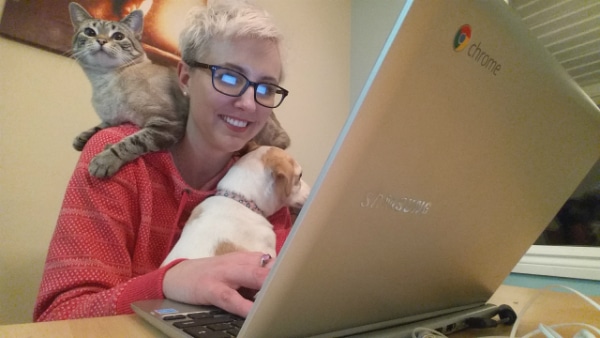 Speck would copy Ghost Cat and come cuddle with me on the couch, or climb up onto my shoulders or into my lap when I sat down to drink my morning coffee. She would do the same to my husband, but we could tell she loved Ghost Cat the most. Poor Ghosty could not get a moment away from the little kitten. Little Speck just seemed to love snuggling with her adopted cat mom, and when our dogs moved in, Speck took to them too (especially our smaller pup, Marshmallow).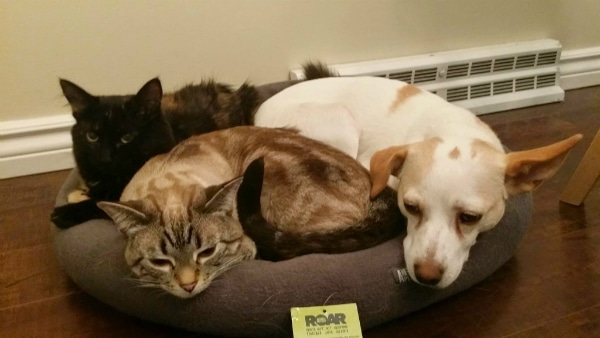 Now a year old, Specter rarely cuddles with the dogs, or us, anymore. She still likes to cuddle with Ghost Cat, but she's become a much more independent kitty and doesn't need to follow or copy Ghosty as much as she used to. Speck's often content to go sit in the sun room by herself, whereas Ghost Cat is happiest when she's sitting directly on a human (she especially enjoys my husband's legs).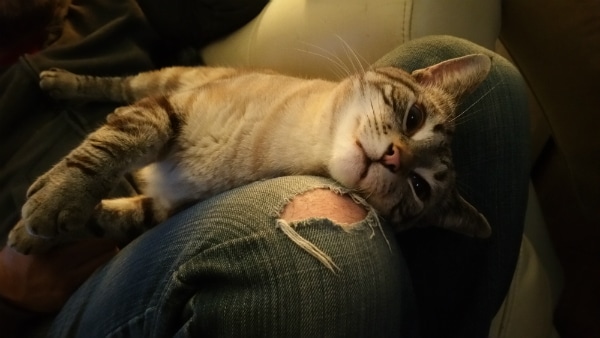 It's not that Speck doesn't want to be with us humans at all — she still follows me around and mews up at me for treats and chin scratches — it's just that she has a different way of being with us.
Take nap time, for example. If I go lay down on my bed during the day, both the cats will definitely follow me to the bedroom. The difference is, Ghost Cat will find a way to get her body as tangled up with mine as possible, burrowing under the blanket, while Specter will chill by herself near the foot of the mattress. She'll purr contentedly, even though we're not in a full-body contact cuddle.
She also likes to come sit with me during my morning coffee time — although she now sits on the table instead of on my lap the way she used to. I think Specter likes to be close to those who love her without being smothered by affection, while Ghost Cat needs constant physical affection the way an addict needs drugs.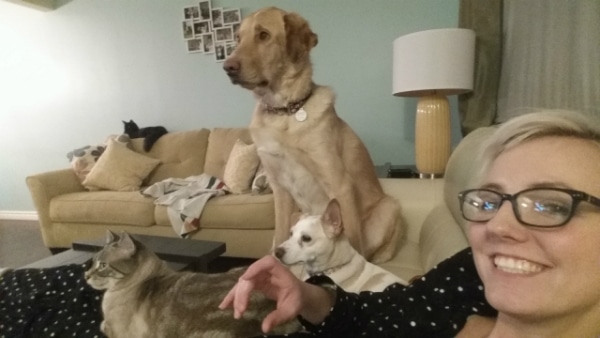 I think Ghost Cat's need for me has kind of made me take her affection for granted. I mean, she's sitting on me all the time, so I have no problem kicking her off of me so that I can get up and go to the bathroom, or make a coffee or do whatever human things I need to do. If Ghosty jumps up on my shoulders as I'm heading out the door I will gently coax her down and promise to cuddle when I get back, but if Specter decides to sit on my lap, there's nothing that can get me to move.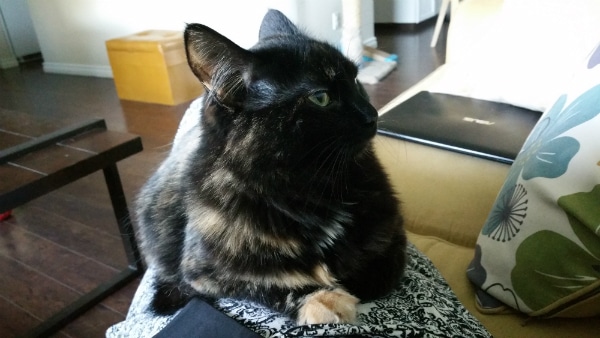 Specter's cuddles with me so rarely that now when she sits down on me, I feel compelled to let her stay in my lap for as long as she wants to be there. I bask in her affection and revel in her purrs, feeling glad that she chose me. When Speck is giving me some love I don't kick her off the way I will with Ghosty. With Ghost Cat, I know that I can get up, go do something, and come back to the same cuddle position like I never left, but Speck is different.
Nothing, not a full bladder, the doorbell, or a whistling kettle will make me kick Specter off my lap. Luckily for me, her cuddles don't last as long as Ghost Cat's do. Speck's affection is like a shooting star — it's quick and and rare and beautiful.
Does one of your cats like to cuddle more than the other? Let us know in the comments!
Read more by Heather Marcoux:
About the author: Heather Marcoux is a freelance writer in Alberta, Canada. Her beloved Ghost Cat was once her only animal, but Specter the kitten, GhostBuster the Lab and her newest dog, Marshmallow, make her fur family complete. Heather is also a wife, a bad cook and a former TV journalist. Some of her friends have hidden her feed because of an excess of cat pictures. If you don't mind cat pictures, you can follow her on Twitter; she also posts pet GIFs on Google +