We all love showing off a gazillion pictures of our cats on our phones these days. Unfortunately, many of those photos are terrible. This comes to a head during the festive season when you're guaranteed to receive at least one holiday card starring a photo of a friend or relation's cat who winds up looking like some sort of demonic-eyed monster from a horror movie.
But hold on! You don't have to be that person! With some smart insider tips from three professional cat photographers — Casey Elise Christopher, Christina Gandolfo and Andrew Marttila — here's how to pull off five slick photo scenarios with your festive feline.
The 5 Tips for Taking Holiday Pictures of Your Cat
1. How to get your cat to wear clothes or a costume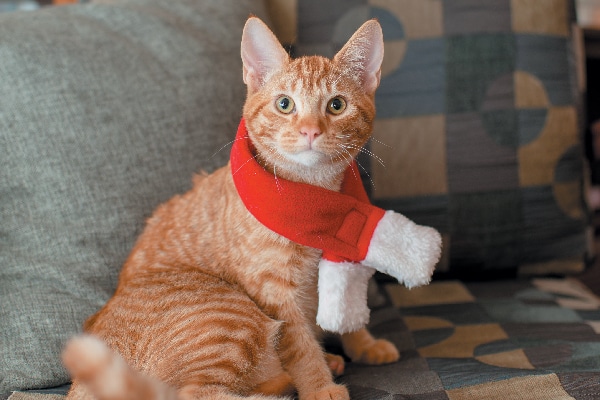 Some cats might not enjoy being dressed up — but that doesn't stop us from trying to slip them into costumes for holiday cards. If you're looking to capture a shot of your feline in an ugly sweater, Christina warns that patience is required.
She recommends a reward system — whether treats or positive reinforcement — to build up trust. "With my cats," she says, "once they understood that dressing up is not how I'm going to have to exist and it's not going to last forever, they'll tolerate some clothes." Casey says popping a hat onto your cat can be an easier way to doll her up for a photo shoot, especially if you can get her to "lie down like a loaf so the hat will stay on better."
Just remember: Whatever costume you have in mind, prepare a clean and clutter-free area in your home to take the pictures before you dress your kitty up. "You don't want to get the perfect shot of your cat in an antler hat and suddenly realize you have the bathroom with the toilet seat open in the background!" Christina says.
And never dress up a cat who doesn't like it! If you try to dress up your cat and you're getting signals that she's in distress or not liking it, stop immediately. There are tons of other tips to get cute holiday photos without costumes (see below).
2. Set your photo against a good backdrop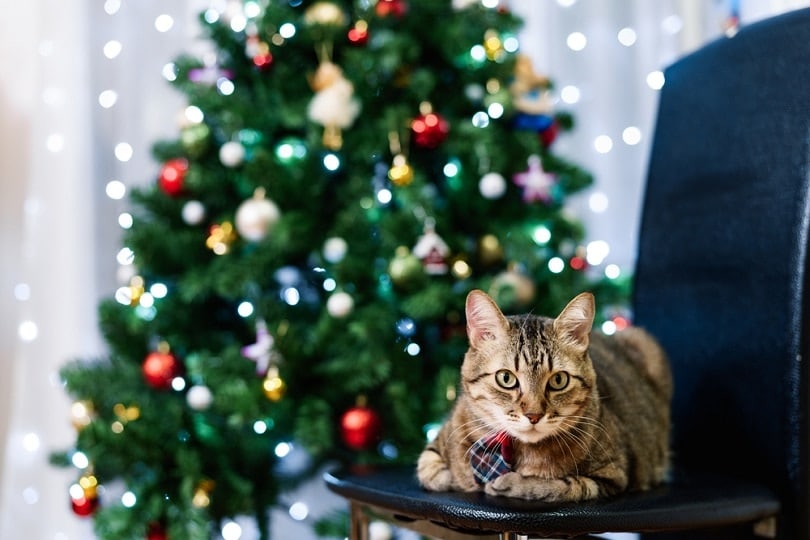 One way to avoid a cluttered background is to set up a quick backdrop. Christina recommends pinning up a colorful sheet or using foam core to create a clean setting. You could also use wrapping paper to fashion a funkier backdrop for your feline, whether you tape the paper to the wall or wrap a flat box with it.
Do consider how any color and pattern might clash with your own cat's markings. As Casey says, "A simple background makes the cat stand out more and is less distracting." When constructing a backdrop, you'll also want to make it larger than you might think you'll need. Why? As Christina says, "Once you start backing up to get your cat in frame, you might lose the edges of the backdrop."
Finally, for a pro-looking feline portrait, you'll need to get down to your cat's eye level rather than shooting from above, which can be unflattering. "That way it's easier to get the cat's facial expression and also not have your own shadow cast on them," Casey explains.
3. How to take a photo with a human and your cat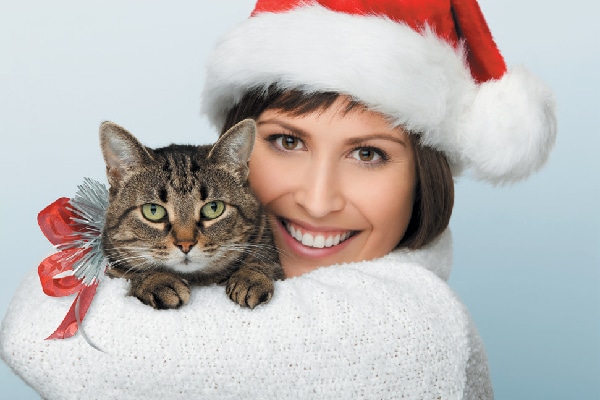 Once you've selected a clutter-free location, pulling off a human and feline photo is all about working with your cat's tolerance to being held.
Andrew recommends starting with the following tactic: "I'll do almost like a baby cradle, with your non-dominant hand under the cat's front legs and then cradle them with your dominant hand so you're hoisting them but they're well supported."
This way, he adds, "you can turn them to the camera" before capturing a family moment. Just don't forget to smile yourself.
4. Using festive props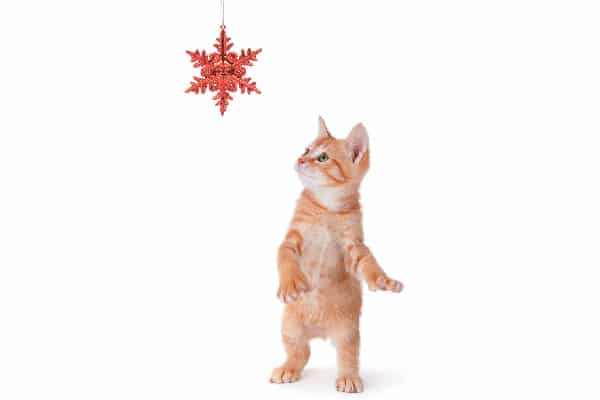 Posing your cat with a cat-safe ornament or trinket is a smart way to pull off a holiday card. "The cat will usually interact and check out a new thing on their own, especially if it's the size of a toy," Casey says. But be ready to snap quickly: As Christina points out, your kitty might become disinterested in your cherished tree ornament pretty quickly.
With any portrait of your cat, it's exceptionally important to scope out the lighting situation in your home before you create the photo. Andrew advises that flashes on camera phones can be "really harsh" and often end up "blinding the cat and washing out the photo." He recommends turning your phone's flash off and shooting by a window with natural light. "Aiming for mid-day or in the morning near a window is your best opportunity to get a well-lit photo."
5. Taking photos of two (or more!) cats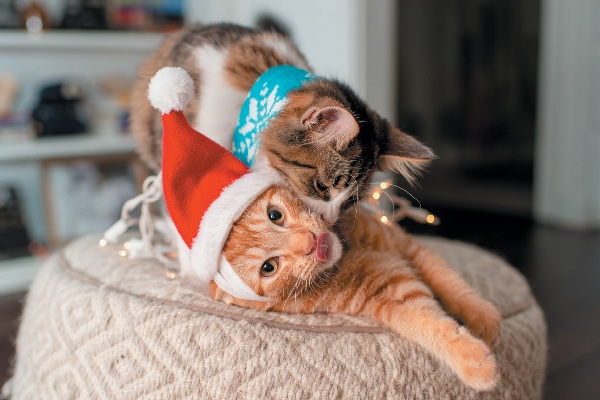 If you live in a multi-cat house, you're going to want to use a favorite plaything to make sure both cats look at the camera at the same time. Andrew puts his faith in crinkle toys: "Anything that makes sound and reflects light is really easy to draw a cat's attention with. Bring the toy behind the camera and the cat will gaze right into the lens."
You can also consider a helper when trying to capture multiple cats. "I had one shoot where the cats' foster mom stood behind me," Casey says. "The cats would rather look at her than me, so having the owner stand behind with a wand toy helped."
About the professional panel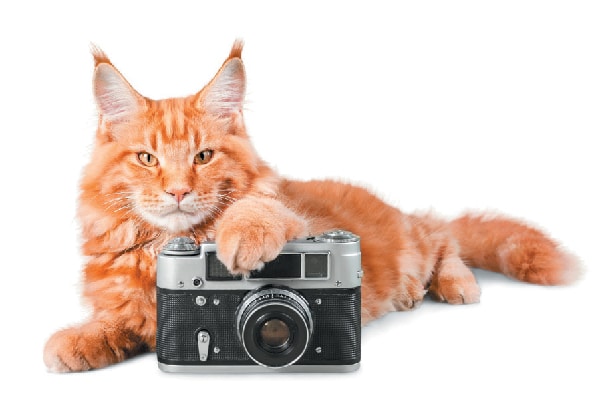 Casey Elise Christopher
Casey Elise Christopher is an animal advocate and photographer living in Los Angeles. Her passion is photographing animals to help them find a home, and she strongly believes that photography is a critical part of the adoption process. Here she is with her former foster kitten Rigby. See more at caseyelise.com.
Christina Gandolfo
Christina Gandolfo is a Los Angeles-based advertising and editorial photographer whose cat photos have appeared in such publications as Harvard Business Review, The New York Times Magazine, The Huffington Post, Los Angeles Magazine and Catster in addition to advertisements for national brands like Friskies and Mars Petcare. You can follow her work + personal photos of her three cats — Lucy, Doo & Blondie — on Instagram @gandolphoto.
Andrew Marttila
Andrew Marttila's photography depicts the lives of celebrity cats, shelter cats and house cats with intimate detail. Andrew reaches thousands of cat lovers through his social media (Instagram: @iamthegreatwent), where he documents his travels promoting shelters across the country, taking photos for clients and snuggling with his cat, Haroun. His book, Shop Cats of New York, offers a close-up look at the lives of cats living in NYC's storefronts. See more at thegreatwentphoto.com.
Read more about the holidays and cats on Catster.com:
---
Featured image credit: GolubaPhoto, Shutterstock