How Often do Young Cats Develop Diabetes?
My 1 year old cat came down with a 105 fever and seemed very disoriented. The Vet took blood work and said his gloucose level was 345 and that was high for a cat. All the other levels were normal and all negative for feline diseases.
The vet gave me special food. My cat does not seem like himself and always seems so hungry – he keeps trying to get into the coffee cake and cake.
Can diabetes come on so fast? He was happy as can be, started sneezing and has been so sick now. My vet is wonderful but I can't seem to find information about young diabetic cats.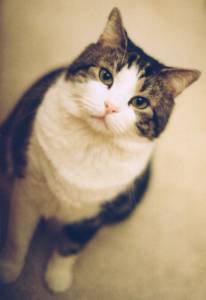 Patty
Ann Arbor, MI
Our Vet Responds
Young cats don't develop diabetes very often.
Diabetes is a disease that is characterized by chronically high blood sugar. Cats are prone to a type of diabetes that is related to obesity. It occurs most often in middle-aged cats. Feline diabetes usually is similar to type II (adult onset) diabetes in humans. Type I (juvenile onset) diabetes is uncommon in cats. One-year-old cats therefore aren't prone to diabetes.
Although your cat's blood sugar was elevated, it is not certain that he is diabetic. Stress (such as might be caused by fever and infection) also can cause temporarily high blood sugar. The first step for your cat is to cure him of the sneezing and fever (diabetes does not cause these symptoms).
Once the sneezing and fever have resolved you should have your cat's blood sugar checked again. Your vet also should test for sugar in the urine. He may want to consider running a special blood test called fructosamine as well.
Increased appetite is a symptom of diabetes, but many one-year-old cats will undergo appetite changes, unrelated to any disease, as they reach maturity.
If your cat is diabetic he probably will require insulin or oral medications that lower blood sugar. Diet change alone rarely is sufficient to treat diabetes in cats.
---
Feature Image Credit: megaflopp, Shutterstock