Editor's Note: Yesterday, Kristi shared part one of her story. Please read that before diving into this!
I landed on my back between my sofa, my kitchen table, and the glass sliding doors that were parallel to the balcony. I was paralyzed and suffering grand mal seizures that made my body jerk in painful, uncontrollable spasms. But I remained conscious, alert, and relatively calm. I knew I had to get help quickly and be very smart about how I did it.
I concentrated on conserving my energy. First, I yelled and screamed for help. I realized that while my spasming left leg was paralyzed, I had some control over my right leg. So I stretched it out to kick a kitchen chair into the sliding doors, letting it rattle long enough to raise the suspicion of my neighbors. If I threw too much of my 5'9" frame into the chair, the window might break and slice a vital artery, but I had to risk it.
Even though I was desperately scared, I never gave up or allowed the D-word to come to mind. I won't even say it now. I somehow knew that I would get through this situation, and perhaps my positivity and focus helped save me. I believe there were angels on my shoulders who saw me through those horrific twenty minutes on my living room floor — and they probably stayed with me for some time after that through my arduous recovery. All I know is I could not have survived this ordeal on my own, and Clyde's warning and presence made the difference between life and the unthinkable for me that day.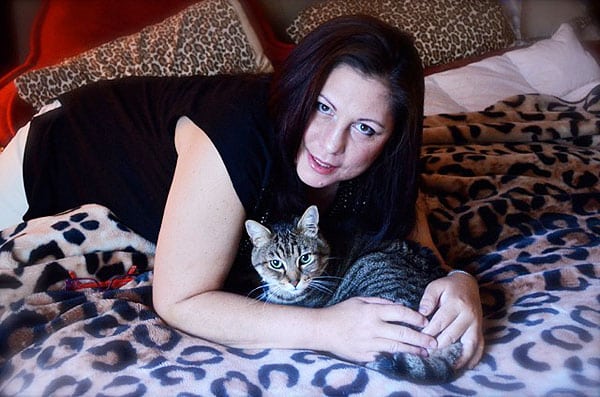 Several of my neighbors had heard the noise and called 911, so a small militia of Alameda emergency responders arrived to rescue me, alongside my straight-talking neighbor with his gun in hand. The police heard my muffled screaming and feared I was a victim of a violent assault. So they broke down my door with their guns drawn — and searched the apartment for the offender.
Clyde was terrified. He had undoubtedly been traumatized by seeing and hearing me have seizures, and when half a dozen cops with guns stormed in, he ran for cover. I didn't know it at the time, but poor Clyde went missing for three days and was found by my family, holed up high in a closet.
By the time medics came to my aid, I was hyperventilating. Although my mind felt clear and I thought I was speaking succinctly, my speech was actually slurred. Cindy was called to the scene to help calm me down.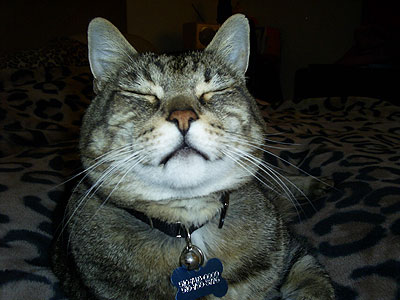 Once I was at the ER, doctors ran a CAT scan and found that I had had a massive brain hemorrhage, which must have triggered the stroke. Nurses were still questioning me on whether I was having "real" seizures, because it was unusual to maintain consciousness throughout. I began to feel another tremor. The last thing I remembered was a nurse sitting on top of me as I was convulsing uncontrollably in pain. She was screaming, "Stop kicking me! Stop kicking me!" Then it all faded to black ÔǪ
I woke up in intensive care surrounded by 15 of my closest friends, one of whom happens to be a neurologist. I was in a lot of pain, but I had to ask Cindy if Clyde was okay; she was a good liar and told me he was fine. Once I heard that, I lost consciousness again.
Next time I awoke I was surrounded by family. The pain and pressure in my head were so severe that I begged doctors to perform surgery, but I was still weak from the stroke and had endured five grand mal seizures, so it was out of the question. Instead, I was given a drug that would help my body slowly reabsorb the hemorrhaged blood. Meanwhile, I was looking at a very painful, long-term recovery, and a life that would never be the same.
Six months after my stroke, I learned that my AVM (arteriovenous malformation) was the rarest kind, a dural fistula. A larger blood vessel in my brain fed into a smaller one, causing a rupture and, over time, my massive, life-altering brain hemorrhages. This congenital condition is almost always fatal as soon as the vessel ruptures, but my doctors figured this bleed had been occurring on and off for a year or longer. It might have started in Maui, when I had headaches and problems focusing. If only I'd gotten checked out earlier, doctors might have seen the bleed in its early stage and corrected the fistula before it reached critical mass. Of course, now I look back I see all the warning signs were there. But I was more focused on getting better than trying to figure out why I got sick in the first place.
When I first arrived at the hospital I was in really bad shape. I was paralyzed on my left side and unable to walk. I had mild brain damage and slurred speech. Nine days later I was transferred to a brain injury center in Berkeley, where I had a private room and recovery coach plus daily physical, speech, occupational, and other therapies. I tried to approach each day as positively as I could. It was a miracle I was alive, and I knew it.
A big part of my recovery was visits by my friends and family, which included a couple of clandestine overnight visits by Clyde! A couple of weeks after my stroke, my sister Vicki brought him to the hospital. Clyde was still somewhat traumatized, so he was not happy to be in a car traveling god knows where. But once at the hospital, he popped out of the carrier and began to cautiously check out my room.
I panicked a little — had he forgotten his Momma? Then he finally glanced up at me, sitting in my hospital bed covered with my signature leopard-print blanket from home. His green eyes lit up and he leapt up to me like a rocket.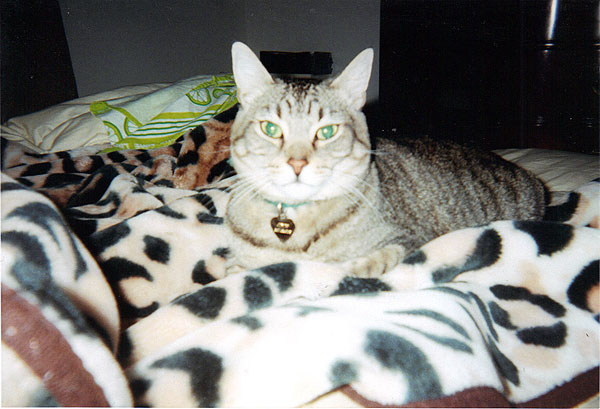 He gave me a quick kiss with his nose, purred up against me a few times, and then immediately made his way deep into my blankets, snuggling at my feet. And there he stayed for the next 12 hours, all 14 inches of his tabby self.
It was extremely comforting to have my baby at my feet that night, early in my struggles of rehabilitation to walk again. I needed to know he was okay, and he needed to know the same about me. We silently reconnected in this primal way, in a very strange place, as we slept through a dark night.
I had assumed it was okay to have Clyde stay over, but you should have heard the nurse scream when she came in my room the next morning and saw something move at the foot of my bed. Poor Clyde! That shriek gave him another scare to remember. He high-tailed it out of my suite and went AWOL in the brain injury ward. I laugh about it now, but I was having an anxiety attack that morning as a doctor yelled at my sister and three nurses to "find that damn cat and get him the hell out of here!" Needless to say, next time Clyde came to visit, it was only for the day.
After seven weeks filled with pain, sweat, and lots of heavy tears, my maverick medical team and therapists had me walking, albeit wobbly, and using my left hand again. That was followed by a two-month stint in a regional home for brain-injured adults, which I compared to life in One Who Flew Over the Cuckoo's Nest. While I was away, Clyde lived with Cindy's family for a while. I am certain that devilish little Darla chased him around, which kept his mind off of missing me.
One of the greatest comforts on my road to recovery has been having Clyde by my side. The stroke and the grand mal seizures did irreparable damage to my skeletal and nervous system, and it is only through the miracle of modern medicine, exercise, and love that I can live with the pain. Knowing my cat loves me is powerful medicine.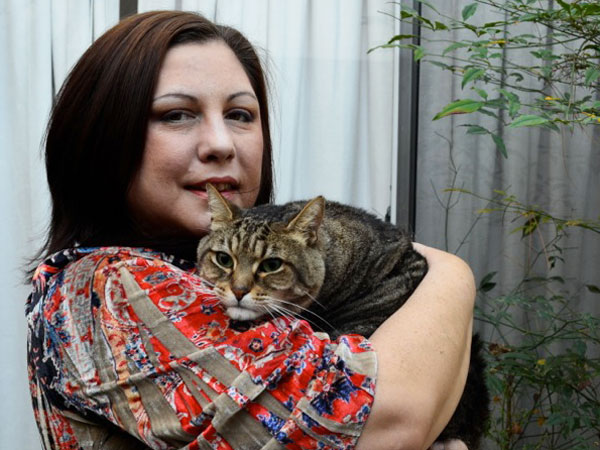 Thanks to Clyde the Slyde, I continue to recover and grow stronger. I have found new meaning in my life through such passions as art, writing, and — my favorites — singing and songwriting. In 2008, I was contacted by musician friends from the underground scene we were once part of in San Diego. We coalesced around the Che Underground rock 'n' roll blog, and I soon became an occasional contributor.
Soon thereafter I returned to my musical life, too. Clyde's inspiration can be found in my lyrics for "Perils of Life," which later became an anthem for my blues-punk band Blues Gangsters, who recorded a CD of the same name. I'm also one half of Eris Sisters, an electronic pop duo who released an album, Downhear, in 2011.
Clyde and I continue to live happily in Alameda near friends and family. We look forward to a healthy and happy future together full of poetry, songs, and kitty kisses.
Photo credits: All pictures of Kristi and Clyde courtesy of Cindy Formula.