Why on earth would anybody go to a mall on a beautiful day? In fact, why would anybody go to a mall at all?
I asked myself that question many times as I drove to the Maine Mall on a recent Saturday afternoon. But the answer was always the same: It's for the cats.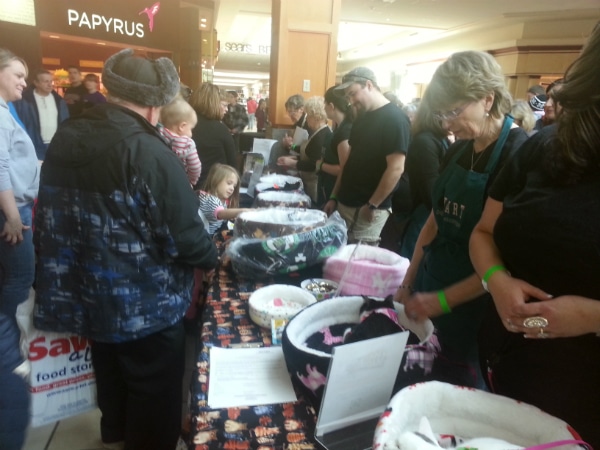 HART of Maine, the rescue group with which I volunteer, was one of the organizations participating in the second annual Rescues on the Runway event, a combination adopt-a-thon and celebrity … oh, I dunno, celebrity thing. The celebrities in question were the members of the Portland Red Claws, Maine's NBA "development league" team, their cheerleaders, and a local radio DJ.
Although I hadn't volunteered to be among the group of about eight people who had transported a dozen of our cats and set up a table replete with cats, flyers, and merchandise, I did want to go and show my support — and maybe take some pictures. So, armed with my phone and and a fierce determination not to set foot in any stores, I sallied forth, preparing to wade through hordes of constantly texting teenage zombies, clouds of vile perfume, and the relentless whispers of "come in, spend money" emanating from every single shop and kiosk.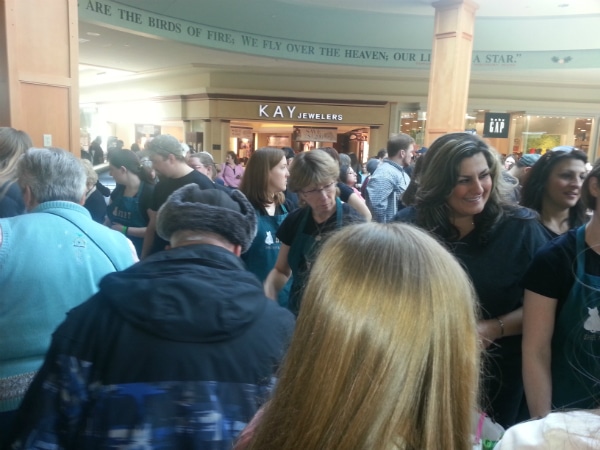 After I found a parking space — which took me as long as it had taken me to drive there — I located the event and went to check out the other rescue organizations. I saw dogs, dogs, dogs, dogs … and a pony. Yes, a pony. In a shopping mall.
I escaped the dog and pony show and found the HART table. It was mobbed! Seriously. There were people four or six deep pretty much all around the 20 feet or so of table space. The half-dozen cats on display seemed to be doing a great job keeping their cool in the midst of the noise and chaos.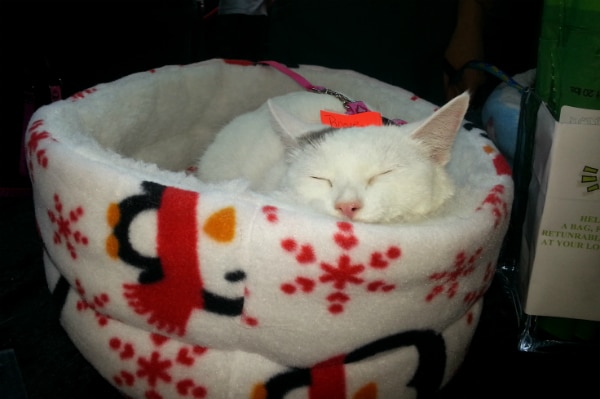 I asked when the runway show would take place. To my chagrin, I was going to have to wait around for an hour before it began.
An hour. In the mall. An introvert's nightmare.
Sigh.
If anyone near me heard a giant sucking sound, it was my energy starting to drain away.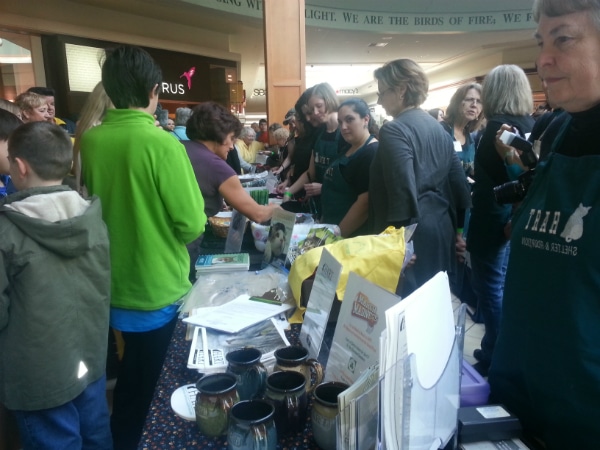 After an overpriced coffee, one more walk around the place to check out the rescue groups, a bunch of photos of the crowds in front of the HART table, and a trip into H&M to see if they had anything on sale that didn't suck, the festivities began.
Dog after dog paraded down the runway. Smiling basketball players and cheerleaders guided them, and occasionally the team's mascot, Crusher, a seven-foot-tall cooked lobster dressed in a basketball uniform, had a turn, too.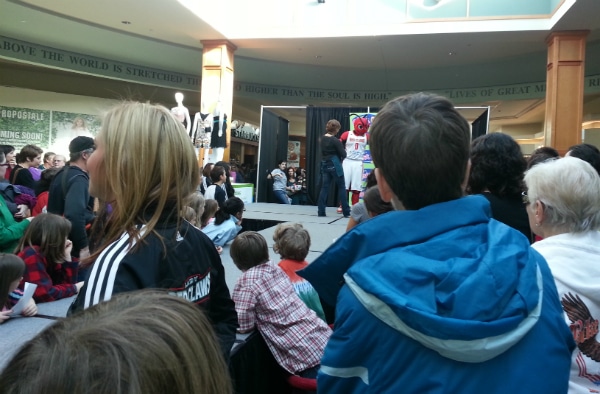 Children squeaked and reached out to touch and pet the dogs, ducking under and leaning over the safety ropes that were supposed to keep the audience from getting too close to the animals.
Finally, it was the cats' turn to be in the spotlight. Once again, I was amazed that they were so chill in the face of all the flashing cameras, mobs of people, and grabby little kids. And a seven-foot-tall lobster.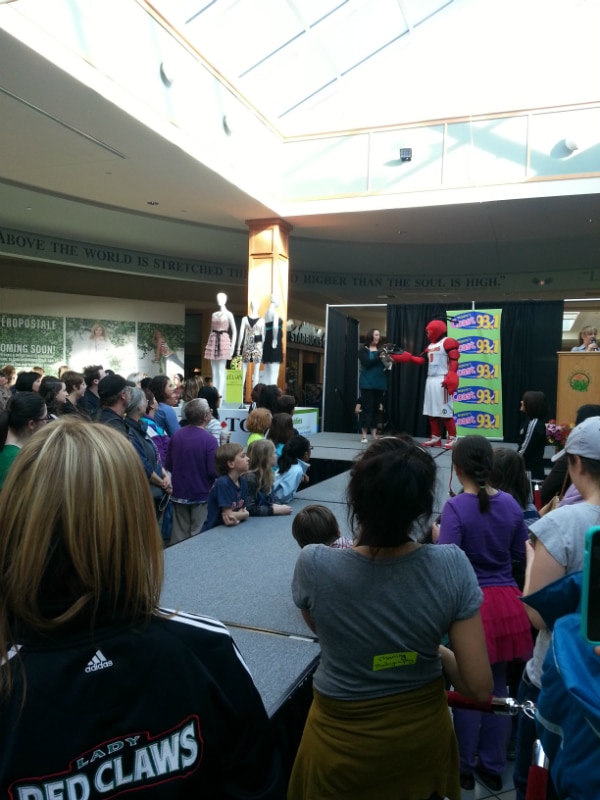 In fact, the cats tolerated Crusher so much better than the dogs did. The DJ made a joke that the cats must think he smelled like dinner.
I think Crusher probably smelled like sweat after hanging out for hours in a padded costume on a stage directly under a huge glass rotunda through which was pouring massive amounts of spring sunlight. If my cats are any indication, cats have an unholy attraction to the smell of sweat.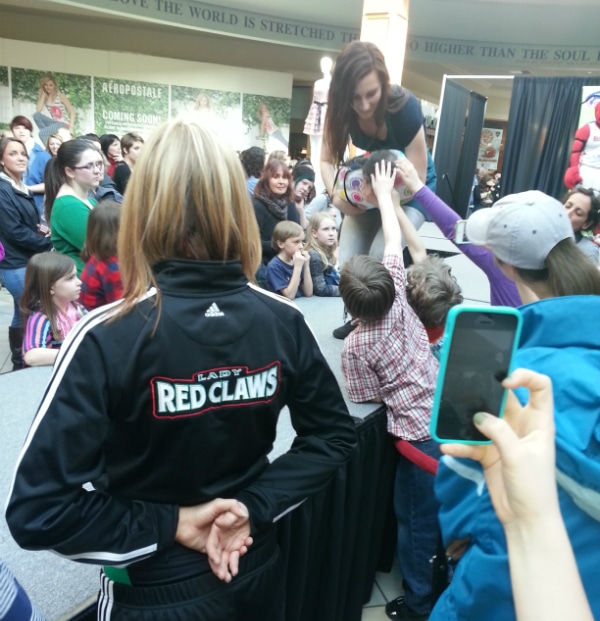 I tried to take some photos of the cats on the runway, but alas, most of them didn't turn out even halfway decent. Like I've said before, I'm not a professional photographer, but I'm more than willing to try and fail to get that one good shot.
Finally, the show was over. I took a few more photos, said my goodbyes, and left. I made it about an hour and a half, but my fellow volunteers — and the cats — were there all afternoon. And it turned out to be a great day. The great showing the kitties made resulted in several pending adoptions by the end of the day.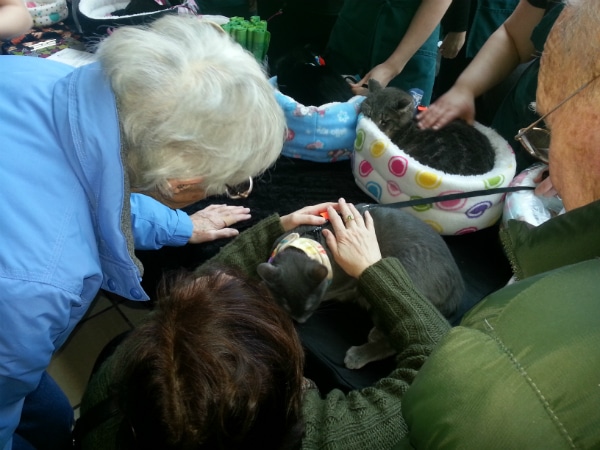 Thank goodness for people who can survive the gauntlet of an American shopping mall for the sake of the cats!
Would you spend hours in a jam-packed mall for the sake of showing off wonderful rescue kitties? How far out of your comfort zone would you go to help rescue efforts? Please share your experience in the comments!