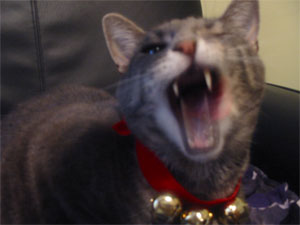 I need to ask a question regarding my older cat. I believe my cat, Tyger has lost one of his incisor teeth. (I believe it is the bottom fang on his right side of his mouth). I'm not certain but he may have actually lost another incisor also!
He just turned 10 years old in May, 2010. Do I need to be worried about this? Does this happen to cats when they get older? I have recently bought him soft, wet cat food hoping he can chew this kind better than hard, dry cat food. But I noticed the other day when I fed him a piece of regular chicken he was having trouble trying to chew that.
What can/should I do about this? Thank you for your help in this matter.
Joanna
Arnold, Pennsylvania
Tooth loss is relatively common in older cats. Note, however, that being common does not make it healthy.
Animals generally do fine with missing teeth. However, teeth that fall out on their own usually do so because of uncontrolled dental disease. Infected teeth become loose and fall out as bacteria destroy the tissues that surround them. Dental disease is very unhealthy and has been linked to a host of other health problems such as diabetes and cancer.
Joanna, it sounds like a vet should check Tyger's teeth (or lack thereof). It may be possible to return Tyger's mouth to a healthy state with professional dental work.
A final, semantic detail: incisors are the small teeth in the front of the mouth. The big fangs are canines.