Kitties who love to hunt have to rely on their shrewd cat skills to catch their prey. Or they can use their camouflage gear! With all of the cute camo kitty stuff out there, why not? This week's Catster picks feature cool, military-inspired accessories for you and your cat to have fun with and look camo-tastic in!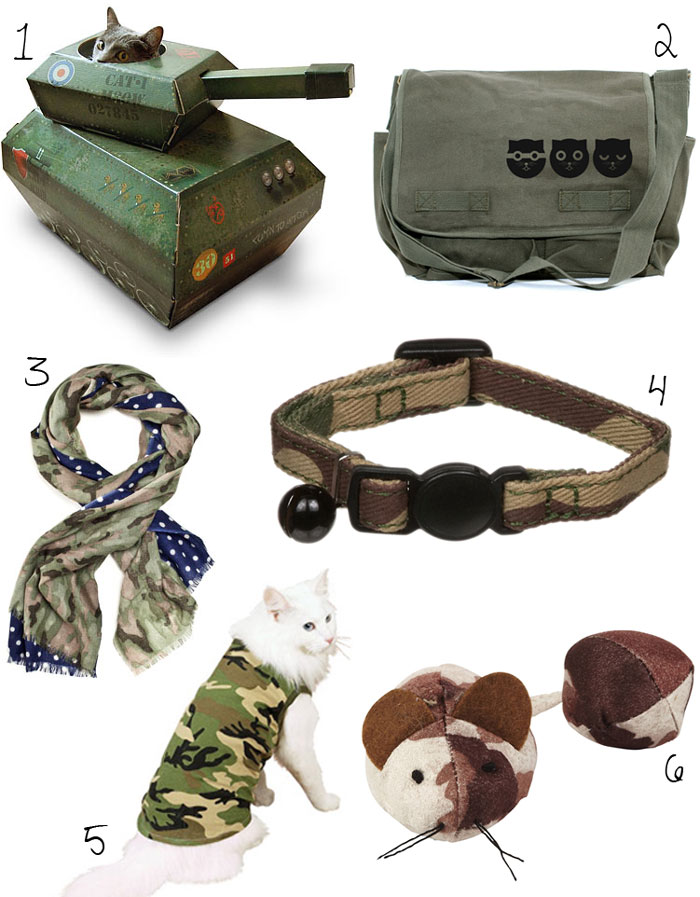 1. SUCK UK Cardboard Cat Tank Play House ÔÇö Cats love hiding in (and sometimes gnawing on) boxes. This awesome army tank will keep your kitty entertained while he declares war on cardboard.
2. Watson the Cat Messenger Bag ÔÇö Military-inspired messenger bags are always cool, especially this one featuring Watson the Cat.
3. Alexis Bittar Camouflage Scarf ÔÇö Camo print and polka dots? Who knew this combination would work?! I adore this truly unique scarf and great twist to camo.
4. Safe Cat Breakaway Collar in Camo Print ÔÇö The little bell might defeat the purpose of being a camo cat, but it's a great collar for indoor kitties, or those who may hunt too much.
5. Savvy Tabby Green Camo Cat Tank ÔÇö Dress your kitty for the everyday hunt and patrol in this cute shirt.
6. Penn Plax Mouse with Ball Tail in Camo ÔÇö This little mouse with ball tail is perfect for batting around for hours of fierce kitty fun!
Follow Catster's Picks of the Week on Pinterest!