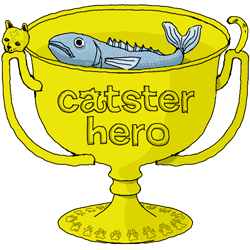 Nestled in the quiet town of Thomasville, GA, is Miss Kitty Feline Sanctuary, the first and only no-kill, no-cage cat rescue in Thomas County. Founded in 2010 by Bettye and Jerry Henderson and seven others, Miss Kitty could not open its doors soon enough. Thomas County had long suffered an overpopulation of stray and feral cats, as well as the continuous contributions by intact pets.
Miss Kitty, licensed with the Georgia Department of Agriculture, quickly filled 10 cat rooms and today is home to more than 100 cats.
"We don't want to be the dumping ground," says director Carol Jones. "We take in cats when we have space. We really try to help hardship cases."
Jones gave an example of a couple who were moving to Europe and would have had to pay $3,000 per cat for them to go through the quarantine process required in Britain. Unable to afford the exorbitant fee, they turned to Miss Kitty for help.
"They tried every other option," Jones says. "There was just nowhere for them to go."
When the couple found out they were going to have a baby, they were able to transfer back to the States.
"They're coming back to get their cats," Jones says. "They're excited, and we're so happy to see the cats go home. We're glad we could help."
Around Christmas, a Thomasville resident and Miss Kitty supporter contacted the rescue about taking in a stray cat with a withered leg. The shelter agreed to take in the cat, named Cassidy, and the resident paid for the surgeries required to amputate the leg and get Cassidy spayed. The resident also donated an additional $190 to Miss Kitty and told Jones that if someone came in and wanted a cat but couldn't afford the $110 adoption fee, the money should be used for that purpose.
Not long after this, a woman came in looking for a cat for her housebound father. When told how much the adoption fee would be, the woman faltered, saying she would have to wait. Jones remembered the donation from earlier in the year and told the woman that her fee would be covered for whatever cat she chose. As fate would have it, she chose little three-legged Cassidy.
Weeks later, the woman called the shelter with some good news. "Cassidy really changed that man's outlook on life," Jones says. "He quit calling his daughter as much and became more independent. He even gave Cassidy a special pillow on the couch! That's what we're all about."
Miss Kitty has 10 spacious rooms that house a variety of cats. "Originally, we tried to sort everyone by age, but as they got older and not adopted, we ended up with a variety of ages in each room," says Jones. "We move cats sometimes according to personality as well." Each room has a large picture window with plenty of perch room for the cats to watch the outdoor activities. This year, Miss Kitty hopes to build an outdoor area with four separate runs.
Jones says Miss Kitty doesn't turn away FIV+ or other special-needs cats: "We will adopt out our FIV+ cats, but we make sure the adopters know what it means to have a FIV+ cat and the responsibility that comes with it."
They recently had to make the hard decision to euthanize one of their special-needs cats, a gorgeous white cat with an aggressive cancer in her ears, resulting in the removal of the visible parts of her ears. After a long battle with cancer and secondary infections, the beautiful cat just couldn't fight any more.
"We're a no-kill sanctuary, but we're not going to [prolong] a sick cat's misery," says Jones. Some people don't realize that no-kill shelters/rescues still have to resort to euthanasia for special cases.
At Miss Kitty, each room is its own community with plenty of room to move and play. The cats are social and surprisingly calm. Donated dog crates are lined with pillows and throws to make cozy hideaway caves. The building, formerly a daycare center, has plenty of cabinets, which are kept open for the cats to explore and hide away in.
Miss Kitty is completely volunteer-run and funded by donations. Science Diet donates all of the food and Oil-Dri donates the kitty litter. These donation partners take much of the financial burden off Miss Kitty. About sixty volunteers also run the thrift shop Miss Kitty opened in 2011 to further supplement individual donations. Hours are scheduled so that the cats always have fresh water, food, clean litter boxes, and human interaction.
Finding homes for the homeless isn't Miss Kitty's only community contribution ÔÇô- it also assists with spay/neuter. "Once a month, we take cats down to Jennings, Florida," explains Jones. "We help local people get their cats spayed or neutered for less [money]. We're really trying to make a difference in the community. You have to spay/neuter a certain amount of cats to see a reduction in the population, and that's our end goal."
Read about other shelter heroes:
Do you know of a rescue hero ÔÇö cat, human, or group ÔÇö we should profile on Catster? Write us at [email protected].