In the wee hours of the morning on Feb. 24, people in a Seattle neighborhood woke up to a grisly scene. When they looked out their windows, they saw a motorhome engulfed in flames and two people in a panic, running back and forth to the RV and begging for help from people who came outside to see what was going on.
In the footage captured by a security camera, at about the 1:00 mark, you can see a tiny black creature fleeing from the RV to the left of the screen, and then at about the 3:00 mark, you can see that same tiny black creature darting across the street while one of the owners tries to catch him.
here'>
A video of the explosion was captured by a nearby security camera caught an object that appears to be a cat fleeing the burning RV at around the 1-minute mark. At about the 3-minute mark, the cat can be seen running across the street while one of the owners tries to catch him. See the video here
A few hours later, a resident of the neighborhood found a cat in the road being mobbed by crows, and called a nearby veterinary clinic for assistance. Dr. Jennifer Wallace walked the few blocks from Ballard Animal Hospital and found the kitten crying, unable to defend himself because his eyes were swollen shut from the severe burns to his face. She rushed back to the clinic with the kitty, and she and her team immediately started treatment, at which point they realized Memow also had horrible burns on his tongue and paw pads.
Later, the clinic was contacted by the owners, a young couple on their way through Seattle, who identified the cat as theirs and said they had lost everything, including whatever money they had, when their camper was destroyed. But they loved Memow and were incredibly grateful that in the midst of tragedy, one of their two cats had survived.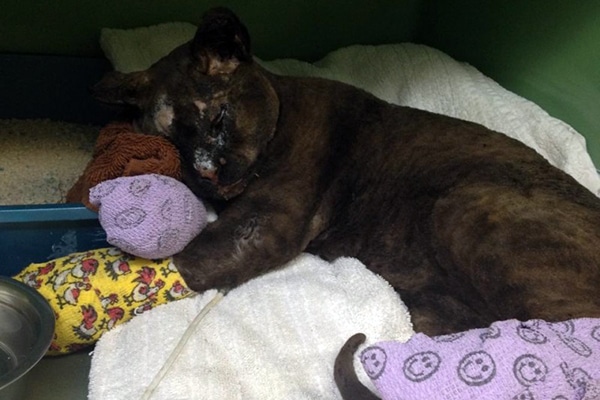 Ballard Animal Hospital's Facebook page">

Ballard Animal Hospital's Facebook page">
Memow rests in his cage after a debriedment and bandage change. Photo from Ballard Animal Hospital's Facebook page
Josi Pollett, a receptionist at Ballard Animal Hospital, couldn't stand to see this cat die because his owners couldn't afford the weeks of critical care he would need in order to heal from his burns, so she started a GoFundMe to raise money for Memow's treatment.
"He's been through a traumatic experience, but he's docile and loving. We have all fallen for him. He has taught us all about trust and vulnerability. He's a dear kitten, and we are pulling for him," Pollett wrote on the GuFundMe page.
That GoFundMe met and doubled its fundraising goal in two days.
Last week I visited Memow and spoke with the staff at Ballard Animal Hospital about his recovery and the outpouring of support from the community.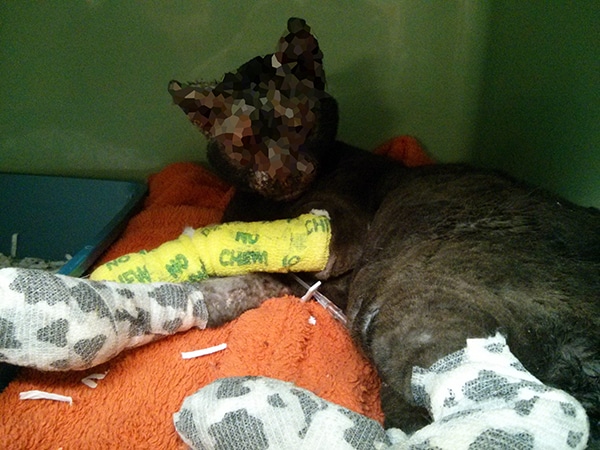 Memow rests in his cage after a long day of treatments. I've blurred out the worst of his injuries because burns are pretty gruesome. If you really want to see the unedited version, I'll be glad to share it with you personally. Photo: JaneA Kelley
Right now, Memow is on strong pain relievers and antibiotics, and he's on IV fluids 24 hours a day. The team is also putting burn ointment on his paws, face, and ears, and antibiotic ointment on his tongue.
"But the most intensive part of his treatment is the burn care," Dr. Wallace told me. "He gets daily bandage changes and regular debridement [removal of dead skin from burned areas in order to allow healthy skin to grow]." In addition to his pain meds, Memow gets sedated for the excruciatingly painful bandage changes and debridement procedures.
At this point it looks like Memow's vision and hearing have not been affected by the burns, Dr. Wallace said, but the biggest long-term issue he faces is that the scar tissue from his facial burns may leave him unable to close his eyes. He may need corrective surgery for that, and also to have his ear flaps removed, in the future. Another area clinic, VCA Veterinary Specialty Hospital in Lynnwood, Wash., has offered to perform surgery if and when it is needed.
Because Memow needs 24-hour care and Ballard Animal Hospital isn't a 24-hour clinic, Dr. Wallace brings him home with her at night so he can get his pain medications and treatment.
But he's been doing great in spite of his injuries. "He eats like a champ, and he's a really sweet cat," Pollett said. "Even on the day he came in so horribly injured, he loved to have his butt scratched, and he loves belly rubs and being petted."
Memow's owners also come to visit him. "They were in today and yesterday. They just come to visit and sit with him. I think that's really good for his recovery," Pollett told me.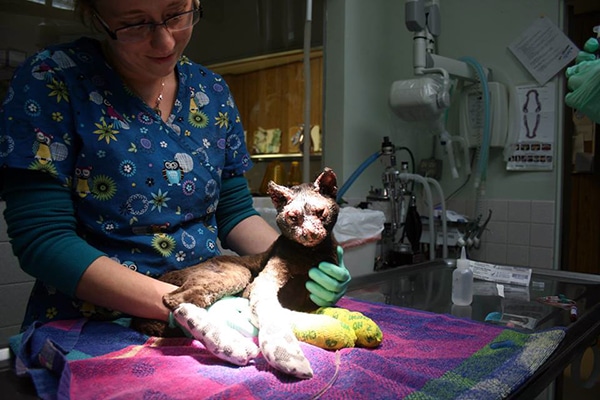 Ballard Animal Hospital's Facebook page">

Ballard Animal Hospital's Facebook page">
A technician prepares Memow for his daily bandage change. He had blood work the night before this photo was taken, and so far his recovery seems to be progressing well. Photo from Ballard Animal Hospital's Facebook page
Memow probably lifts their spirits, too. The couple suffered minor burns to their hands trying to rescue their cats and save anything they could, Pollett said, but "they had really just moved up here and were starting fresh, and they lost everything in the fire."
Both the Ballard Animal Hospital staff and the owners have been gratified by the outpouring of support from the community. Pollett said that what surprised her the most was how fast the word about Memow's need spread.
"Our Facebook post got thousands of shares, and all of these donations coming in so quickly … everybody from our youngest clients to senior citizens in Lynnwood have been calling to ask where they can send checks and how they can help."
The first week of treatment has racked up about $2,000 in expenses, but Pollett has paused the donations to the GoFundMe because the clinic staff want to get a handle on how much money will be needed to get Memow back on his feet again. She said she may restart the fundraising if it turns out the cost of Memow's care exceeds the $9,276 contributed so far.
Memow is on very strong pain relievers, so he's getting plenty of sleep as he recovers. Photo: JaneA Kelley
At this point, the clinic staff is hopeful that Memow will be able to return to his owners once his recovery is complete. "The fact that he's going to be here a while will give the owners time to get back on their feet," Pollett said. But it's clear that Memow's owners love him very much, and that Seattle has fallen in love with the little guy, too.
I haven't been able to talk to Memow's owners yet, but when I do, I'll update you on their situation and what we may be able to do to help them recover from their loss.
You can follow Memow's recovery on Ballard Animal Hospital's Facebook page.
Read more about cats in the news:
About JaneA Kelley: Punk-rock cat mom, science nerd, animal rescue volunteer and all-around geek with a passion for bad puns, intelligent conversation, and role-play adventure games. She gratefully and gracefully accepts her status as chief cat slave for her family of feline bloggers, who have been writing their award-winning cat advice blog, Paws and Effect, since 2003.