I've written about how cats help kids with anxiety disorders, and I speak from experience. My daughter and I both find comfort in our kitties during anxious moments. A heaping dose of cat is healing on many levels and for variety of ailments. And the side effects aren't as extensive as ones that come with medications in bottles and blister packs.
Here are five types of medications whose benefit can only be enhanced by the feline pharmacy. Please note I am not recommending you discontinue medication in favor of cats — they're just a little extra hit of healing power!
1. Depression be gone!
Many people suffer from depression and seek relief from a variety of sources, including medication. Cats are great additions to whatever regimen you follow. They're wildly entertaining and never fail to produce smiles. Feeling blue? Grab a wand toy and watch your cat go completely bonkers.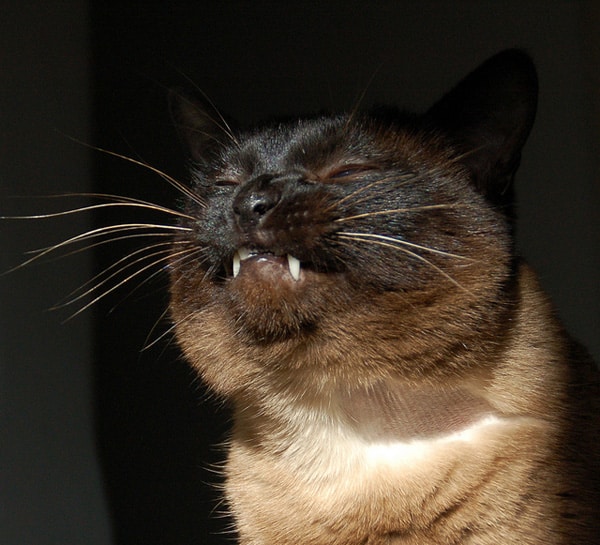 Possible side effects: Laughing until you lose bladder control, loss of time you could be folding laundry, sudden urge to take hundreds of cat photos.
2. Anxiety busters
Anxiety can manifest itself in multiple forms, and some take prescriptions for relief. For me, it shows up as excessive worry. I find petting my cat to be a wonderful distraction when my mind's been kidnapped by mind monkeys. It's like a form of meditation. Those beasties are furry little Zen masters.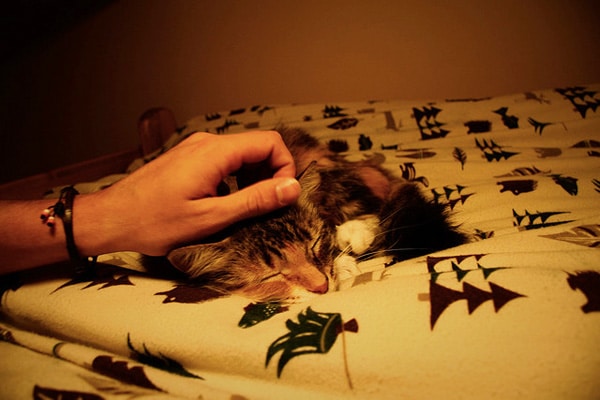 Possible side effects: Forgetting your worries, but also perhaps forgetting to pick up the kids from soccer practice and sudden forgiveness of all your cat's transgressions (including the time he ate your chicken sandwich).
3. Bad cold, warm cat
When I have a cold, all I want to do is pop cold medicine and lie around and sleep. Coincidentally, that's what my cats like to do (minus the cold meds) and they're not even sick! In fact they like to lie as close as they can to us. They're like fuzzy little nurses. And they don't mind my whiny behavior because I'm plagued with a stuffy nose and monster cough. If only I could train them to fetch hot tea and the remote control for me.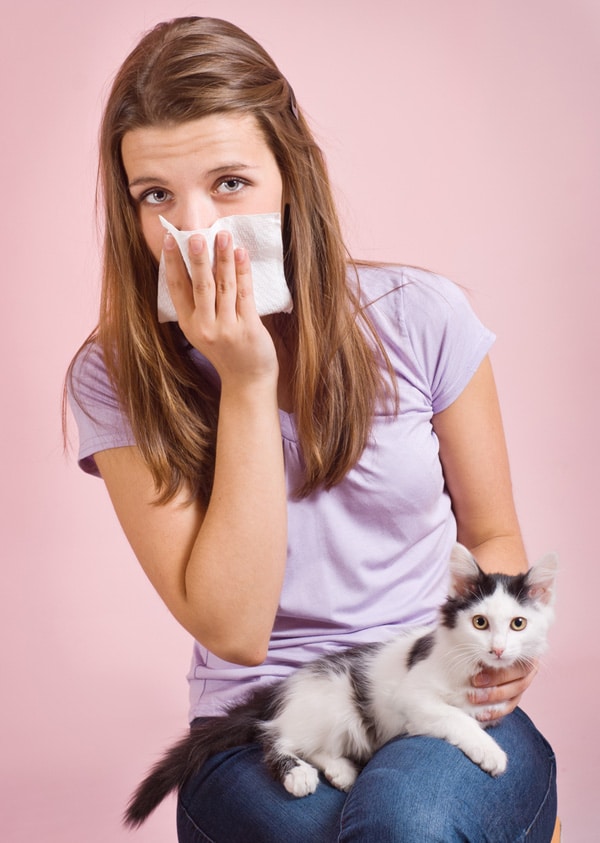 Possible side effects: Fur in soup, cats can't reach the tissues or remote control, cat batting cough drops under the sofa.
4. The furry sandman
One problem cats never encounter is the inability to fall asleep. I am, however, occasionally at war with the Insomnia Fairy, which is like The Sandman except she holds your eyelids open and drops frustration onto your eyeballs. I've tried all kinds of medications, herbs, self-hypnosis, and just any other type of remedy. When there's a cat in bed with me and he or she sleeps next to me, sleep is not quite as elusive. They can be too close, though. Their little heater bodies are too much for me, but I like to rest my hand on their little bodies. Meow, meow, melatonin, meow.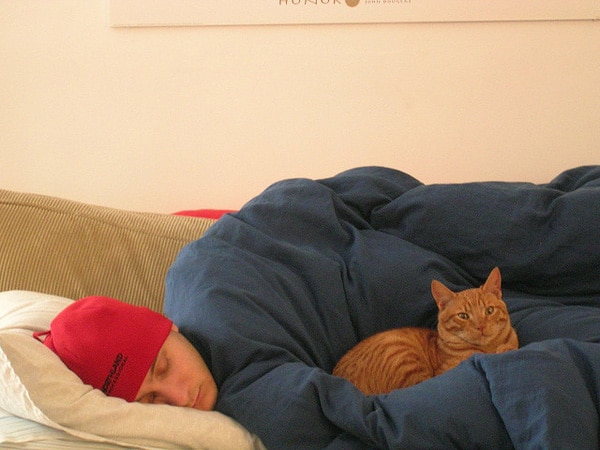 Possible side effects: Waking dreams of your cat knocking items off your nightstand, sleep-feeding cat, inability to move feet without sustaining attack.
5. Pussycat pain relief
When we have a headache or other types of bodily pain, we usually reach for Tylenol or Advil. If the pain is over-the-top (like when I was cursed with dry sockets after having my wisdom teeth extracted), then we may be lucky enough to have prescription pain relief.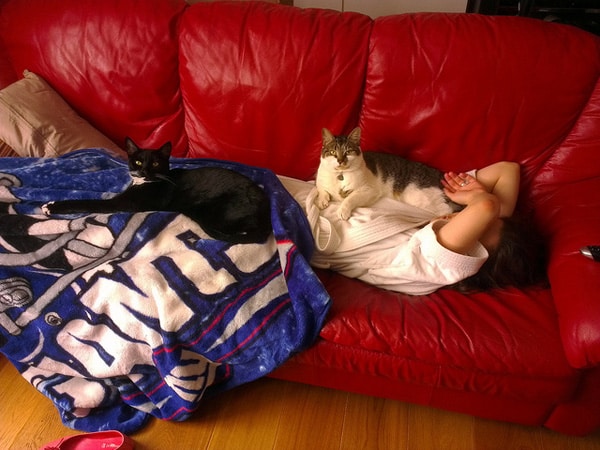 Cats seem to know when we don't feel well, don't they? They see us lying on the sofa and immediately take our sedentary situation as an invitation to lie on top of us. I can only guess they assume their awesomeness will soak into our bodies and heal our pain.
Possible side effects: Shortness of breath (if a large cat lies on chest), inability to urinate, inability to get snacks.
Are your cats good medicine? Tell us about it in the comments!
About the Author: Angie Bailey is a goofy girl with freckles and giant smile who wants everyone to be her friend. Loves pre-adolescent boy humor, puns, making up parody songs, and thinking about cats doing people things. Writes Catladyland, a cat humor blog, and authored whiskerslist: the kitty classifieds, a silly book about cats wheeling and dealing online. Partner in a production company and writes and acts in comedy web series that may or may not offend people. Mother to two humans and three cats, all of which want her to make them food.
Read more by Angie Bailey: