I hate cages, and a house is a cage of sorts. Being an indoor-cat-only advocate, I've always strived to make my home as enriched and inviting as I can for the feline members of the family. If they must be inside, then let them have fun, cat hair and furniture be damned. But maybe there was a way to let them outside without letting them outside. A cat house — or catio — perhaps.
"An enriched environment is vital for a cat's emotional and physical health," states fellow Cat Writers Association member and certified behavior consultant Amy Shojai. "Jumping, running, climbing, hunting – felines are built to move. They are also stress magnets. If they do not have access to cat-centric things to do, they will find another way to relieve the energy. Some of those ways may drive you crazy, others may cause a cat to become a couch kitty leading to obesity, diabetes, arthritis, and other ailments."
So it was on the right track when four years ago I began small with an easy DIY project: a covered dog kennel measuring 4 by 8 by 6 feet I bought at the local big box store for $350. I planned to place it on the patio outside the sliding door of my bedroom. I picked up a slider cat door panel at a garage sale for $10 and got to work. An old sisal-wrapped cat tree, a carpet-covered climbing ramp and condo, a planter of catnip, and by the end of the day my first cattery was ready for occupation!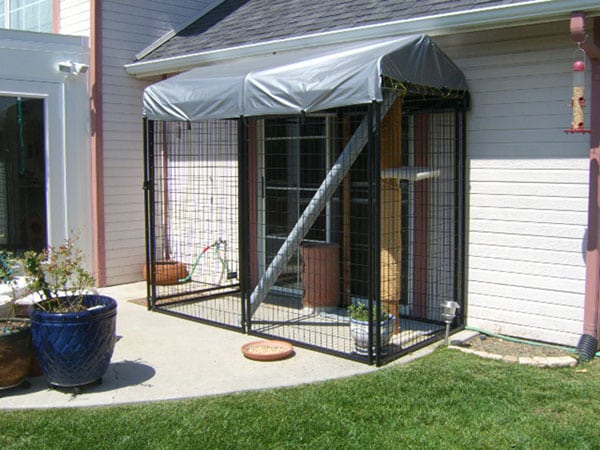 The cats were in it quickly, and I smugly sat on the patio sipping a celebratory glass of wine watching them. About the time I was halfway through the second glass, it suddenly hit me that I was looking at a 32-square-foot cage rather than just a new sunny hangout for my cats. Of course the fact that they were sticking their little paws through the fencing to see if the holes were large enough to squeeze through added to my distress.
The patio was pie-shaped with house walls on the two straight edges. Having just assembled the kennel, I knew that it could be configured in ways that did not have square corners. So counting panels and making calculations in my mind, I came up with a new plan. The new-and-improved cattery would be open to the sky!
Having researched cat containment systems in the past I knew, that to keep them in, fence tops would have to slant inwards and then straight down. A cat cannot get over a fence if he is forced to hang upside down, so I came up with a very simple and inexpensive solution for what I had in mind: PVC pipe and plastic chicken fencing.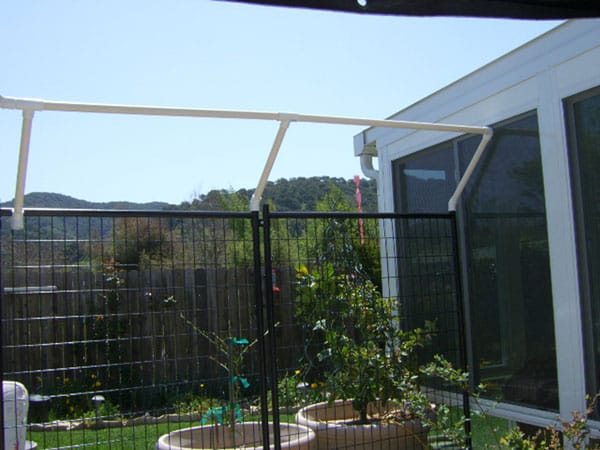 The next morning, after a $40 trip to the building supply store, the cattery was disassembled much to the dismay of my four-pawed onlookers. After all, they'd only had it for less than 24 hours.
I decided to leave the original cover in place as a sun guard, replacing the fence panel supports with lengths of PVC pipe. Then I just opened up all the sections, adding the sixth one that hadn't been used in the original setup, and voila! The cattery was now approximately 132 square feet and could officially be dubbed a catio.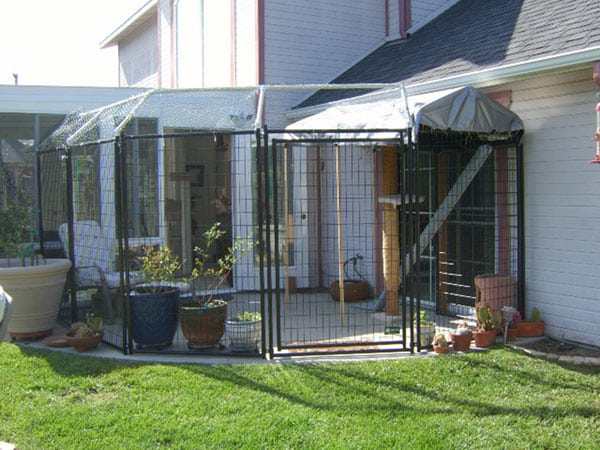 After a couple more hours of adding the PVC top and chicken wire, I once again settled into my patio chair with a glass of wine to watch the fun.
The catio became a favorite hangout for my four rescue cats and so I was very upset when I discovered that Nemo was getting out on a regular basis! It was quite a while before I realized it, because he always let himself back in each morning by scaling the outside of the kennel fence, running across the roof and jumping down into the catio! The cats were banned from the cattery, unless under supervision, until I could identify and plug the escape route.
One reason I advocate indoors-only is that all my cats have pink pigment and are therefore prone to skin cancers. Also, three are longhaired, all are mostly white, and being in coyote and Great Horned Owl country, it's not safe for them to be out day or night.
Lorie Huston, DVM and President of CWA, adds, "Keeping pet cats indoors is a smart move for many different reasons. Living inside, cats are much less likely to be involved in accidents or fights that could lead to injuries. The risk of exposure to infectious diseases is much lower as well. There's also no risk of annoying your neighbors, who might become upset if your cat digs in their garden or uses it as a litterbox."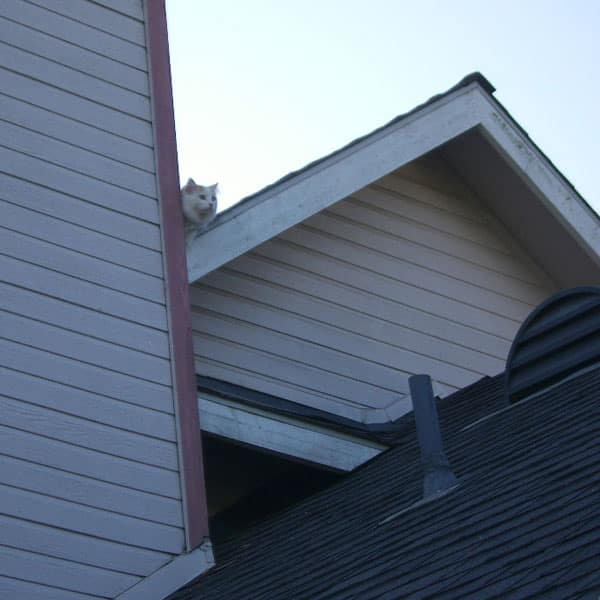 I caught Nemo in the act at last, and closed the first of several holes he was to lead me to. Eventually, being the Houdini that he was, I had to cover the whole cattery with bird netting. That was four years ago.
This summer the big box store was selling a 10-by-10-by-6-foot dog kennels for $450, the same style as the one used for the catio. The cats had been telling me they wanted more, but I could not envision how to make it work in my yard. I have a dog. It would be unfair to take her play area away, and how to mow the grass? At last I had a plan.
The idea was to continue on around the house, using that as one side of the cattery just as before. The expansion took me two days this time, but in the end I had added another 500 square feet to the enclosure. My cats watched in eager anticipation through the windows urging me on and occasionally scratching at the locked cat doors. As soon as the doors were opened, the four swarmed into their "hood" to explore every new inch of it.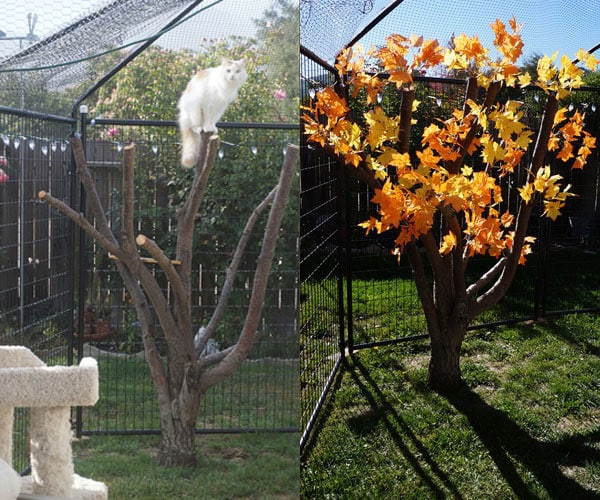 The following week a dead pear tree was trimmed, cut down, dragged into the new enclosure and wired securely to the fence. Now the cats had a real tree to climb. Of course, Nemo was the first to try it out. In fall, I drilled holes in the branches and added color with sprigs of fake leaves.
Repurposing old rugged plastic children's playground equipment added indestructible furniture and interesting hangouts. A playhouse became a kitty powder room and the litterboxes were moved outside. Yay, both the cats and I approved of this. A few shelves hung on the fencing for perches, and the catio was complete.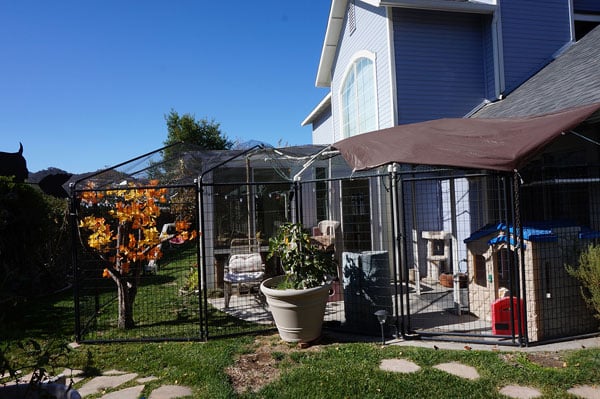 The total combined cost was about $1,000, spread out over the four years. I shopped rummage sales, Craigslist, curbside "FREE!" items, and thrift stores for accouterments. The catio has become the perfect place to retire old well-loved indoor cat trees.
In multicat households, there is always a social hierarchy. It is not unusual for an alpha player to guard accesses to litter boxes or favorite hangouts. If this is the situation in your home as it is in mine, be sure to include at least two cat doors when you build your own catio, and hang perches at different levels on the fencing to provide avenues of escape from bullies.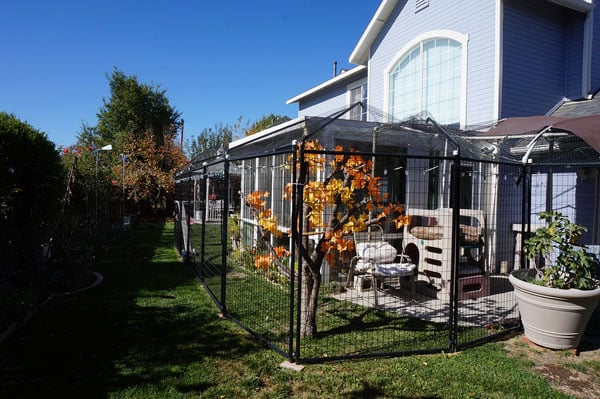 Shojai advises, "Think in terms of timeshare mentality, they can share the same space as long as you have options for them. The more cats you have the more options you need. It's like having the Indy 500 with only one lane to pass and no pit stop. The more lanes that you have, the more the cats can get out of each other's way if they want to."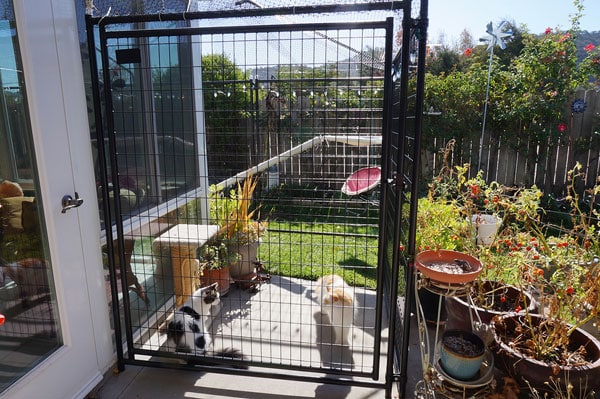 Now officially hooked, I built a second catio for a good friend who has nine indoor cats. Using another 10-by-10-foot kennel, we made an 8-by-30-foot enclosure in a side yard with access to it through a cat door installed in a bedroom window. It, too, has a dead tree and old playground equipment. All our happy cats are able to get lots of fresh air and exercise now.
Call me crazy but I wanted more, and so I moved indoors.
More things to build for your cats:
About the author: Marci Kladnik, her four rescue cats, and one Scottish Terrier live in a small town with no stoplights or mail delivery. A retired graphic designer and technical writer, she designed and wrote for two publishers and two medical device manufacturers. She was also on the masthead of the monthly National Model Railroad Association Bulletin. Marci now writes an award-winning biweekly cat column for three newspapers, is a contributing writer for Catster.com, an award-winning photographer, and an active professional member of the Cat Writers' Association. Involved in TNR and feral rescue, she sat on the Board of Directors of Catalyst for Cats, Inc. from 2007-2013. In her spare time, Marci traps and fosters local feral cats and kittens. Past columns appear on www.catalystforcats.org, and her dog blogs at www.maggiestories.com.