A revolution is afoot. Or at least a gradual change in American society. Although more American households have dogs than cats as pets, domestic cats outnumber dogs in the United States by more than four million. This is according to the most recent statistics I could find online from the American Veterinary Medical Association. Yet "cat vs. dog" doesn't really matter here. What matters is that more people are getting pets. And as cat ownership becomes more common, stigmas associated with it — especially among men — should start to dissipate.
Meanwhile, the chance also increases that any given pet owner is a human who happens to love animals rather than one who loves animals and devotes most of his or her life to animal rescue and adoption. Rescue and adoption are remarkably worthwhile efforts, to be sure, but if we're to end the killing of homeless animals we're going to need a whole lot more men who consider themselves just "guys with cats" alongside all the dedicated and devoted, wholly immersed "cat guys." It's my hope that one day, we won't need nearly as many rescue-and-adoption advocates because we'll have far fewer cats and dogs searching for homes.
One way to make more people aware that men (namely, handsome, well-dressed men) are part of this feline revolution is to show cats and guys together. The 2015 Tomcats Calendar, which benefits the Tenth Life rescue group in St. Louis, does this well.
"Everyone involved in the production — the models, the photographers, and crew — donated their time and talents to make this very special project possible," Tenth Life wrote in a press release. "All proceeds go directly to Tenth Life and will be used to help stray cats and kittens with special needs get the medical care, love, and forever homes they deserve."
I interviewed one of the men featured with a Tenth Life rescue cat in the $20 calendar, Doug Hall. His photo is below, and our exchange follows.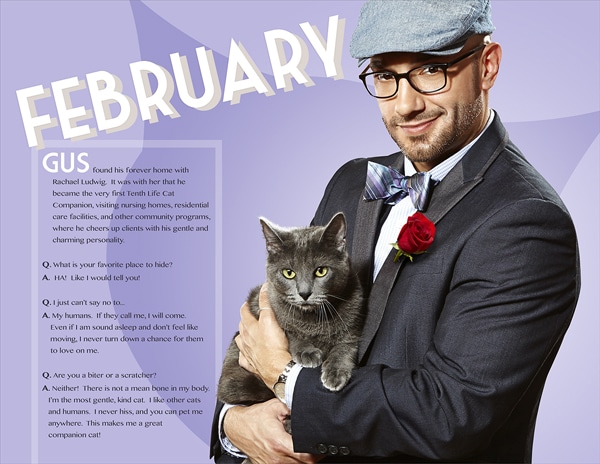 Cat Dandy: What is your personal background with cats?
Doug Hall: Until recently, I was what most would consider a dog person. Our family didn't own cats growing up, and I never thought I would. Up until my 30s, I had little to no interaction with felines.
What role do cats play in your life now? Do you live with any?
My ex-wife is a cat person. During our marriage we adopted a cat. A couple of years later a stray showed up on our back porch and refused to leave. Milo stayed with me through my divorce and lives with me to this day. As far as his "role," I would say he's in charge and I just pay the bills.
Are you (or have you been) directly involved in any rescue or shelter work?
For the last three years I have volunteered for a local shelter for stray dogs. Milo prefers to be the alpha in most situations, so adopting a dog would not go over well. I get my dog fix at the shelter and my cat fix at home.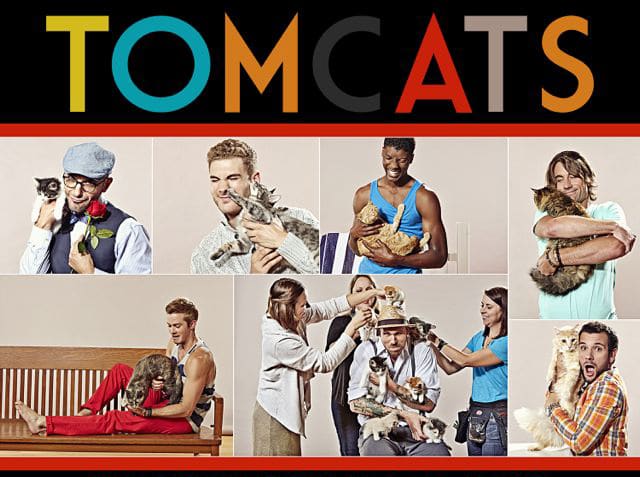 I see you have a background in entertainment and public relations. Tell me a little more about that.
I've been in the entertainment business for close to 20 years now; I am currently the president of TalentPlus Entertainment in St. Louis. We broker live entertainment and program venues throughout the country as well as internationally.
One stereotype about men who love cats, or people in general who love cats, is that we're socially awkward, ill-adjusted shut-ins who redirect our emotional needs onto our pets. Your life runs in direct contradiction to this. What can you say about the "cat guy" stereotype and your own life and experience?
I've never been someone that confines themselves to social norms. I love my cat. He and I get along just fine. And frankly, a cat is a perfect partner for someone with a work/social calendar as complicated as mine. I never have to run home to walk my cat. And at the end of a long day he's right there chilling with me on the couch. I've always thought of pets as partners. You live an interdependent lifestyle. Some people need pets for comfort or solace. In fact, we all do (some just more than others). They provide unconditional love, and we provide them with affection, shelter, and sustenance.
I'm man enough to admit that my cat gives me joy. And his personality suits me completely. He's been the screensaver on my phone for years now. I've never had someone look at my phone and give me grief for loving my cat. So, I must be doing something right, regardless of stereotypes.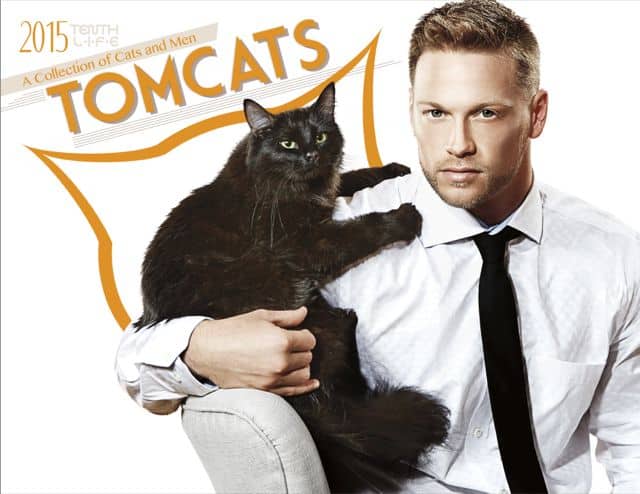 What led you to appear in the Tomcats Calendar? Did your professional life inform that?
Centro Models, our model division at TalentPlus, was contacted by Julie Dietrich, stylist, for the shoot to see if we would donate models for the cause. Sarah Landa, our director of development and placement, thought it would be a good idea to throw me in the mix given my relationship with Milo. I honestly thought they were joking, considering the professional models in the submission, but they asked me to shoot. I did get February, the shortest month, as I'm sure those other guys have at least two to three more days of hanging power than I.
What would you say to people who insist that there must be something wrong with you if you're a man who loves cats?
I'd probably thank them for their opinion and remind them that I just needed directions back to the city or at least somewhere with indoor plumbing and decent cell service.
I see that you, like me, are a man who takes his wardrobe and appearance seriously. Can you draw any parallels to that and cats, or your love or admiration of the species?
Any parallel would reinforce those aforementioned stereotypes. I'm a heterosexual man who prefers dressing well, supports LGBT rights, is open with his emotions, and owns a cat. I do exactly what I want to do and the way I want to do it. I don't believe the image of a strong man is some slouch in flannel sweats, sitting in the back of a pickup truck eating Chunky soup. I believe a real man has convictions, a strong ethical code, and does what he loves in spite of other peoples' opinions. I'm not judging Chunky soup guy; I'm just doing me.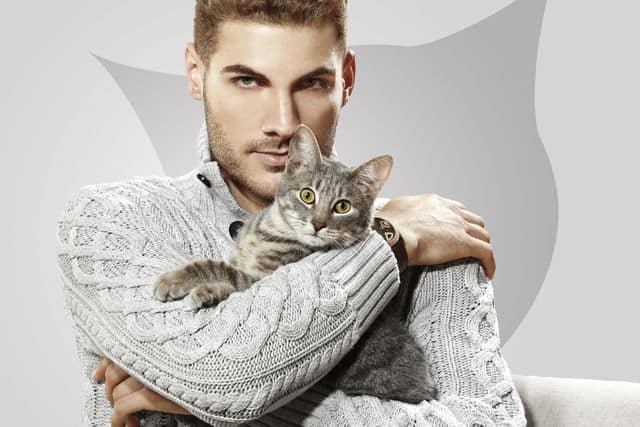 How do you see a project such as the Tomcats calendar, which involved well-dressed, handsome men and cats, promoting cat rescue and adoption overall?
I think it's a great concept for a wonderful cause. Awareness is key but so is raising funds. A constant reminder that cats need homes and that men do love cats is a great way to inspire people to adopt or donate.
What can you tell me about Tenth Life? Have you worked with the organization before?
The calendar shoot was my first experience with Tenth Life Cat Rescue, but I'm sure it won't be my last. I was very impressed to learn what the organization does for cats, especially those with special needs. Injuries and physical or chronic issues can be too expensive for other organizations. Tenth Life prioritizes cats who couldn't be helped elsewhere. I believe the species' natural sense of independence leads people to believe they can take care of themselves, but many cannot.
How can people get one of the Tomcat Calendars?
The easiest way is to visit the Tenth Life website order form. Just make sure you do it before February or else you'll be missing out on remembering all those national holidays and a crushing picture of yours truly with a Tenth Life rescue. Or, you can quickly make friends with my mother. She's giving them out as holiday gifts.
Is there anything I haven't asked that you want to say?
Have you ordered your Tenth Life Tomcat calendar yet?
"Yes I have!" said Cat Dandy. "Have you, dear readers?"
Also, if you're a man with a cat, how have you been perceived by friends, family, or people you meet? If you're a woman, what's your experience with men and cats? Do you believe efforts such as the Tomcats Calendar help raise awareness about cat adoption? Tell me in the comments.
Cat Dandy is humbled by the words of this fellow guy who loves cats:
About Keith Bowers: This broad-shouldered, bald-headed, leather-clad motorcyclist also has passions for sharp clothing, silver accessories, great writing, the arts, and cats. This career journalist loves painting, sculpting, photographing, and getting on stage. He once was called "a high-powered mutant," which also describes his cat, Thomas. He is senior editor at Catster.