I work from home, and I'm normally the only human in the house during the day. This means my furry muses are never far away from me as I write. Cosmo usually curls up in my lap or sits somewhere where he can have a clear view of whatever I'm doing. Stalker much? Yes. Saffy hangs out in the windows, watching wildlife and enjoying the sunshine. And Phoebe? She can usually be found on top of my desk, constantly looking for entertainment by way of office supplies and electronic equipment.
Yeah, she pretty much considers my desk an elevated playground. Here are seven reasons why:
1. Pens and pencils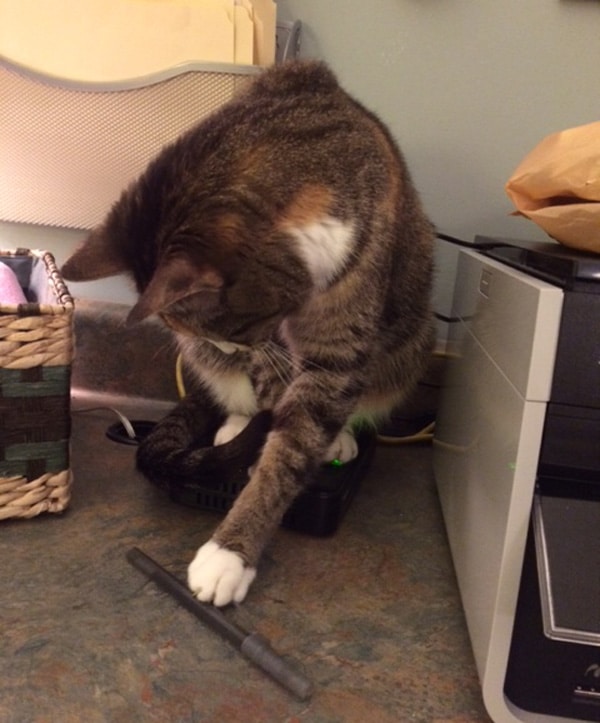 Phoebe warms her butt on the router while batting my pen. It's all about comfort, you know.
Pens and pencils are highly swattable, and there are lots of them on my desktop. I'm kind of a pen hoarder, although I prefer to think of myself as a collector. I'm especially fond of pens with purple ink, and use them almost all the time. You know who else likes pens? Phoebe. If a pen isn't secured to my hand or in a cup, she's probably going to bat it onto the floor.
2. Printer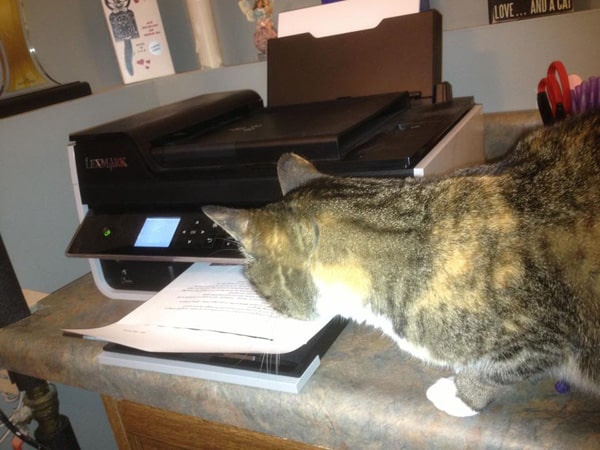 Magic!
Oh, the fascination that goes along with the printer. What is it with cats and printers? As soon as it starts making sounds, Phoebe can't get there fast enough. Looking equal parts confused and full of awe, she watches each piece of paper slowly emerge from the magical machine. When she was a kitten, she'd grab the paper and race off with it, but thankfully she's outgrown that habit. I grew weary of having tiny teeth marks on all my documents.
3. Wastebasket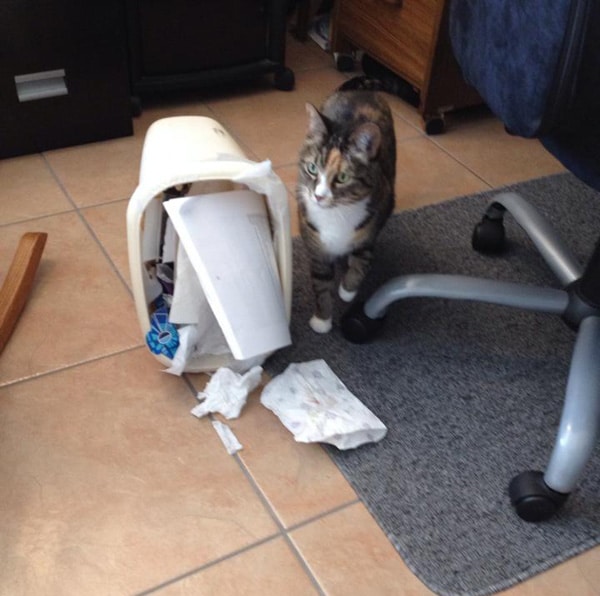 "Eureka!"
So much to find in an office wastebasket — especially wadded-up paper and snack wrappers. A tipped-over wastebasket is goldmine of goodies. She doesn't get very far with her wastebasket exploration if I'm at my desk, but if I go upstairs to make lunch or leave for errands, it can be a free-for-all.
4. Lookout tower
Queen of the hill!
Another cool part about sitting on top of my desk is that it provides a nice lookout tower. Phoebe can see everything that's going on, keep her eye on the other cats, and plan possible attacks on them. It's good to be queen.
5. Papers and piles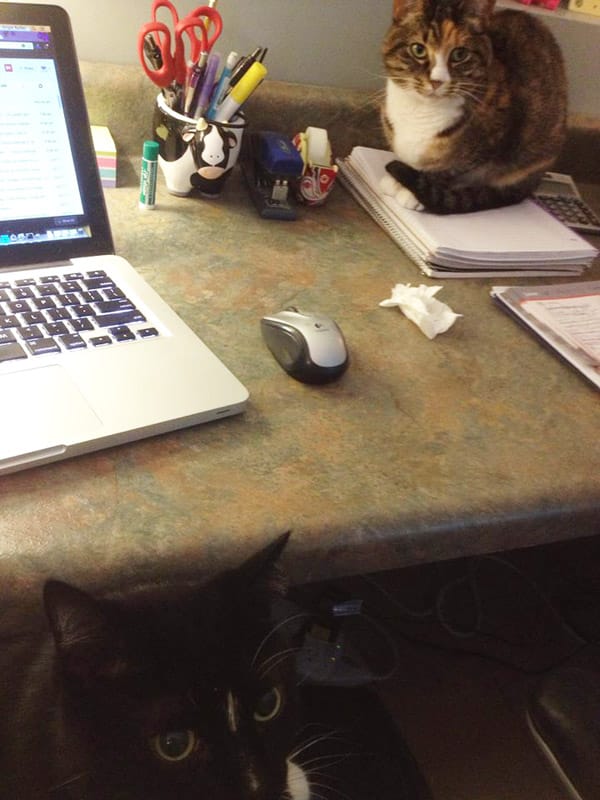 "You need this?"
Cat love piles and consider all of them perches and beds. Phoebe doesn't give a rip if I need something trapped under her loafed body — as far as she's concerned, it now belongs to her. In fact, she scolds me when I remove the item from underneath her. I'm the playground bully.
6. Cat stuff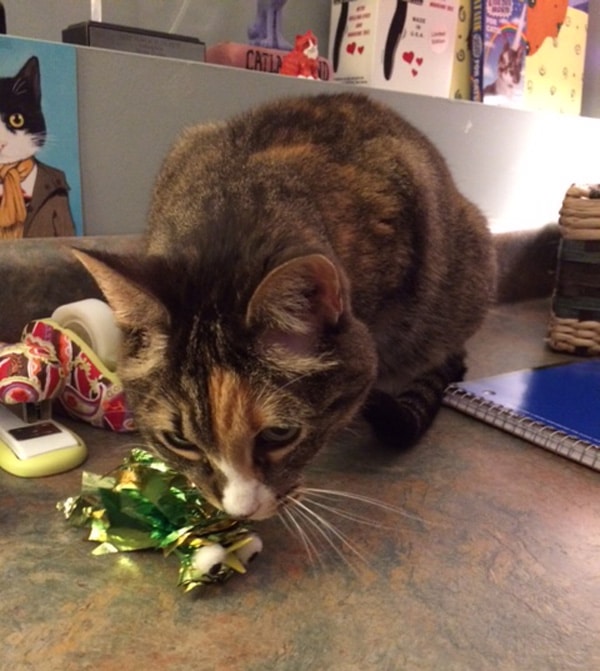 "Thanks, Mom!"
Because I sometimes review cat products, there's an occasional toy on my desk. Of course, she assumes it's for her and goes to town on it. Really, this is usually beneficial because it gives me the opportunity to observe her playing with the item and grab some photos for the review. She doesn't know she's being helpful, though. If she did, she probably would ignore the thing.
7. Post-play napping spot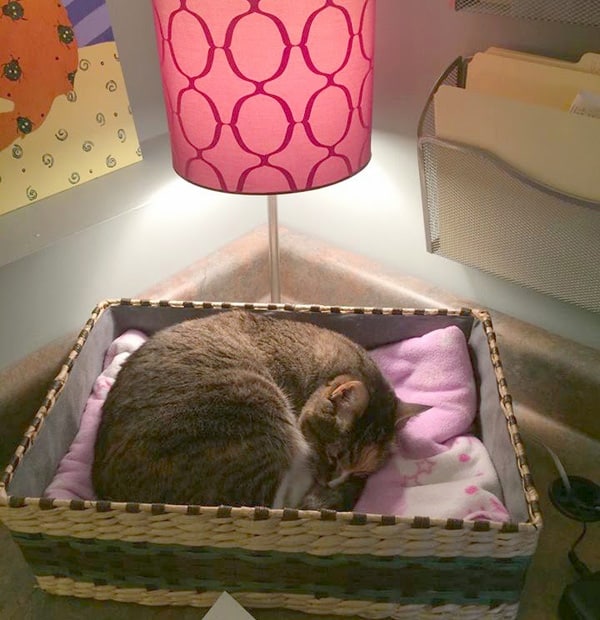 It's so hard to be a cat.
Playing is hard work, and every cat needs a nap after expending energy swatting pens and pawing through wastebaskets. Thankfully, Phoebe has her own special basket right in the corner of her playground — I mean my desk. None of the other cats sleep there; it's truly hers. When she's crashed, I can finally get some work done. It's like having a busy toddler who finally goes down for a nap.
Is your desk a playground for your cat? Tell us in the comments!
Read more by Angie Bailey:
About the Author: Angie Bailey is an eternal optimist with an adoration of all things silly. Loves pre-adolescent boy humor, puns, making up parody songs, thinking about cats doing people things and The Smiths. Writes Catladyland, a cat humor blog, Texts from Mittens (originated right here on Catster) and authored whiskerslist: the kitty classifieds, a silly book about cats wheeling and dealing online. Partner in a production company and writes and acts in comedy web series that features sketches and mockumentaries. Mother to two humans and three cats, all of which want her to make them food.