I was shrouded with grief over the death of my fianc├®. What I didn't realize was that my beautiful Maine Coon needed special tender loving attention because she was as grief stricken as I was. As behaviorist Marilyn Krieger wrote last week, cats have to process grief just like humans after losing a special person or animal.
Wondering how such a special person could die was wrenching at my very being. Watching Victory endlessly search for Paul — going in circles, crying, not with tears but with her little broken meows — pulled at my heart as well. I realized she missed Paul as much as I did. He'd become an important part of her routine for nine years (almost two-thirds of her life), and she didn't want to accept his loss any more than I did.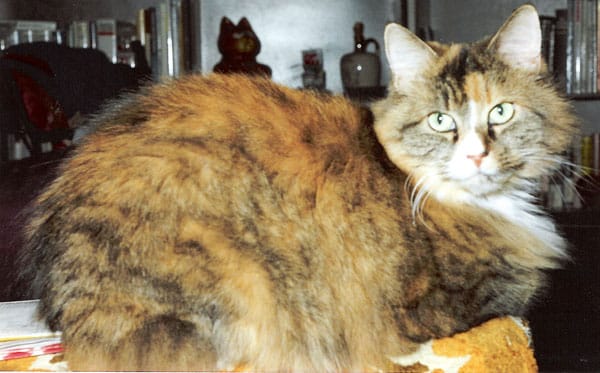 Cats grieve the loss of their special humans. But unlike us, they can't verbalize their emotions in words. They do it through actions. In Victory's case, she kept looking in those places where she thought she'd find him. In her feline mind, he just had to come back to her and to me. He'd been gone for up to a week, and always returned. Why not this time?
Victory was no ordinary cat. She was stunningly gorgeous, and she knew it. She was friendly, but not a snuggle kitty. She liked to sit on the arm of the chair or on a coffee table, and be near humans. She liked to sleep on the bottom of the bed. And like all cats, she didn't like change.
Over time she had developed a special bond with Paul. He had become her best buddy.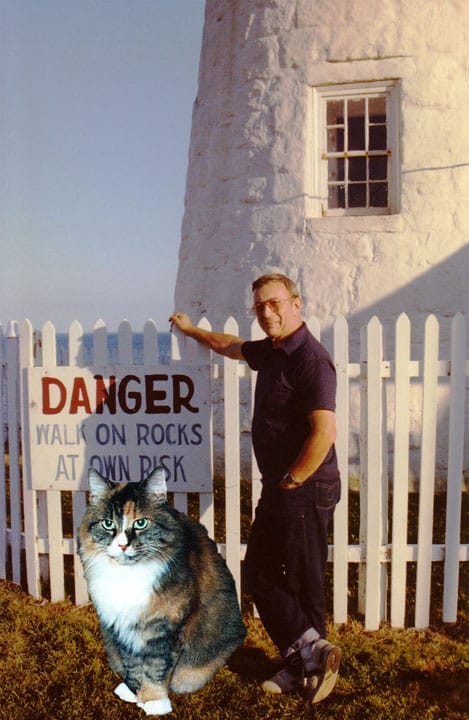 He'd feed her little snippets of tuna every morning. He'd give her lots of extra attention, and she knew that her beautiful Maine Coon attitude could wrap him around her double paws. She'd come running when she heard the can opener, and she'd stand next to the counter, getting on her hind feet, and pawing at him for her treats. He'd give her a small bit at a time, and she'd beg for more. He'd give in, over and over again, till lunch was made. Then, she'd go off and do her thing, and begrudgingly resort to the cat food that was out on demand.
This ritual extended for many years, and one she wanted to continue for many more. Victory and my newly adopted cat, Smokey Blue, had never really melded, and while Smokey liked to hang out with Paul, she never developed that strong bond that Victory held.
Paul had become ill. It was a horrendous ordeal. It started with a stroke. When he was scheduled to have his carotid artery cleared so he would not have another stroke, they found lung cancer. It was two years of doctor visits and hospitalizations. He went into retirement. That meant Victory had more time to spend with him, and they'd hang out all day waiting for me to return each night.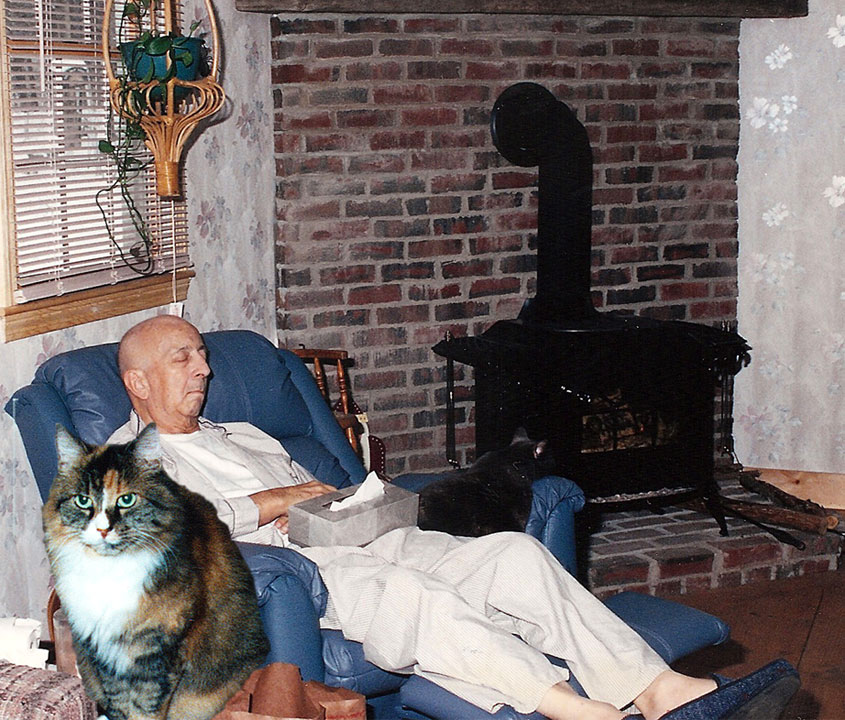 More time together meant more doting and an even stronger bond. She'd anxiously greet him when he returned from the hospital. She'd sit next to him on the recliner for hours. He still gave her special treats, and she was in kitty heaven. As he become weaker, he slept on the sleeper sofa downstairs. Victory staked out a spot next to his feet. When he was hospitalized, Victory would sit in the window and wait for him to return. When he did, he'd dote on Victory and me the best he could in his weakened condition.
She looked forward to sitting next to him when he snoozed in the recliner. She even started sitting in his lap ÔÇô- something that was a bit beneath her dignity.
It was March. The chemo had taken its toll. He fell, and I took him to the hospital. Ten days later he died. He would not ever come home again.
Victory didn't understand this. She kept going into the living room looking for him. He'd gone away before, and come back. He'd surely come back again. She became listless. She didn't want to eat. She'd go to her food bowl, and look at it. She'd walk into the living room, meowing. She was calling for him to return. She'd circle the recliner for hours, meowing. She'd go to another part of the house, and circle back.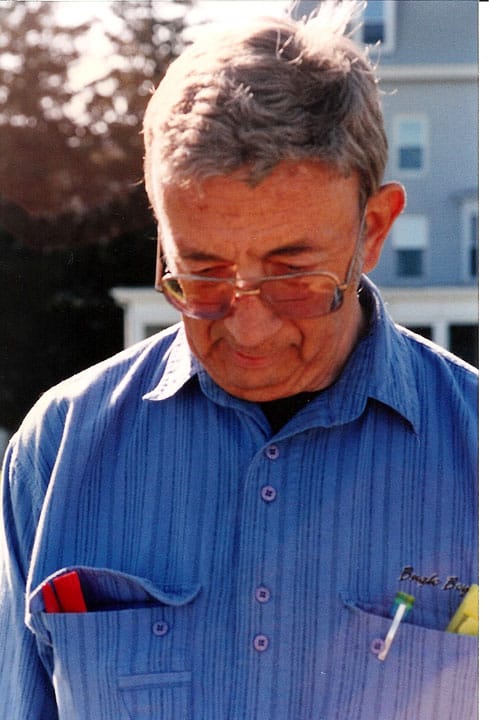 Back then, I didn't know anything about the human-animal bond. I knew we loved Victory, but I didn't realize she loved us back. I didn't know that cats can remember someone for a long time. I did not have a clue that a cat would mourn a person. I learned firsthand that cats, like humans, have feelings. They just can't verbalize them. They can't talk to a friend or relative. They don't know how to process the five stages of grief ÔÇô- denial, anger, bargaining, depression and acceptance. They only know how much they miss the person they've bonded with. They can only verbalize through their heartbroken meows.
When I went through the house and packed up his belongings one by one, Victory kept watching, wondering what was going on. Mom was packing my friend's stuff. Why?
I would give Vic little tuna treats, but it just wasn't the same. She'd look at me wondering where Paul was. He wasn't there. You could see the puzzled look on her face. She was thinking, when is he coming back?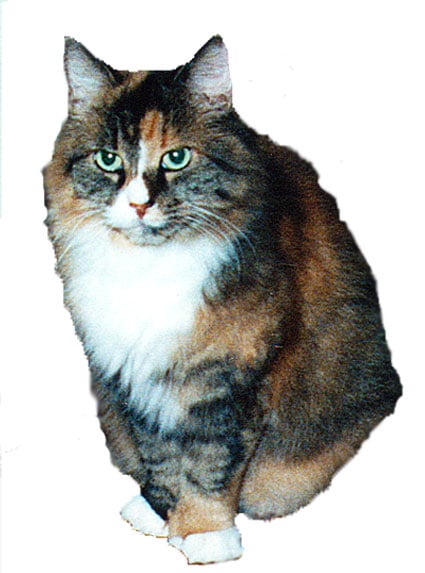 Some cats get over the loss within a few weeks or months, but not Victory. While her appetite returned to normal, she kept looking for him for more than a year. She'd go into the living room and go up to his recliner several times a day. With time, she only went searching once or twice a day. She was still hoping he'd return.
There's no question Victory was grief stricken. She kept hoping her special human would return. With enough time, she worked through her grief and resumed what had now become a normal routine -ÔÇô without her special friend. But I do wonder if she ever did completely forget him.
Learn more about your cat with Catster:
Got a Cathouse Confessional to share?
We're looking for purrsonal stories from our readers about life with their cats. E-mail [email protected] — we want to hear from you!