Editor's note: This story originally appeared in the July/August 2016 issue of Catster print magazine. Click here to subscribe to Catster magazine.
Kristen Ledlow loves two things: basketball and cats. Her own cat, Magic, is on the verge of a revolution to unite the two. The experienced Atlanta-based sports broadcaster, who hosts Inside Stuff with basketball all-star Grant Hill on NBA TV, adopted tabby cat Magic in her hometown of Tallahassee, Florida, at the Leon Community Animal Service Center in 2012. She'd searched shelters in Atlanta and Tallahassee for weeks but hadn't yet found "the one."
"On the day I adopted Magic, he was the last kitten in the very back and had his paws reaching through his kennel's door," Kristen said. "At the shelter, I was told by a volunteer that he had been abandoned and hadn't spent enough time with his mother to learn cat-like behaviors, so he may pick up some of my 'human behaviors' instead. Within a couple of weeks, he was opening the kitchen cabinet to get food, turning on the sink to get water, and even sleeping under the covers."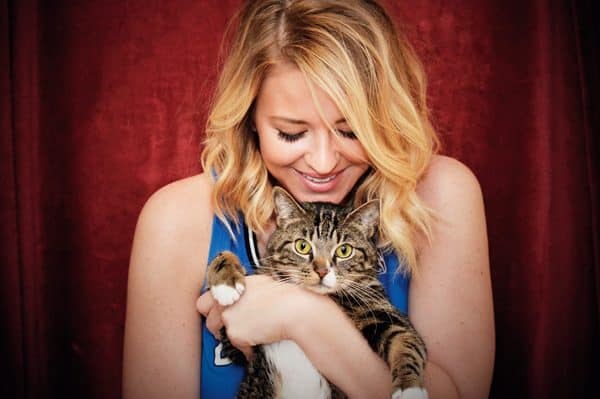 Growing up, and growing to love basketball, in central Florida, Kristen took about a minute to name her new cat Magic, after the Orlando Magic basketball team. His namesake was still in question by some.
"I may have led Magic Johnson to believe my cat was named after him," she confessed.
He often gets such notice from NBA nobility. When asked about reports that LeBron James checks in on Magic, Kristen said: "I can neither confirm nor deny that LeBron James is a cat lover. However, he regularly asks about Magic."
The tabby who brushes whiskers with basketball royalty isn't a hanger-on. He is a devoted fan.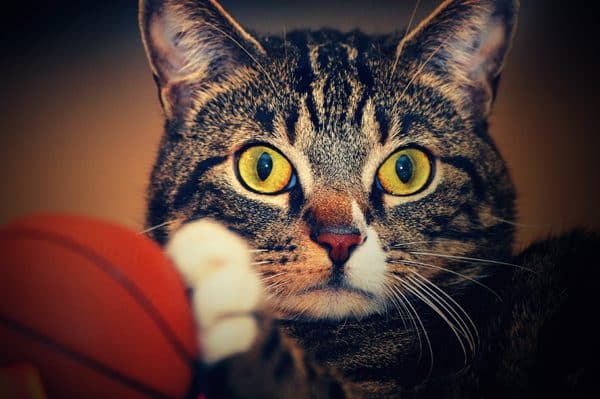 "Magic has likely watched more NBA games than most NBA fans this season, despite often falling asleep by halftime," Kristen said of her cat's fandom for the game.
As for his playing ability? "Basketballs are a bit heavy for Magic's skill set, but he looks great in a jersey."
Magic is on a growing list of NBA cats virtually herded by the Twitter group NBA Catwatch. Kristen has been dubbed an unofficial correspondent of the group. She told us the project's motto — "where trying to figure out which NBA players own cats happens" — got her hooked. The project's supervisor, who became Kristen's friend and works anonymously, scours social media for any clue that connects feline companions to NBA players. Also, it scores for aiding rescue cats.
"As an unofficial cat correspondent, I use my resources in the NBA to help further the project," she said. "Tony Parker, Manu Ginobili, James Michael McAdoo, and Russ Smith are all confirmed cat owners. Karl Anthony Towns (whose initials are KAT) does not currently own a cat but did when he was little. NBA Catwatch has also created and sold hundreds of T-shirts, which have now raised more than $3,500 for rescue shelters."
The response could grow. As Kristen found out in a Reddit Ask Me Anything live chat by one user, "It is the Internet. Of course it is a cat community."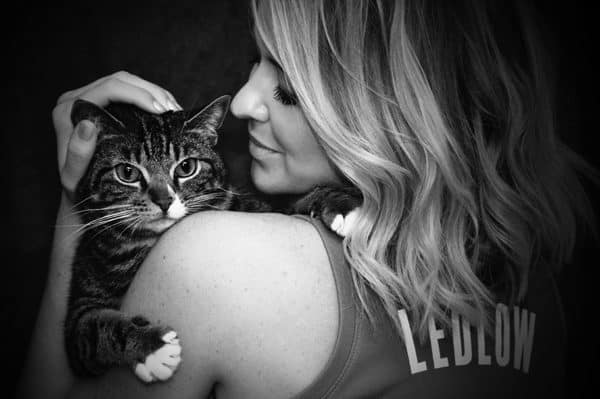 In addition to virtual fame, Magic might become a real-life road dog of a cat, if the team in Orlando with the same name has any input. The team would like to see Magic in real life.
"Magic may take his show on the road," Kristen said. "The Orlando Magic reached out to me via Twitter and invited him to a practice. I may need to work on getting him proper identification."
Amid all the hoopla (heh), Magic cats pretty hard. His favorite activity when Kristen is home? Naps.
"No matter what time of day or night I fall asleep, I wake up with him next to me," she said. "Because I spend so much time on the road during the NBA season, I like to think he keeps an eye on my games while I'm gone."
Good to know that this cat scoring so high stays so grounded.
About the author: Anastasia Thrift's "job" is to find interesting cats online and share stories and photos of them for CatChannel.com. She's written about pets and their people for 10 years, working her way up the food chain to cats. Neighborhood cat, Killer, ate on her front porch for a year before reluctantly letting her bring him indoors. Follow Anastasia on Twitter at @ThriftT.