Phoebe is seven pounds of adorable calico-tabby. She has always been outspoken and definitely uses her cuteness to her advantage. She knows we humans are putty in her paws. Oh, man — we're total putty. Here are five ways she easily and effectively controls my human weakness with her feline charm.
1. Chattiness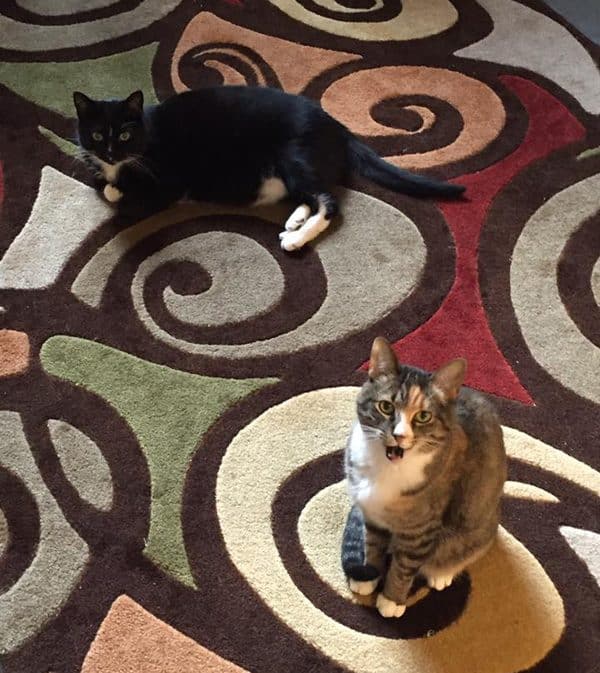 Phoebe's a mouthy little thing. Sometimes her meows are sharp and slightly annoying, but other times, she makes these little sounds that stop me in my tracks and make me melt right onto the floor. If she attempts a meow while purring, I hear a gravelly "mrrrrrow." She's also the queen of the "me-yawn" — you know, when they yawn and meow at the same time. The girl cannot stay quiet, so, even when she yawns, she emits a meow. These are a couple of Phoebe's sounds I simply cannot ignore. Believe me, there are more, but I don't have all day to detail every single one of Phoebe adorable noises. There are many.
It doesn't matter what I'm doing — when she looks at me and makes a super cute Phoebe meow, I stop in my tracks and give her my full attention. She usually flops and gives me that "I totally have your number" look. And you know what? She totally does have my number, and I can't seem to block that incoming call.
2. Covering my work papers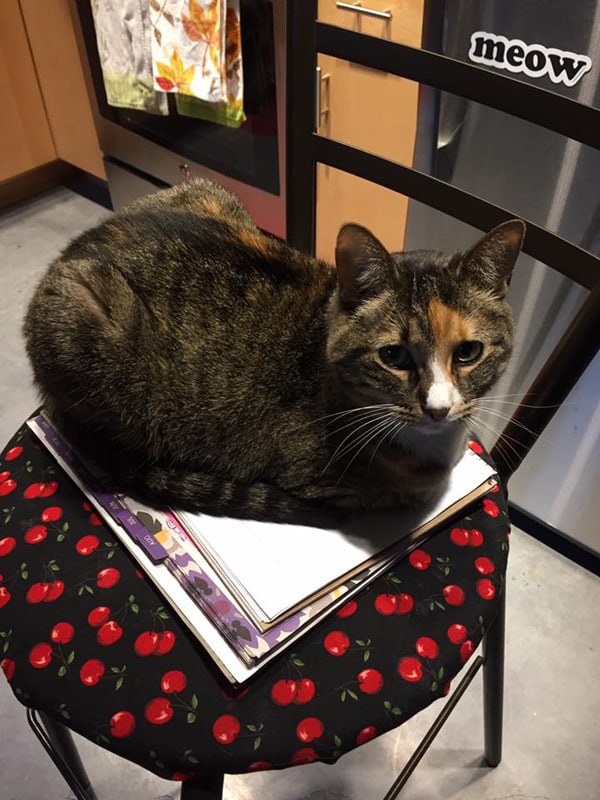 I work from home and start my day with the intention of plowing through my to-do list. I usually stay on task pretty well, but then sometimes Phoebe happens. She, more than my Cosmo, has this instinct of knowing exactly what I need for my task-at-hand, and then covering it with her body. My planner pad and work papers seem to be one of her major targets. How can I possibly disturb her when she looks so cute? I end up unloading the dishwasher or taking a shower, allowing her the time to lounge atop my papers and notebooks. No worries, Phoebe, I can rearrange my schedule.
3. Hijacking gift-wrapping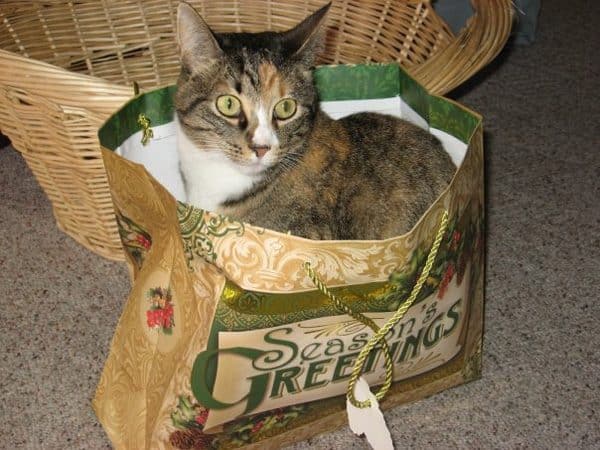 Every cat lover knows this story. As soon as any type of gift-wrapping supplies hit the floor, here comes every cat in the house. Phoebe is my chief wrapping "assistant." She lies on top of my paper, chews the tape, and makes off with the bows. I have to keep an eye on her while she's "helping" me.
Here's the thing: When she sees a gift bag she likes, she climbs right inside of it and chills. She doesn't give a rip that I'm just about to use that bag for my mom's special holiday present. Or she'll stretch out across a piece of festive wrapping paper I'm about to use. Fine, Phoebe. I'll cut some more paper and choose a different bag. Fine.
4. Trapping my bladder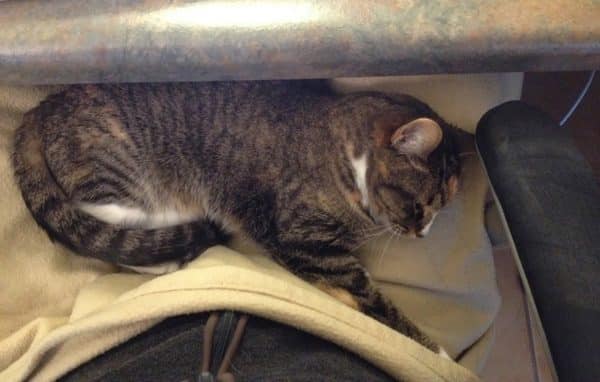 When Phoebe falls asleep on my lap, it's the sweetest feeling ever. Sometimes she purrs lightly and fans her toes in total bliss. She remains on my lap for as long as I allow, or until she hears something resembling a treat bag coming from another room.
Here's the trouble: My bladder is sensitive. It doesn't take it too long to fill, and then I've gotta go. Cute cat in lap doesn't help the situation because I feel a bit of guilt moving her from her comfy spot. Plus, I enjoy having her snoozing in my lap. Even though my bladder scolds me, I usually let her stay past my body's comfort level. And then when I do move her, she gives me a fussy meow that further enhances my guilt. Maybe I should start wearing adult diapers and avoid the situation.
5. Racing ahead of me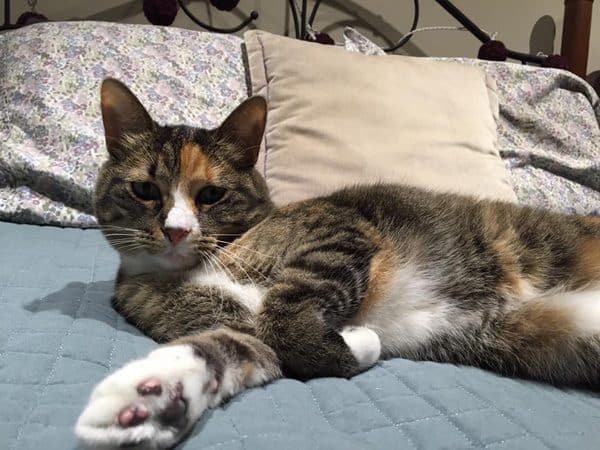 Phoebe get strategic with this one. A hallway in my apartment leads from my front door to the living room and kitchen area. Along the hallway are the bedroom and bathroom. When I walk through the front door, or exit the bathroom right next to the front door, she races ahead of me, meowing, and dashing into the bedroom. She wants me to follow her. I do. Then she jumps on the bed and flops, demanding I lie beside her and snuggle her fuzzy little body. Okay, it matters not that I dropped a bag of groceries outside the bedroom door or have food in the oven I need to check on, she keeps me on the bed for a ridiculous amount of time. It's the cutest, and she's the absolute bossiest.
How does your cat control you with his or her cuteness? Tell us in the comments!