My cat is overweight and even though he's on a diet, food is only half the equation. Furball needs to exercise in order to reach his ideal weight. However, because he's an older cat and really picky about toys, it's hard to get him moving. Most play sessions consist of him lying on his back and half-heartedly pawing at a toy in the air.
Sometimes I think I need a magic wand to get that cat moving. Luckily, there is something that works almost as well as a magic wand. Cat wand toys! No matter how lethargic Furball's feeling, when I bring out a wand toy, he starts running around in circles like he did when he was a youngster.
Here are five wand toys that can help bring out your cat's inner kitten.
Da Bird is probably one of the most famous cat wand toys. It was even featured on Jackson Galaxy's TV series My Cat From Hell. Because the feathers are attached to a swivel, when they fly through the air, the motion sounds a lot like a real bird flapping its wings. No wonder cats go crazy for it.
Furball had one of these toys when he was younger (and thinner). He LOVED it. Unfortunately, he loved it so much, he ripped out all of the feathers and since then, I've not replaced Da Bird. On the plus side, Da Bird is fairly inexpensive for a wand toy and for such a low price, it was awesome to learn that it's made in the USA.
Taking another trip down the memory lane of cat toys brings us to the Cat Charmer. It's a polycarbonate wand with a strip of colorful fleece attached to it. Furball was given a Cat Charmer when he was a kitten and more than a decade later, he's still playing with that very same toy. Talk about durable!
Sure, the fleece strip is a lot shorter than when we first got it. Let's just say it got torn apart a few times. Considering the hundreds of games of tug-of-war of me vs. a 15 pound cat dangling on the end, I'd say the Cat Charmer has held up charmingly well over the years.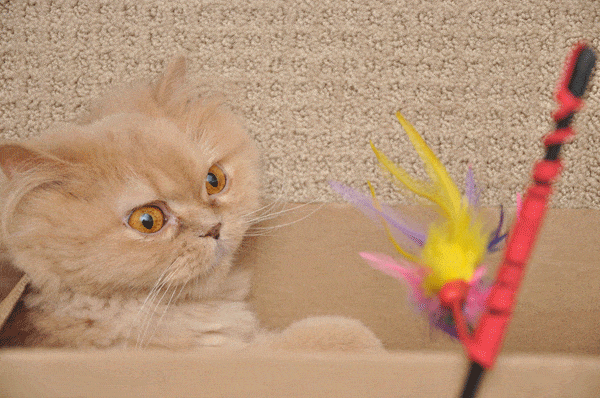 The eco-friendly cat wand from Mountain Cat Trees is one of Furball's newest toys. It's made from a natural hardwood dowel that's extra long at 32 inches in length. The dangling tassel is made from hemp twine that's been dyed with food-grade coloring.
The tassels are replaceable and come in a rainbow of fun colors. For even more variety, you can also get a feather attachment. Furball loves the variety. Best of all, because the wand and the line are both extra long, my preschooler gets to play with the cat under my watchful eye with little risk of accidentally getting scratched.
The Catit Eco Terra Linen Ball Teaser Wand is a chic neutral beige because it's made from all-natural raffia, which is very similar to jute or hemp twine. Even though it doesn't come in a rainbow of colors, it'll add a splash of color and excitement to your kitty's playtime. The dangling streamers will appeal to your cat's natural instincts and the ball will give him something fun to dig his claws into.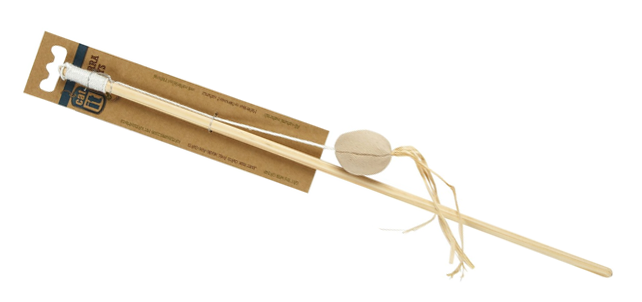 The Katarantula might just be my favorite portmanteau (a mash-up of two or more words to make a new word). It's also the perfect name to describe this creepy yet delectable cat toy.
The Katarantula comes with a 41-inch-long string and a swivel clip for easy attachment to a wand. The wiggly spider legs will beckon your cat to come take a closer look and inspire many hours of interactive play.
Important safety note: Because most wand toys are made with twine and string, please put them away when not in play and always supervise your cat while playing. These are interactive toys, so pull out your cat toy wand, say, "Abracadabra" and watch your kitty play!
Read more on cat toys: