I've fostered many kittens — from pregnant cats and their newborn babies to orphans. Feeling intimidated by fostering kittens and think you don't have what it takes? Fostering kittens is easier than you think. We've debunked seven common misconceptions about kitten fostering.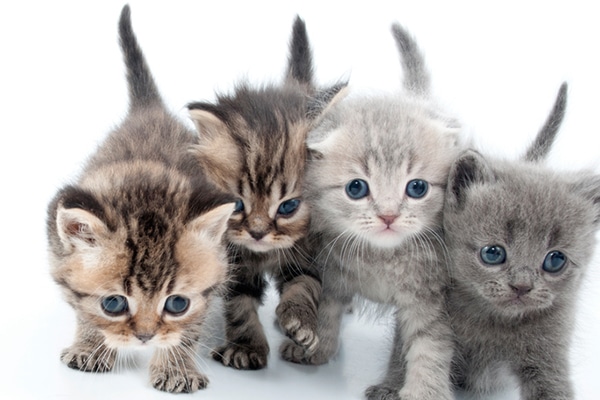 1. Travel too much during the summer? Kitten season can be year-round.
Kittens are everywhere and not just during spring and summer. Kitten season often stretches into mild falls and sometimes even into winters. Shelters quickly run out of room and rely on foster families to care for the multitude of litters that are brought into their buildings or literally dropped on their doorsteps. Fostering kittens at any time of the year saves lives!
2. You only need a few items.
In my experience, most litters you'll receive are 3-4 weeks old and older — they're in the process of weaning off formula and no longer in need of bottle feeding around the clock. The shelter staff will guide you through the process and send you home with formula to create a basic gruel, a watery mixture of formula and canned kitten food. At 4-5 weeks, gradually begin feeding the kittens canned or dry food only. The shelter or rescue group will usually provide all veterinary care.
Foster kitten needs are simple:
Feed them
Provide them with access to clean, fresh water 24/7
Scoop their litter box
Interact with them as much as possible! Socialization early on builds a base for healthy relationships with humans and other pets.
3. You definitely have room for foster kittens.
A spare bedroom, the powder room or your den are all great places to house your fuzzy little charges. Any room with a door that closes securely and without a lot of in and out traffic works well. Remember to kitten proof your kittens' new space first, though, because everything is interesting to a kitten.
No spare room? No worries. Most shelters will gladly give you a large crate. These crates are custom made for growing kittens — they come equipped with built-in shelves at several different levels — perfect for climbing and exploring.
Add a little personal touch by hanging up a couple of mini hammocks in the corners. A simple man's handkerchief makes a perfect place to catch a quick kitty nap.
4. Even feral cats are easy to win over when they're kittens.
Sometimes kittens are just fearful of their new surroundings but in time will gradually become more friendly and sociable.
Other times, kittens are simply feral — their innate reactions are to hiss and stay far away from all human interactions. It's always best to give those little ones some extra space. If you try to force unwanted attention onto these kittens, you could get scratched or bitten — or end up making them even more fearful.
Food and treats can work wonders, though. Small servings of low-lactose cheese or yogurt can help ease the transition.
5. It's simple to help foster kittens grow big and strong.
Record your kittens' growth and development in a notebook. This is a handy tool to keep track of weight (shelters typically like to weigh and vaccinate kittens every two weeks), symptoms of illness, personality traits and anything that might help the shelter staff to care for them when they return and to match them with their forever homes when they're ready.
6. You can foster kittens if you already have pets of your own.
Yes, you can foster kittens even if you have a dog, cat or other pets in your home.
Keep the kittens separated, initially, to assess their overall health and personalities. This also gives your pets ample time to sniff around and adjust to the new additions. Gradually introduce your resident pets to friendly kittens — don't allow your pets to get too close to skittish or feral fosters.
7. Yes, fostering kittens is emotional — but it's worth it!
Kittens are adorable, and you'll probably fall in love if you foster them. So, how can you give them up when they're ready to return to the shelter? It's not easy, but take it from someone who's been one whisker away from becoming a crazy cat lady too many times to count — you can do it. Just remind yourself that you are saving lives and making room for another foster litter.
Also, while most kittens will thrive in your loving care, some foster kittens are simply born weak and may pass away from ailments like fading kitten syndrome. It's difficult to deal with the loss of a young cat, but please don't let it discourage you from saving the lives of other kittens in need.
Thumbnail: Photography by Branislav Ostojic/Thinkstock. 
Read more about foster kittens on Catster.com: