Sorry, dogs. You may think you excel at begging for treats, but many cats also know what the word "treat" means — and will usually outrace any canine to the kitchen to snare a delicious bit of food.
In fact, Casey, my food-motivated orange tabby, will quickly leap onto the kitchen island, plop into a sit and begin purring loudly when I say the "t" word. I admit it. He works his feline charm on me.
Choose the right ingredients
Treat time delivers mutual benefits for you and your cat. It's an opportunity to bolster your bond with your feline pal, and help him feel safe and free of stress. It can also reinforce good behaviors and help hone new tricks like touching paws or riding in a pet stroller.
But when shopping for commercially made treats, become your feline's No. 1 food advocate by choosing based on what's on the label and not by the price tag. Some bargain-priced treats are low in healthy ingredients. Veterinarians specializing in feline nutrition and medicine advise to stay clear of any treats that contain unhealthy items, such as caramel color, and scary-sounding words like potassium chloride and DL-methionine. Instead, remind yourself that your cat is an obligate carnivore, who does not fare well on high-carbohydrate foods. Protein is paramount to a cat's diet.
Making smart treat choices for your cat keeps your cat feeling his best, reports Jean Hofve, a holistic veterinarian based in Colorado who operates the littlebigcat.com website. She is currently revising an online version of her popular book What Cats Should Eat and serves as an AAFCO (Association of American Feed Control Officials) advisor.
When it's treat time for her orange tabby named Perry Christmas, Dr. Hofve opts for homemade boiled beef heart or small cut-up pieces of broiled chicken breast sans any skin or seasoning.
However, if you are seeking natural, high-quality, commercially made cat treats, Dr. Hofve advises to look for treat packages that contain only a few food ingredients — all recognizable. Give priority to those sporting only one freeze-dried ingredient — a protein, such as chicken, duck, turkey, beef or bison.
"Consider cat treats that meet the human-grade criteria for food," she adds. "Treats should contain a minimum of 30 percent protein as well."
She no longer recommends feeding any bonito fish flakes, halibut or salmon to cats because she is concerned about the quality of the fish depending on where it is sourced.
Dr. Hofve says that some fish in canned pet foods could be a "mishmash that's high in phosphorus and magnesium, which can be a serious problem in cats with a history of urinary tract disorders or kidney diseases."
She says that some fish now contain high levels of mercury and other toxic pollutants, such as PCBs and BPA. When feeding your cat fish, make sure the company is using a healthy, high-quality fish product.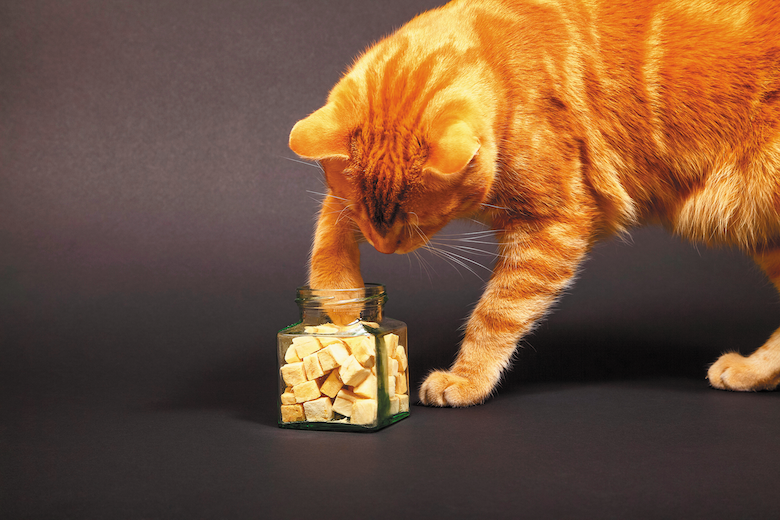 Pick something tasty
Elizabeth Colleran, DVM, past president of the American Association of Feline Practitioners, who operates cat-only veterinary clinics in Chico, California, and Portland, Oregon, says it's important to select quality treats that cater to your cat's food preferences.
"Cats have a sophisticated palate made up not only of taste, but aroma and mouth feel," Dr. Colleran says. "Any treat should have high value to the cat as well as being a small part — about 10 percent — of your cat's daily food portion needs."
For her pair of Burmese cats named Bodaishin and Andy, Dr. Colleran gives them pieces of dried chicken. "I use a feeding toy, which makes them have to work for their treats and engages their brains," she adds.
She avoids giving them any form of milk, cow, almond or soy.
"Cats are lactose intolerant — they lack an enzyme called lactase and so can't absorb the nutrients," she says. "A healthier alternative to milk is a little bit of cheese once in a while."
Michele Forbes, DVM, co-owner of Compassionate Care Animal Hospital in Ann Arbor, Michigan, offers a surprising healthy treat choice for your cat: meat-based human baby food.
"Just make sure that the jars do not contain any onion or garlic powder, but I've found many cats like baby food," Dr. Forbes says. "And, surprisingly, some cats also like watermelon — for the water, not for the sweetness. I've also had cat clients who enjoy bananas and pumpkin as treats."