Marc Jacobs might be a dog guy — his Bull Terrier, Neville, even has his own Instagram account — but he still has a soft spot for cats and the ladies who love them.
As someone with a slight black cat obsession (if I lived in the world of Harry Potter, my Patronus would be a black kitty), I'm crazy in love with the new Marc by Marc Jacobs line of clothing and accessories, featuring Rue the cat. The artistic feline appears on shirts, electronics cases, and holographic jewelry that provide double the feline love. After all, a little black cat goes with everything, and these lucky felines prove they aren't just for Halloween anymore!
I'm always ready to rock a kitty tee, and cannot resist this artistic take on my favorite-colored cat! Of course, cats are beautiful all on their own, but I love the red cheeks, starry body, and trippy, dripping tail that make this cool Rue print unique.
The cotton shirt, which has a Marc by Marc Jacobs logo on the back, also reminds me of another fashionable black feline: Milu, who appeared on a shirt, tote, and scarf as part of designer Jason Wu's 2012 collection for Target.
If you're going to cover your iPad, you might as well do it in style — cat style, that is. Rue pops up again on this raised silicone case, this time against a hot pink background that really makes her pop!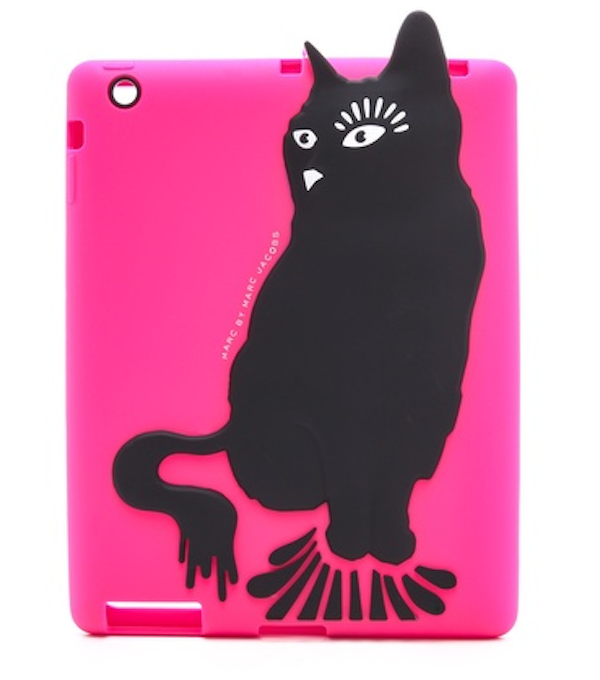 If you don't have an iPad, the fluorescent feline design is available for other electronic accessories, too. Get your fix through a matching iPhone 5 case, neoprene laptop cover, and a iPhone "boost" case that includes a detachable battery sleeve capable of charging your phone for up to 24 hours.
Admittedly, I'm not much of a watch wearer (between my phone and laptop, I'm hardly ever at a loss for what time it is), but this gorgeous piece is making me change my mind about having time on my hands.
The fashionable watch wears more like a piece of art, and the numbers have been replaced by the letters that make up Jacobs's name. When your kitties start meowing about being fed, just tell them they have to wait until half past M o'clock.
What's better than one black kitty? How about two! At first I was torn between the Rue illustration and the black cat photo shown below, until I realized I could have the both of best worlds. You see, the collection includes some crazy cool holographic accessories like a button, bag charm, and this oversized statement ring, that switch back and forth between kitty pictures!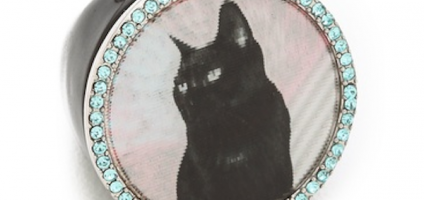 Move your hand one way to show the artsier side of Rue, while tilt it another to reveal a sleek black cat portrait. Better yet? The chunky resin ring is surrounded by tiny crystals, that add the perfect amount of bling.
I'm the proud owner of a cat-themed Marc by Marc Jacobs iPhone cover from a few seasons back, but as soon as I upgrade to a new phone, I can't wait to get my paws on this fresh new cover to match!
Just like the accessories mentioned above, this iPhone 5 case gives you two looks for the price of one, depending on how you look at it! Do you prefer the painting like rendition of Rue the cat (above), or the portrait of a black kitty, below? I don't think I could ever choose, but thanks to this lenticular design, I don't have to.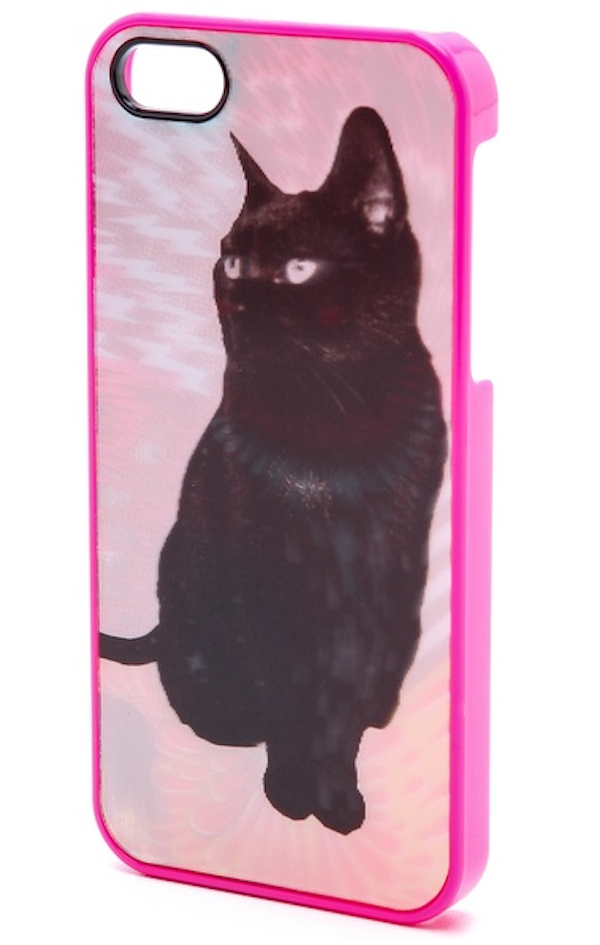 Looking for more cat style? Check these out: