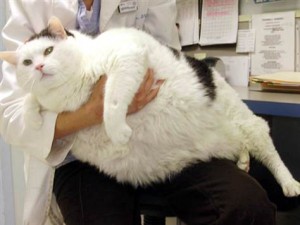 When Otto's so-called caretakers brought him to the Clementon Animal Hospital this January, he weighed almost 36 pounds.
They were going to have the poor cat euthanized because their foolishness had left him so morbidly obese he could barely stand. Between his obscene weight and the arthritis it had caused, Otto couldn't even walk, let alone climb into his litterbox to do his business.
Fortunately, Otto (short for ottoman — he was so fat some people said he resembled one) stole the hearts of the staff, and they convinced his owners to surrender him to the hospital instead.
Clementon staff put him on a rigorous vet-supervised diet and exercise program, and yesterday when he appeared on the Today Show, he weighed in at 29.5 pounds. That's the equivalent of a 500-pound person losing 100 pounds.
Veterinarian Dr. Shashina Lyons said — as I've said many, many times — that there's nothing amusing about a cat as morbidly obese as Otto. Fat cats, like extremely overweight people, are at grave risk for diabetes, liver disease, and arthritis, among other problems.
Cats don't control their own food portions, so obviously his previous "caretakers" are solely to blame for Otto's perilous condition. But now that he's in the care of competent and compassionate hospital staff, the morbidly obese kitty is working his way toward his goal weight of 20 pounds.
"It's probably going to take a year," Dr. Lyons said. "But I'm hoping every day he's going to be a little bit more mobile, active, and it will all get easier."