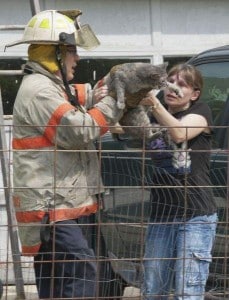 On Tuesday afternoon, a fire broke out in Maryanne Hinkle's Mansfield, Ohio home. She fled and called 911, but her six cats did what came naturally in an emergency: they scattered to dark corners and hid.
As Hinkle watched in dismay as her house burned, fearing for the lives of her feline friends, a good samaritan was the first to come to the rescue.
Twenty-six-year-old Maurio Grady, who was visiting a neighbor across the street, knew he had to do something.
"I saw the smoke and I just ran to help," he said. "I just wanted to make sure there were no kids in there, but then I heard the lady say her cats were still in there so I ran in."
Grady had to crawl on the floor to avoid the smoke that was rapidly filling the home.
"The smoke was everywhere, but I could hear the cats crying," he said. "I grabbed one that was in the kitchen. I wasn't worried about myself. I'm just glad there were no kids in there. That's why I ran over."
When firefighters arrived a few minutes later, they set to work dousing the fire and rescuing the rest of Hinkle's cats.
Hinkle waited at the fence and took each of the other five cats in her hands as the firefighters pulled them out one by one.
"It was hard because we'd pull one [cat] out and then it would want to go back in," said Mansfield Assistant Fire Chief Steve Strickling said.
Eventually all six cats made it out of the burning home alive. Hinkle and her adult roommate and two children also survived the fire with no injuries.
Strickling said the blaze started with an electrical malfunction in a room beneath the home's side porch.
"The fire was contained to that room, but there's smoke damage throughout the rest of the house," he said.
Neighbor Amanda Neighbors comforted the family as they recovered from the shock.
"It was crazy," she said. "We could smell it. I just feel so bad for them."
The local branch of the American Red Cross is assisting Hinkle and her family to get back on their feet — and paws — again.
[Source: Mansfield News Journal]