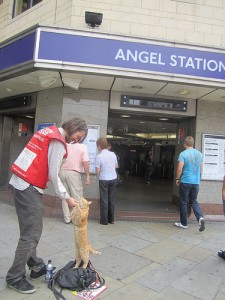 When James Bowen found an injured cat curled up in what passed for his living space, he had no idea that a simple act of kindness would change his life.
Bowen, a musician who had fallen on hard times, was making the best he could of his life on the streets, working as a vendor for The Big Issue, a weekly magazine published as a means for homeless people to earn money and work their way to a more secure future.
When Bowen found the cat, he could see that he was suffering from some pretty serious injuries. He was limping badly and a large abscess was leaking pus.
I'm sure there are plenty of people that would have simply ignored a wounded and sick cat on the streets. But not Bowen. As a homeless person, he probably knew all too well what it's like to be overlooked as just some more garbage in the alley. No matter how desperate his circumstances were, Bowen couldn't let the cat suffer without at least trying to do something to help, so off they went to the nearest branch of the RSPCA. Vets there drained the abscess, fixed him up, and sent him "home" with Bowen.
The two shared Bowen's meager accommodations as he nursed the cat — whom he had named Bob — back to health with the antibiotics the RSPCA had provided, and sent him on his way. Bowen figured he'd never see Bob again.
But then Bowen got a happy surprise. Apparently Bob had become quite attached to his new caretaker. He began following Bowen everywhere he went, including his vendor station near the Angel Tube station in the Islington borough of London.
Bob quickly became a fixture. Customers began stopping to visit with the cat, and because Bowen was earning money by selling The Big Issue, he has been able to keep Bob well fed. Bob even rides on Bowen's shoulders when he's too tired to walk anymore.
Last week Annie Mole, author of the Going Underground blog, heard a rumor that Bowen had gotten a book deal for a memoir about his life with Bob. When she asked Bowen, she found out that it was, in fact, the truth.
A Street Cat Named Bob: How One Man and His Cat Found Hope on the Streets of London, will be published by Hodder & Stoughton in March 2012. The book chronicles the adventures — and the healing journey — man and cat shared through their companionship. According to the publisher's blurb, the memoir "is a moving and uplifting story that will touch the heart of anyone who reads it."
Bob and Bowen are pretty entertaining, as you can see by the video below. So who knows? Maybe there's even a movie in Bob's future.
(Don't see the video? Watch it directly through YouTube.)
A Street Cat Named Bob is available for pre-order through Amazon.co.uk and Amazon.com.