I chuckle as I stand outside the entrance of Chop Suey Books, where a clever sign above the door that clarifies the sale of "Used Books, Not Used Eggrolls" shows a cartoon tuxedo kitty and the words "Home of the Caturday Miracle."
Then, when I walk into the shop in the Carytown neighborhood of Richmond, Virginia, I find WonTon — the indie bookstore's resident tuxedo cat — standing right behind the front door, peering at me curiously. I sneak in a few petting strokes, then follow him to a staircase, where he awaits with a thumping tail and leads me upstairs.
WonTon — a fitting name for a kitty at a bookstore named after Chinese food — has been living at the store, which is on its second location, for most of his roughly 14-year life. He has become a hit for customers at Chop Suey Books, which in 2019 MentalFloss.com named the best bookstore in Virginia due to its wide variety of new and used books on many subjects.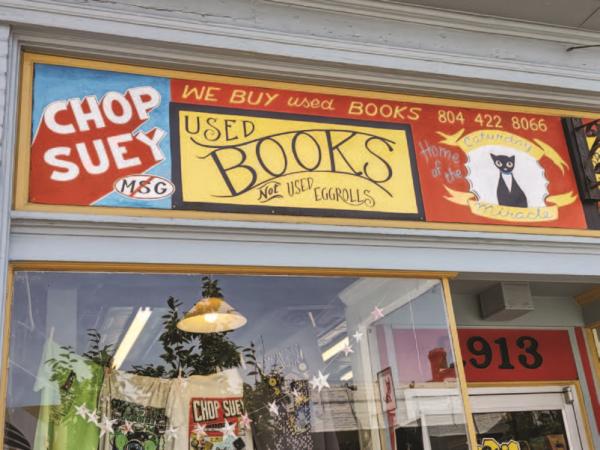 WonTon can be spotted patrolling among the books either upstairs or downstairs or exploring book boxes. For sure, WonTon — who lives and sleeps upstairs — attracts business to Chop Suey Books, says owner Ward Tefft, who calls the cat his buddy. People either walked by the store and saw the cat lounging behind a window or the glass door, or they heard about him on social media.
"I think the people like WonTon better than they like the store," Ward jokes. "We have people who are not customers who come here looking for him."
WonTon has gathered many fans in repeat shoppers.
"I love him so much," says regular customer Maya Gilliam, 18, of Richmond, as she browses books. "I think … having a bookstore cat is so cute. He likes to make his rounds."
WonTon may enjoy greeting the store's customers, but he's not a love bug and can be a bit aloof. He might let you sneak in a few pets, but he won't be loving on visitors too much. WonTon will just keep them company and amuse them with his cuteness and curiosity. "He likes being social, but he doesn't like going too far beyond that," Ward says.
A young WonTon discovered his future home while living with a woman next door to the store at its old location. One day, he started jumping into the store through a window, and Ward thought he was a stray. The tuxedo kitty seemed to make himself at home, and the staff started taking care of him.
Then, the woman who owned the kitty said, "Why don't you just keep him?" It was meant to be.
"He knew he belonged here," Ward says. "He's been here so long I can't even think of (the store) without him. Chop Suey Books has something different with the cat energy."
You can buy T-shirts with a print of a cartoon tuxedo cat, inspired by WonTon. The feline also inspired the "Saturday Caturday" label, although the store doesn't do an actual cat-themed event on Saturdays. Learn more at chopsueybooks.com.