Amber Pye believes pet collars can be stylish and safe. With that in mind, she opened Pooch and Puddy, an Etsy boutique that carries neckwear she thoughtfully created for her own trio of furry family members: Peach the Pomeranian and kitty siblings Egon and Astrid, her Domestic Shorthairs.
Her cat collars feature a breakaway buckle, tested by Pye herself on a variety of cats (even kittens weighing just four pounds), and a bell to announce comings and goings. Check out Egon in the Press Star collar and one of Pye's new bow-tie accessory designs: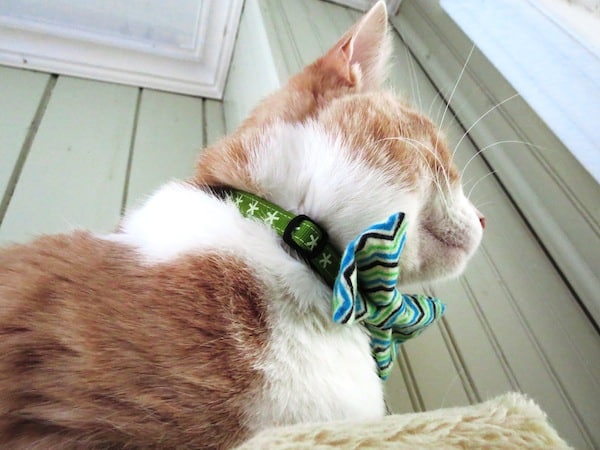 As you can see, Pye favors bright colors and fun fabrics for her creations, with several perfect for spring and summer. My favorites include:


Pye has generously offered up one of her collars to a lucky Catster reader as this week's Friday Freebie. To enter, post a photo of your kitty in his or her current neckwear and share why you simply must have one of Pooch and Puddy's stylish and safe designs. Is the existing collar worn out? Does it get caught, creating an unsafe situation? Also, follow the instructions below. (And if you want to win one of Pye's equally stylish and safe collars for your dog, enter over on Dogster!)
HOW TO WIN
Would you like the chance to win a Pooch and Puddy collar? If so, please do the following:
Create a Disqus account, if you haven't already, and include a valid email. It takes just a minute and allows you to better participate in Catster's community of people who are passionate about cats. If you already have a Disqus account, check it to ensure the account includes a valid email.
Comment below using your Disqus account and post a photo of your cat in his or her current collar, share why you must have a new one from Pooch and Puddy, and tell us which one you want; see the full collection. Our favorite comment wins! Note: You must be a U.S. or Canadian resident to win.
Check your email for a "You've Won!" message from us after noon, PST, on Wednesday, March 27. We'll give the winner two days to respond before moving on to our next favorite comment.
If you don't score the Pooch and Puddy collar, not to worry: You still have plenty of opportunities to win other great prizes — every Friday, in fact! You also can purchase a collar through the Pooch and Puddy boutique on Etsy. The regular collars cost just $18, with the bow-tie accessories running $12.