Do you know what your cats do when you're not at home? Well I do … and it's not pretty. I'd noticed some strange things happening around my house. Weird cat toys kept showing up while old toys were disappearing. My kitties would vanish for hours and then return, pretending that they'd been under the bed the whole time. They'd suddenly have all this expensive catnip — where did it come from? And when I'd come home, my laptop would be warm. What was happening??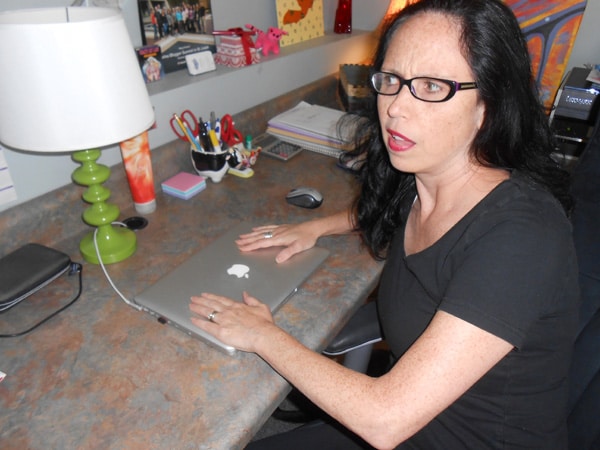 I decided to do some investigating. When my cats thought I'd left the house, I crept around corners, slithered along the floor, spying on the goings on. What I found may shock you … but then again, maybe it won't.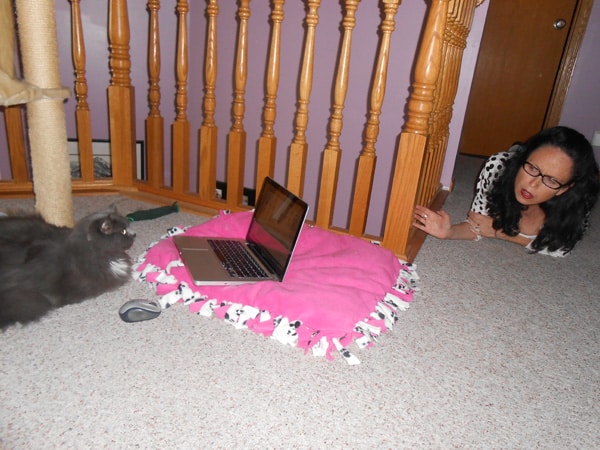 I saw my cats taking turns using my laptop. They all seemed to be logging onto the same site and then doing a lot of typing. I had to get to the bottom of the situation. Something was fishy, and it wasn't their food. I took my laptop into the bathroom, locked the door and ignored the pounding paws as I dug into the online browsing history. What I found was alarming. My cats were wheeling and dealing, finding dates and connecting with other felines on whiskerslist: the kitty classifieds, the cats' version of craigslist.
I skimmed the site and found ads for cats looking for dates, ranting about humans, selling collectible milk jug rings, and hiring exotic dancers. Don't believe me? Look at the site yourself, but please erase your browser history — we wouldn't want them to know we've tapped into their online world.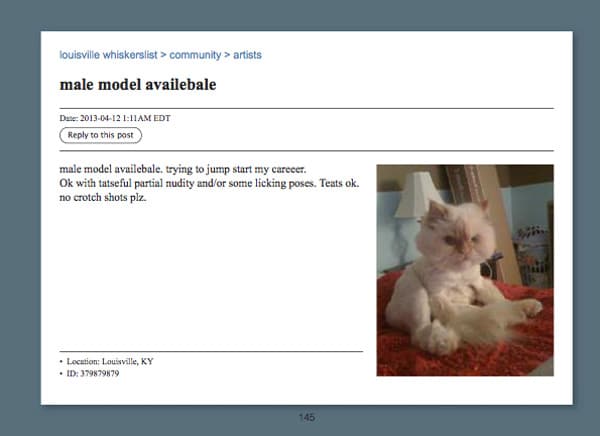 As I continued my jaw-dropping journey through the pages of whiskerslist, I saw a post from my own Phoebe, offering a master class in sabotaging humans' attempts at obtaining decent cat photos. Needless to say, I was blown away. This site was proof that cats were just one step closer to finally overtaking the human race. I was convinced we were not far away from seeing something like this: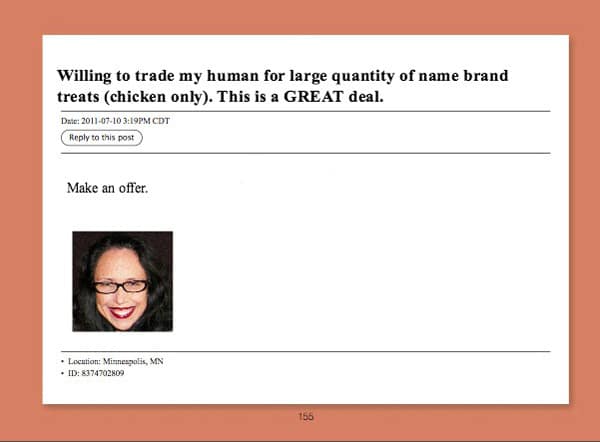 What was I going to do? I couldn't let my cats know I was on to their secret world. They were gaining ground too quickly. I decided I needed to alert other humans of my findings so they could be on the lookout and protect themselves against the flourishing feline regime. I thought the best way to accomplish this would be through writing a book.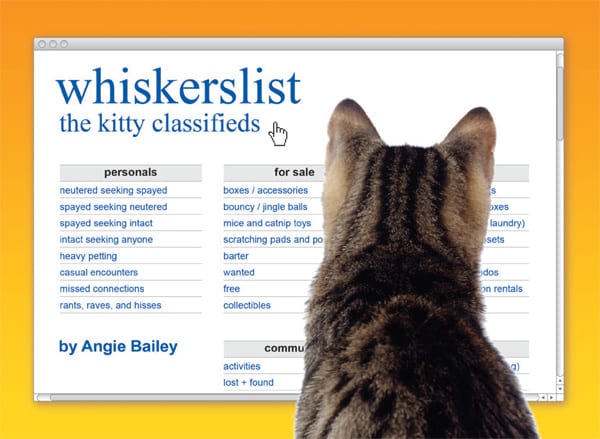 I began compiling some of the most disturbing posts as a reference for your use, and encourage you to study each post carefully. Look for clues that may explain some suspicious feline behavior that's been happening around your house. But I urge you to take care in where you store and read this book. Cats may not be wise enough to erase their browsing history, but they are pretty quick when it comes to odd human behavior. They like us to live a routine daily life, and anything out of the ordinary would certainly arouse wariness.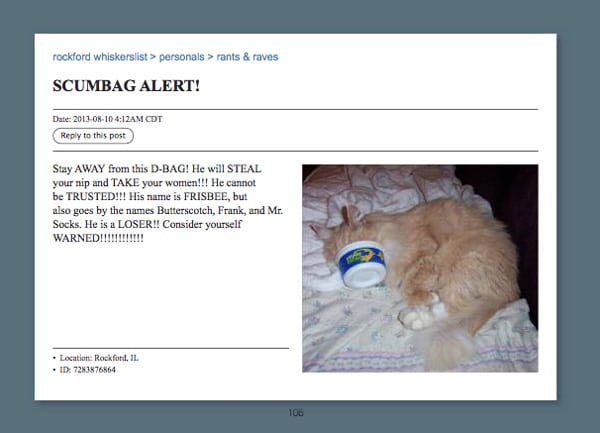 Once they become suspicious, they'll certainly plug into their network on whiskerslist and begin to spread the word. Then we're all in trouble.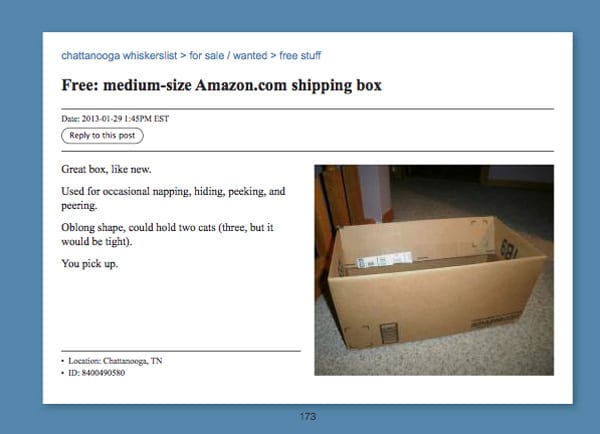 Guess what? Because we here at Catster have nothing but concern for your safety, we're giving away a copy of whiskerslist, the kitty classifieds to two lucky readers.
How to enter
This offer is limited to readers in the United States. To win, leave a message in the comments with what your cat would post on whiskerslist. Hey, they could actually even make that post on the real whiskerslist site, but to qualify for the giveaway, you must leave the comment here as well. We'll select two of our favorite and most creative answers by Tuesday, Sept. 10, at noon PST.
Make sure your Disqus account includes an email address so we can contact you if you're chosen. If we try to contact you but get no response, we'll choose a new winner after two days.
Thanks, and good luck!
About the Author: Angie Bailey is a goofy girl with freckles and giant smile who wants everyone to be her friend. Loves pre-adolescent boy humor, puns, making up parody songs, and thinking about cats doing people things. Writes Catladyland, a cat humor blog, and authored whiskerslist: the kitty classifieds, a silly book about cats wheeling and dealing online. Partner in a production company and writes and acts in comedy web series that may or may not offend people. Mother to two humans and three cats, all of which want her to make them food.
Read more by Angie Bailey: