In April of last year, we adopted our cat Smudge from an animal blood bank. The place had rescued him from a local shelter shortly before he was scheduled to be euthanized. The blood bank sent us home with his paperwork, which included his surrender forms from the shelter. Under "reason for surrender," his previous owners had written, "moving and can't take him."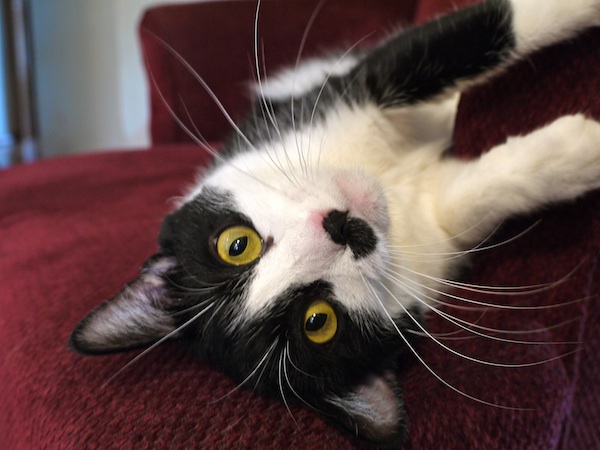 As someone who has volunteered for animal rescue organizations, that is one of the oldest "reasons" in the book for giving up a pet. It's right up there with developing sudden allergies. This sorry excuse, in addition to the fact that the former owners had him declawed on all four paws was enough for me to pass judgment. They were obviously terrible people. How lucky that Smudge had landed with us instead.
But as I've gotten to know Smudge over the past 18 months, I've started piecing together what his life must have been like before being surrendered. And I think that maybe, just maybe, Smudge had it pretty good before we came along. Why?
He loves people
Wherever I am, he wants to be. If he's not sitting in my lap, he's somewhere nearby. He has no fear of new people coming in the door, and he enjoys being around men and women equally. He's an attention hog and loves it when I pick him up, cuddle him, and kiss his little belly. As I'm typing this, he's batting at me with his paws, insisting that I reach down and pet his soft head. His former family must have given him a lot of affection and cuddling from an early age for him to love humans so much.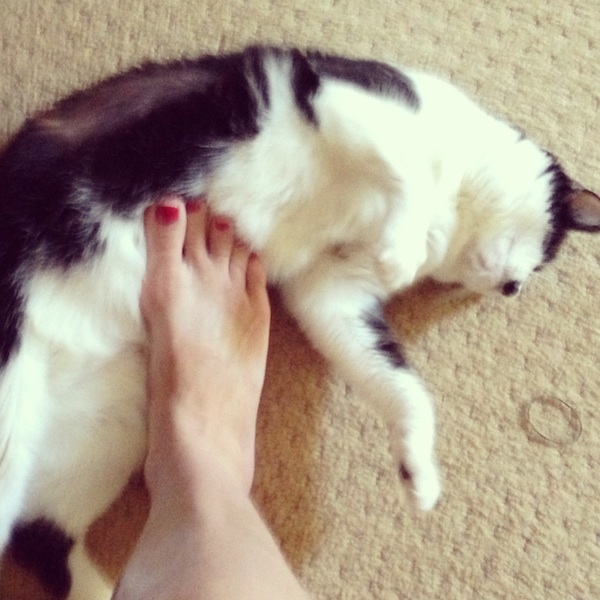 He loves dogs
When we adopted Smudge, we already had another cat and two dogs. Having introduced all our previous pets to each other, we knew to take it slow. But when it came to the dogs, we needn't have worried. Smudge had absolutely no fear of them and greeted them like long-lost friends. Since he approached them so confidently, our dogs must have thought Smudge was some weird dog/cat hybrid, and they welcomed him into the pack immediately. I have to think that he grew up around some pretty nice dogs to be so comfortable around them.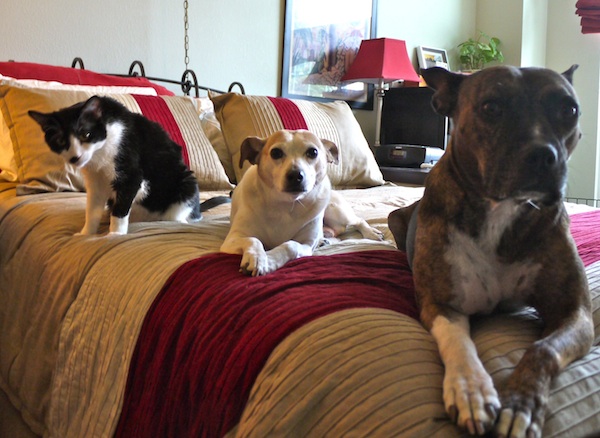 He loves kids
We don't have any human children of our own, so I had no idea how Smudge would react when my young nieces came to visit over the summer. While our other cat Abby took refuge in the basement, Smudge was in heaven. He followed my nieces, ages 3 and 8, from room to room, hung out with them while they played, woke them up in the morning, and reveled in their attention. Watching him with them, I couldn't help but imagine him with his own little girl, taking part in tea parties and snuggling with her as she slept.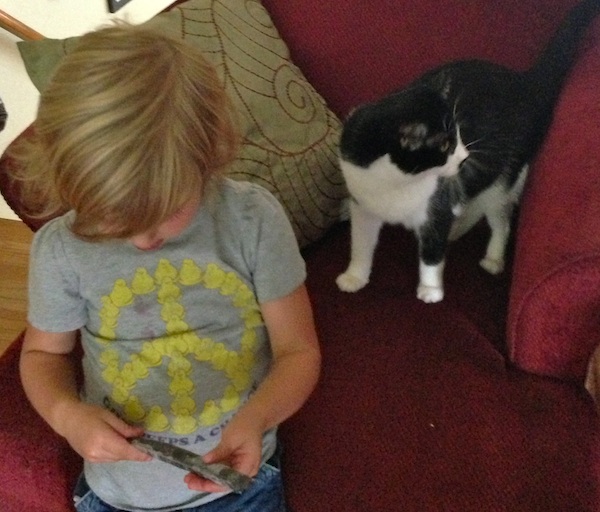 Nothing fazes him
You know how most cats, even confident ones, flee from a room when you drop something? Not Smudge. Same thing with the scary Vacuum Monster. His ears hardly even twitch when I turn it on. It's so uncatlike that I started to wonder whether he was deaf. But his hearing is fine. Turns out, he's just really well adjusted. Another example: When we put him in the car, he doesn't screech or yowl or threaten to kill us as soon as we return home. Nope. He sits up in his carrier and watches the world go by, completely fascinated. Sure, some of this might just be a matter of his character. But it's easy to see that Smudge's former family kept him safe and gave him lots of positive, happy experiences.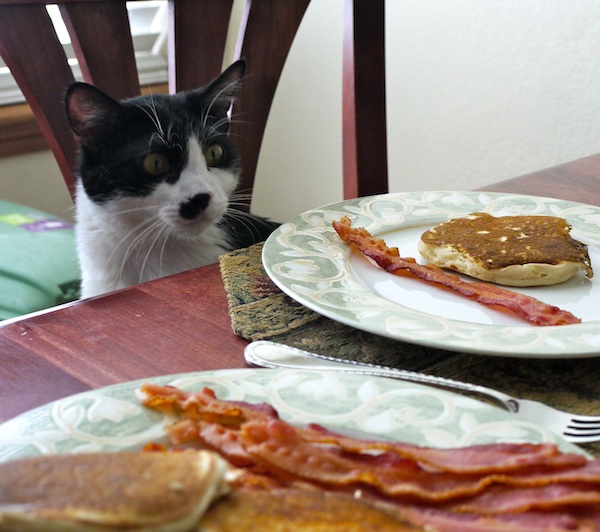 So judging by the type of cat Smudge is, I'm almost sure he was a full-fledged, beloved member of his previous family. I'm ashamed that I rushed to judge them because they obviously weren't terrible people. On the contrary, they must've made the first six years of his life pretty wonderful. And damn, that just breaks my heart.
Not that I wish Smudge had a terrible past. I'm beyond grateful that he didn't. But it's just so sad to think that a family who loved him so much had to give him up for some reason. Perhaps there was a job loss or a home foreclosure or a death in the family. Perhaps they were among the few who really had no choice but to surrender their pet. And if that's the case, I can't imagine how devastating it must have been for them and for Smudge.
Of course, I have no way of knowing any of this for sure. But if I'm right about the clues Smudge has given me, I'd like to be able to tell his first family that I'm sorry … sorry that this happened to them and sorry for judging them. I'd like to tell them "thank you" for giving him a good life and raising such a remarkable little cat. And most of all, I'd like to tell them not to worry. The cat they loved so well is still well loved.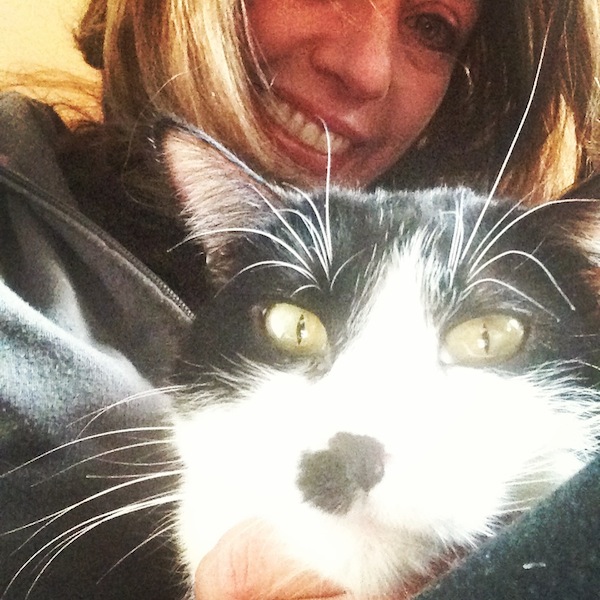 Your turn: Do you know anything about your rescued cat's past? What would you say to the cat's former owners if you could?
About the Author: Amber Carlton is owned by two cats and two dogs (all rescues), and is affectionately (?) known as the crazy pet lady amongst her friends and family. She and her husband (the crazy pet man) live in colorful Colorado where they enjoy hiking, biking and camping. Amber owns Comma Hound Copywriting and also acts as typist and assistant for Mayzie's Dog Blog. She encourages other crazy pet people to connect with her on Twitter or Facebook.