Let's face it: Cats are weird. Our furry feline friends are basically unpredictable sociopaths with adorable faces and perky eyelashes — unless they're in the mood for cuddles, of course. Their entertainment preferences can be equally baffling, often involving banal household items we overlook.
My one-year-old kitty, Salvador, recently developed an inexplicable fascination with garbage — yes, as in the trash. I woke up one morning to find the kitchen strewn with coffee grounds, candy wrappers (don't judge), and yogurt containers. But Salvy had the real prize clenched in his adorable steel-trap jaws: a hunk of fatty meat from the steak my boyfriend had cooked the night before.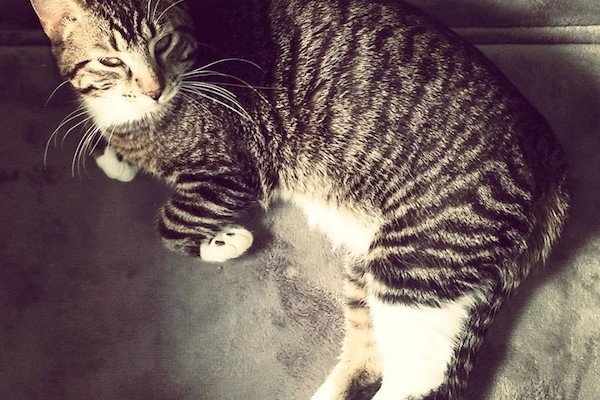 Retrieving the steak was a considerable challenge, with me and my other two cats, Bubba Lee Kinsey and Phoenix, chasing a growling, meat-mad Salvy from room to room. I finally bribed him with wet food, at which point he released the meat onto the kitchen floor with a wet, sloppy plop.
These days, Salvy spends a lot of time alone, licking his feet and muttering, "my precious." Sometimes he longingly paws at the trash can. We have to keep it in a closet now, lest we step in a puddle of stinking garbage juice on our way to make coffee in the morning.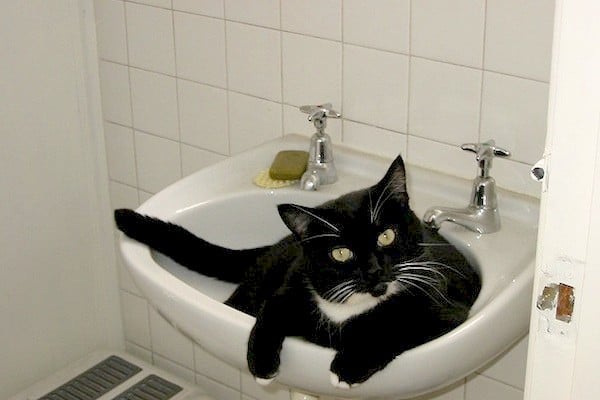 Here are five other unusual feline behaviors I've witnessed in my own home, along with the best explanations I could find. Perhaps your kitties do some of these things as well?
1. The behavior: Bathroom creeper
Every time I shower, Salvador sits on top of the toilet and stares at me while purring. The moment I exit, he licks the water from my toes. I always say it's a good thing he's a cute kitty and not, like, a middle-aged man.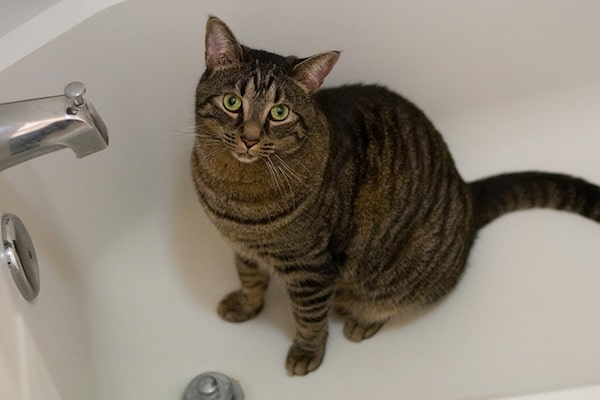 So why do our cats hate baths but love the bathtub? According to these Japanese investigators, cats cannot successfully mark the bathroom with their scent, so it remains unfamiliar and endlessly fascinating — and it also smells mega-weird in there, prompting our kitties to initiate repeated investigations.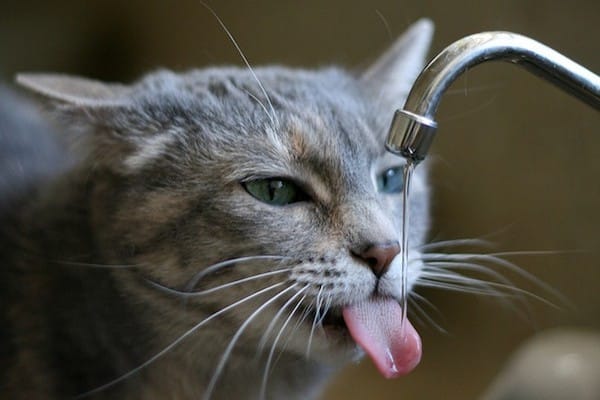 Cats also love running water, perhaps because they can recognize the clear substance more easily when it's moving. In the wild, cats get most of their moisture from the meat they eat — so domestic kitties have the challenge of staying hydrated sans murder. That still doesn't explain why Salvy purrs while licking my toes — but not everything has to make sense, I suppose.
2. The behavior: Mindless pleasure seeking
In my home, I can't leave plastic bags sitting out for more than a few minutes. Phoenix has a single-minded obsession with these flimsy, mass-produced totes — it's almost like she has a psychic ability to anticipate their arrival. Once anything plastic enters her realm, she starts licking it, and she won't stop until it's covered in her saliva.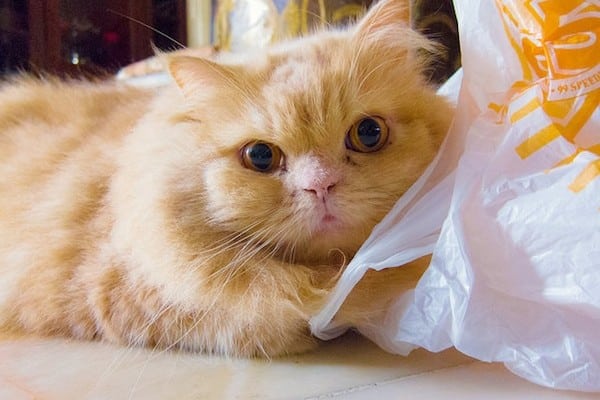 This blog has a few theories to explain this phenomenon, including obsessive-compulsive disorder, anxiety, and plastic's tendency to "trap" various food scents. It's also suggested that cats enjoy the sound, which perhaps mimics that of a caught rodent.
Catster's JaneA Kelley also suggests the chemicals in plastic could mimic pheromones, or that cats enjoy the various lubricants used in plastic bags, which can include animal-based products such as lanolin and tallow.
3. The behavior: Getting high
For Bubba and Phoenix, their most prolific climbing days are behind them — Bubba is 15 years old, and Phoenix is — well, let's just say she's a little chubby. After living with two lazy land mammals, it came as somewhat of a shock to be reminded via Salvy that kittens love to climb. Whether he's on top of the curio cabinet, the fridge, or the closet door (yes, really), Salvy loves to watch us from above.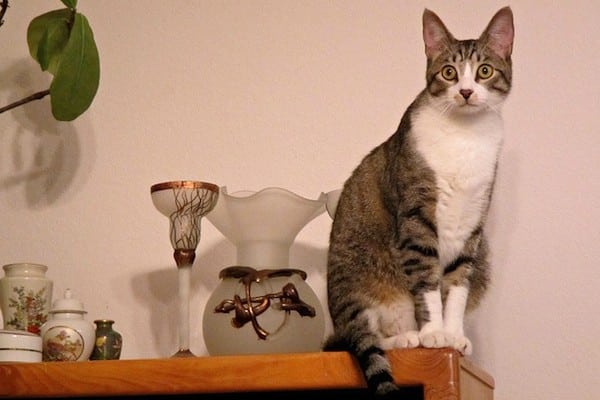 This site suggests cats get high to assert their dominance — the cat who climbs the highest is literally and figuratively the "top cat." Height also gives cats a better vantage point from which to survey their realm — and in the wild, also to hunt.
Catster's Marilyn Krieger says cats going vertical helps keep the peace among household felines and also keeps cats safe, warm, and entertained.
4. The behavior: It fits, I sits
The other day, I attempted to pick up what I believed to be an empty box, only to be greeted by some unexpected resistance. When I peeked inside, Bubba looked majorly disgruntled — apparently I'd interrupted his nap in his self-appointed cat cave.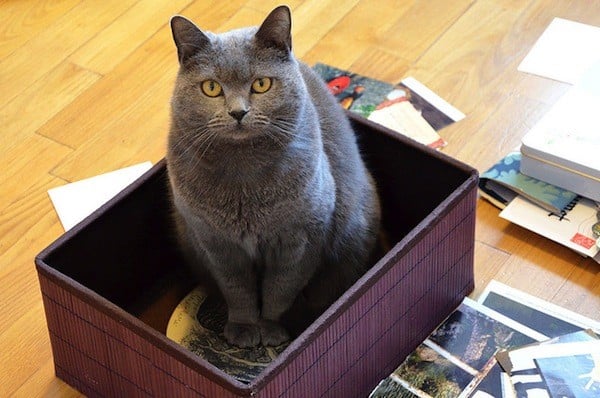 By this point, you've probably heard the concept "it fits, I sits," the cat logic law popularized by vocal advocates such as viral video star Maru. But what's the real reason kitties adore boxes? One suggestion seems simple and obvious: Cats enjoy the security that an enclosed space provides. As expert predators, they also desire to remain hidden while stalking their prey.
Another idea: Cats are hiding in boxes to escape conflict. When feeling stressed or angry, your cat might retreat to her favorite hiding spot, placing her in an actual box of emotion.
5. The behavior: Candy is dandy
Despite being an obligate carnivore (allegedly), Bubba adores sweets. When I bust out a granola bar, he's the first one begging for a bite, and he won't leave me alone until I share my Twizzlers. He's also a big fan of fruit snacks, yogurt, and ice cream.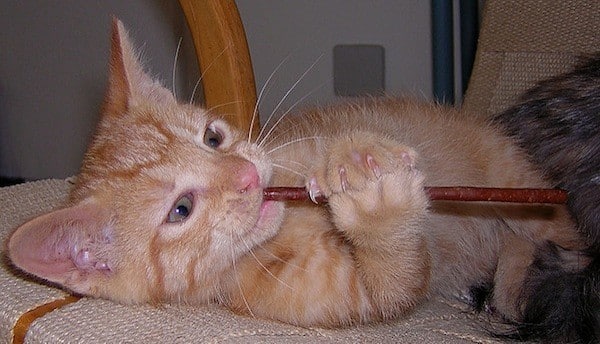 According to Scientific American, cats can't even taste sweets — they lack the necessary flavor receptors in their tongues — though it might be possible, in rare cases, for cats to detect high concentrations of sugar. So in this case, I guess Bubba is just a weirdo, plain and simple.
What odd behaviors do your cats display? How do you explain them?