Pooh is a bionic cat. This technological marvel of a feline has staked his place in the scientific history books by officially becoming the second recorded cat in the world to be kitted out with a pair of prosthetic legs.
But why did Pooh need the metal limbs?
Well, it all starts in a small village in the north of Bulgaria. It was there that this one-year-old black-and-white stray was found with his hind legs missing.
"He came crawling on his front legs to the lady that was feeding him, looking for help," says Vyara Mladenova from the Let's Adopt — Bulgaria rescue. The cause of Pooh's injury wasn't known — it is speculated that he might have been hit by a train.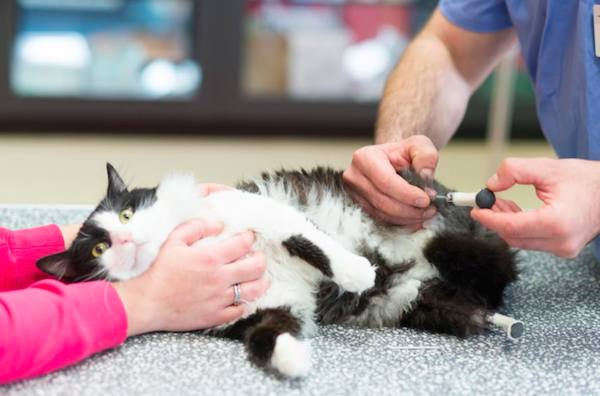 The lady who had been feeding Pooh contacted a local vet — but she was told that the cat should be euthanized. Obviously, this wasn't an acceptable course of action, so she sought the advice and sanctuary of Let's Adopt — Bulgaria:
"The lady contacted us in order to ask for help to find an option for him not only to live, but to have a normal life."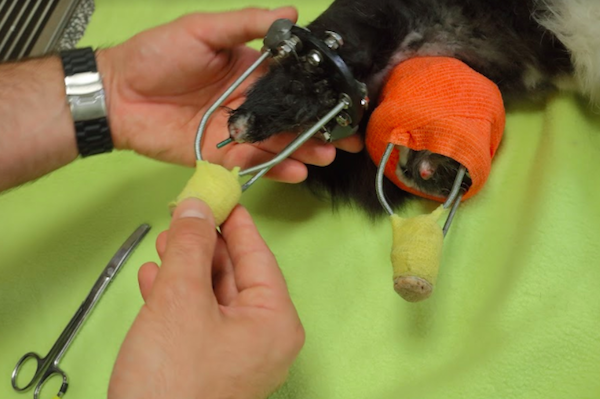 The first step to giving Pooh a normal life involved rectifying his lack of back legs. In previous cases, cats with amputated limbs have been given wheelchairs in a bid to help them become mobile. But under the auspice of Dt Zlatinov at the Central Vet Clinic, it was decided to attempt to equip Pooh with some custom-built titanium legs.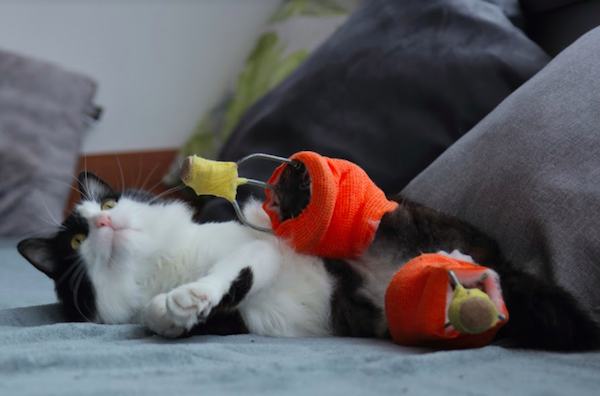 At the time of Pooh's operation, only one other cat had undergone a similar procedure. (That cat is Oscar, who lives in Britain and had his paws mauled by a combine harvester.) Despite the lack of veterinary precedent involved, Vyara says they had no qualms about putting Pooh forward for the operation.
"We've worked with Dr. Zlatinov for many years and if he recommends a procedure, we can trust his professionalism and capacity to perform it as needed to ensure the best chance of recovery for his patient."
Quite reasonably, Vyara also adds, "Considering the alternative Pooh had with no legs, the decision was not so difficult."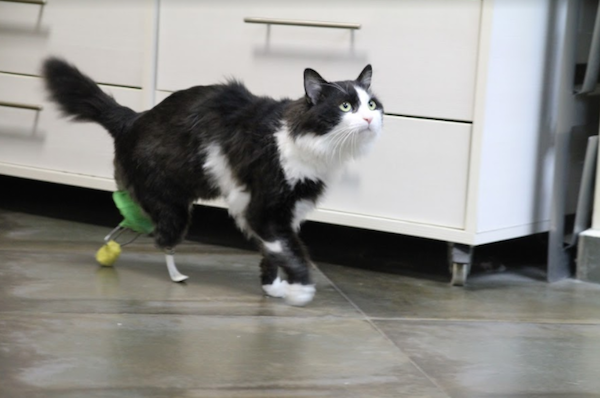 It turns out that Pooh's procedure involved a number of steps — and they ended up helping Pooh to get used to his new legs. The first step was to insert the "stems" and let them merge with Pooh's bone.
Then came the next part of the process: "The temporary external fixators not only helped Pooh use his legs while the stems were in the process of becoming part of his body, but also helped his shorter leg become elongated via a specific procedure."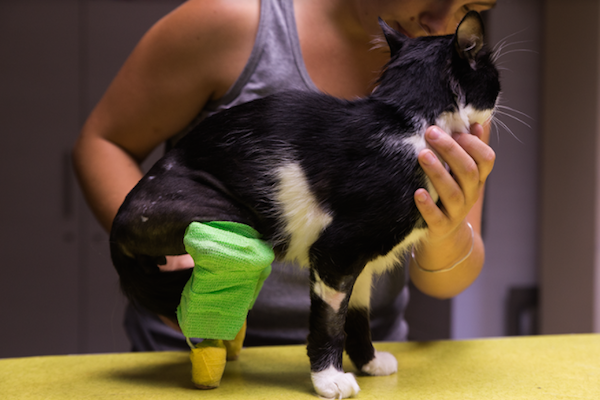 Once Pooh had been equipped with his external fixators, he just needed to take several days to get familiar with using them for walking. As each fixator was removed, Pooh could begin gradually using his legs more and more, primarily with the goal of transferring the correct amount of energy to the stems so that the whole process became natural to him and his body.
"Pooh wanted to jump right away, but he wasn't allowed to do that for a couple of weeks after each bionic leg was ready," says Vyara.
These days, Pooh has reached a point where he uses his bionic legs "very confidently." For bonus points, he also licks them clean just like they were a natural part of his body.
With Pooh now back on a path of mobility, he's currently accepting applications to adopt him. If you're hankering after a plucky bionic cat in your life, it's said that Pooh is an easy-going feline who doesn't appear to get stressed with new people and places — "as long as he gets enough attention."
Follow Let's Adopt — Bulgaria on Facebook to keep up with Pooh's story.