For "the 12 Cats of Christmas," each day we pluck one notable furball who has made a huge and lasting impression on our hearts over the last 12 months and revisit his or her story. Consider it your daily festive feline gift.
Today we check out a cat with backwards legs …
4. Little Bear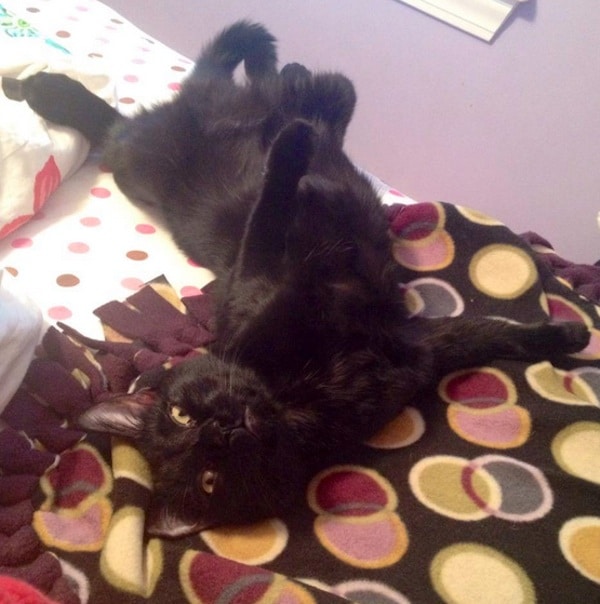 Little Bear is a special-needs star. He was adopted from the NHSPCA with a condition affecting his legs, which meant he couldn't walk properly. His owner, Allie O'Sullivan, explained how, "When I adopted him, it would make me cringe when I had to watch him walk on his bent legs. The sound of his bones smashing against the floor would tear me apart."
We recapped Little Bear's story back in February, and his owner told us that he can hop up on to tables and beds but needs help with getting down! Since then, it turns out that after calling vets around the world to little avail, a procedure to help straighten Little Bear's legs was finally found at Tufts University. (It cost a whopping $10,000.) Now Allie boasts how Little Bear has journeyed from deformed to reformed legs!
Photographic evidence also suggests that Little Bear very much enjoys lounging on his back and enticing people into a tummy rub. Smart cat.
Revisit the rest of the 12 Cats of Christmas here:
About Phillip Mlynar: The self-appointed world's foremost expert on rappers' cats. When not penning posts on rap music, he can be found building DIY cat towers for his adopted domestic shorthair, Mimosa, and collecting Le Creuset cookware (in red). He has also invented cat sushi, but it's not quite what you think it is.