Kreayshawn came to stardom when her rap song "Gucci Gucci" went viral back in 2011 and clocked up something like a gazillion glittering YouTube views. Since then, the West Coast-based rapstress and video director has released her debut album, Somethin' 'Bout Kreay. Offering homely support and guidance throughout her quick-rising career have been her two adopted cats, Choppa and Kitty — a pair of felines she's fond of plastering all over her lively Instagram account.
Being that Kreay is a confirmed cat fanatic, we checked in with her to get the scoop on Choppa and Kitty's origin story, the messy details about a prior cat's uncontrollable poop problem, and how she foiled her cats' cheeky attempts to snuggle their way into a crib she put up for her upcoming baby.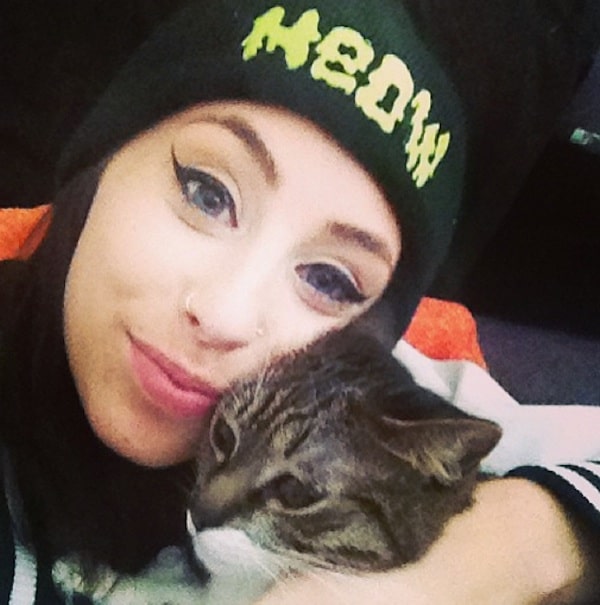 Catster: How many cats do you own?
Kreayshawn: I have two at the moment. They're called Choppa and Kitty. I adopted them both. Kitty really likes guys. She's like in love with my boyfriend. She'll follow him around and she likes to talk a lot, she's very vocal. She always wants to cuddle with him.
Does that make you jealous?
Yeah, sometimes. It's like, "Why don't you want to cuddle with me? Don't you like me?" I guess she just really likes guys. Whenever a guy comes over she'll follow them around and roll over for them. But I'll cuddle with Choppa. She's really small and I kinda have to force her to cuddle sometimes, but she's really well-mannered. If we're on the bed together she'll stay with me as long as I'm petting her. She only has like half a tail — it was like that when I adopted her.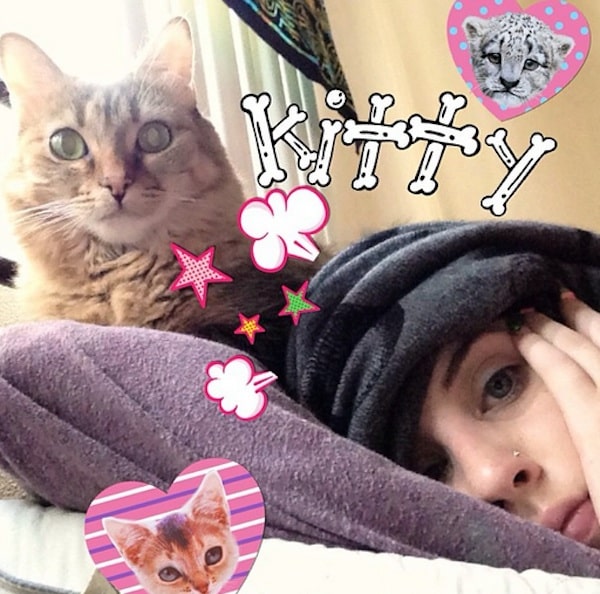 So you endorse people letting cats sleep on their bed with them?
Yeah, totally. But Choppa will sleep in the bed for like a month and then move on and won't go near the bed at all. She's strange like that.
How do you deal with fur on the bed in the morning?
By now I don't think I even notice it. I'm probably covered in fur!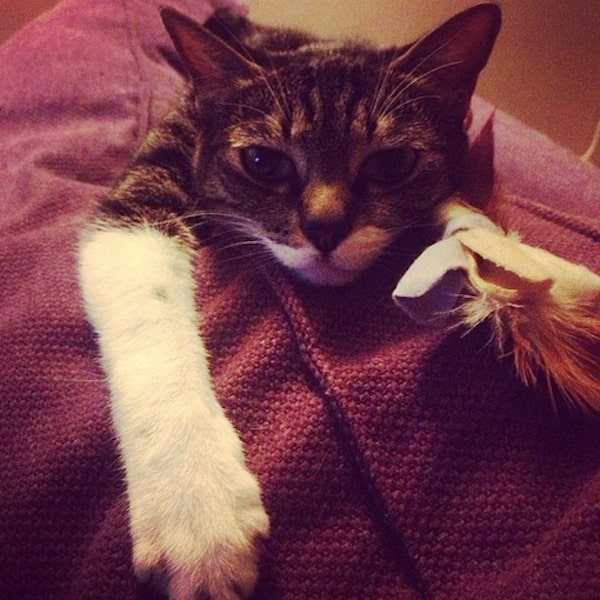 Do you know what happened to Choppa's tail?
No, I don't. They didn't know at the shelter. Actually, her name at first was Chops when she was in the shelter, and the first time I saw her me and a friend were really stoned and we were at the shelter and thought it was so funny 'cause we kinda wanted to adopt every animal. It was like, "Oh, look at that Pit Bull, let's get him too!" But it's really sad 'cause you see all the dogs and cats and they're all so super cute and you want to rescue them all. They make you wait two weeks though before you can take an animal home — so you pay your $100 for adoption and to neuter them and then you come back. That time I was sober and like, "What have I just gotten myself into?" But she's adorable.
How did Kitty take to you bringing Choppa home?
She was a bit pissed at first but now they're friends.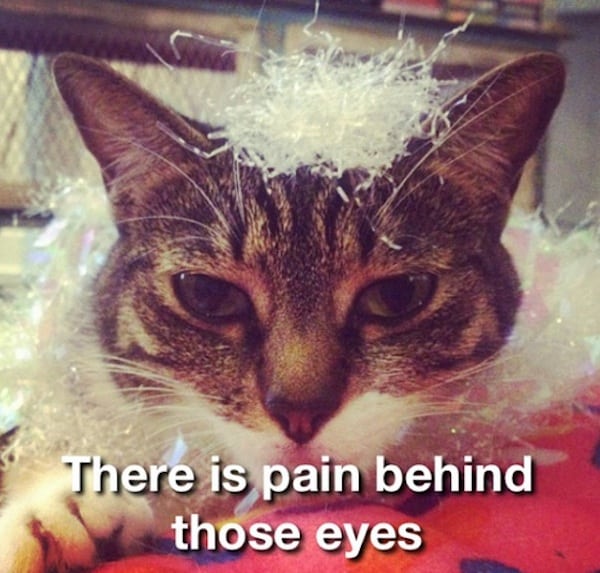 Have you ever sampled one of your cats when making a song?
No, but when my boyfriend sits there making music Choppa will sit next to him and just watch what's going on. We did sample Kitty meowing once but we never released anything.
Do your cats ever react to any specific songs you play?
No, that would be hella weird!
Are you a fan of the song Lil B released with his cat, Keke?
Yeah, of course! Keke was the first cat in the world to be signed to a record label. I'm down with that. It was exciting — it was music and cats, how could it not be?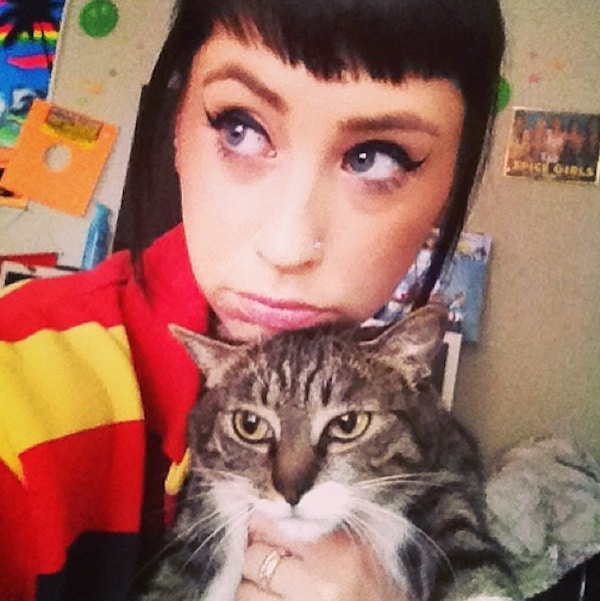 If Lil B wanted to sign Choppa and Kitty to his record label, would you let them?
Yeah, why not? I'd have to manage them, though. In L.A. there's this thing where it's always like an extra $50 if you have a cat to do anything, so I'd have to be like that and make sure they charge extra and start contributing to the rent or something. Maybe they could get into cat modeling.
Who would be the better cat model, Choppa or Kitty?
Choppa, I think, as she has a really unique look with her only having half a tail. That would work in fashion. Actually, we once tried to give Kitty a haircut. She has really long fur — it's like three inches long — so we tried to shave her with my boyfriend's clippers. We didn't finish it and she wasn't really into it but it would have looked hella crazy.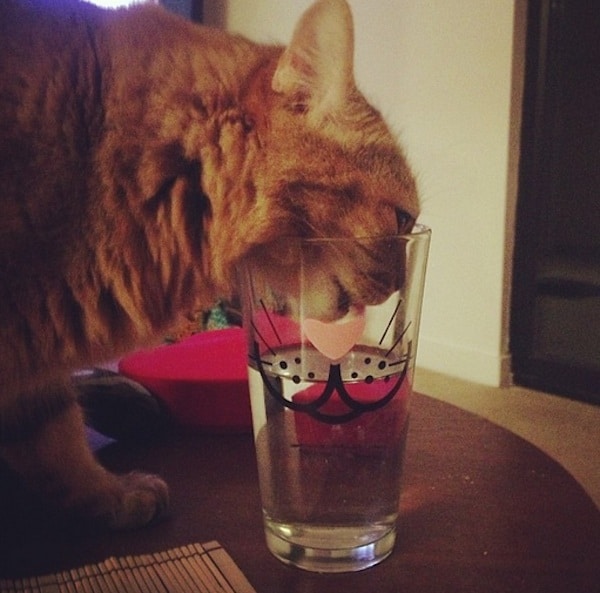 Did you have any cats before Choppa and Kitty?
Yeah, a friend gave me a cat for my 18th birthday. The cat had like a poop problem. She would sh*t in the litter box so much and also in the drain in the bathtub. You wouldn't know at first until you were taking a shower and all the water would start to turn brown as it came back up, so you had to fish it out with your fingers. I didn't even want a cat as a present! I only had her for two weeks. I gave her to another friend to adopt.
Did you tell her about the cat's poop problems?
No, I didn't like her!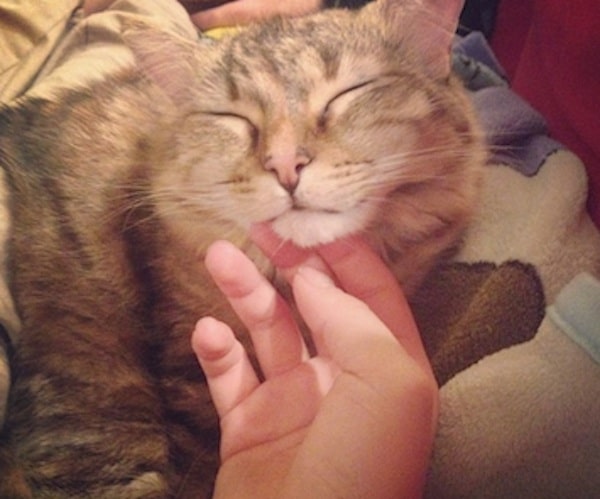 You've going to have a baby soon. Are you worried that the cats might get jealous?
Yeah, actually we put up the crib the other day and instantly the cats jumped into it. You know how they are, you put up anything and they think it's for them. So we had to put a lot of aluminum foil in the crib 'cause they don't like the noise of it, so when they jump on it they don't like it.
So the foil in the crib worked?
Yeah, it seems to have. They leave it alone now.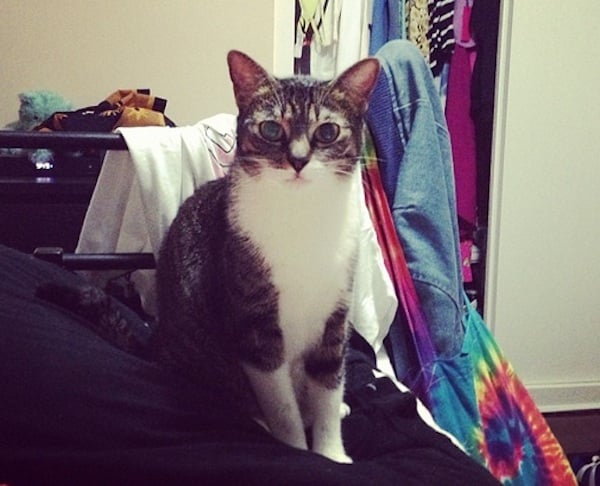 Do you have any cat toys that would also make good baby toys?
Ha ha, I'm not sure. Choppa does have this ball that she's had forever. I've moved to like seven places 'cause I'm always moving around and I don't even pack it up or anything, but each time we're at a new place this old ball will be there somehow.
Do you see yourself adding any more cats to your home in the near future?
No, I don't think so. I might get a dog. I have two cats and I think two cats is a good number. Plus I have two really great cats so I don't want to risk anything and I think I'll leave it at that.
Read more about celebrities and cats:
About Phillip Mlynar: The self-appointed world's foremost expert on rappers' cats. When not penning posts on rap music, he can be found building DIY cat towers for his adopted domestic shorthair, Mimosa, and collecting Le Creuset cookware (in red). He has also invented cat sushi, but it's not quite what you think it is.