Tanzanite's story is a heart-wrenching one. Discovered as a two-day-old abandoned kitten by New Jersey animal control, her wounds seemed to suggest that she had been ravaged by a larger creature. Worse was to come when it became apparent that she had no use of her back legs, possibly after her unnamed assailant had caused a spinal trauma that led to nerve damage and a state of paraplegia.
Fortunately, the fluffball Siamese kitten was taken in by the warm souls at the Tabby's Place feline sanctuary. Under the personal watch of Volunteer Coordinator Karina Jewitt, she began a road to recovery. This is Tanzanite's tale.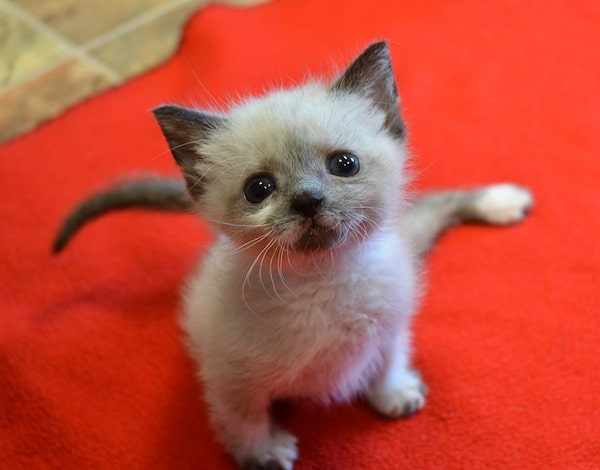 What were your first impressions of Tanzanite?
The first time I saw Tanzanite — or Tanzy — she had just arrived at Tabby's Place. She was on heat support and was barely moving. For the first few hours I was concerned she wouldn't make it. This tiny little two-day-old lay helpless, and she just looked like a tiny cotton ball. Kittens are so fragile and I knew the odds were against her. She impressed me that day, though, because within hours it was obvious that she was a fighter. The vet team stabilized her and handed her off to me to take over and foster her.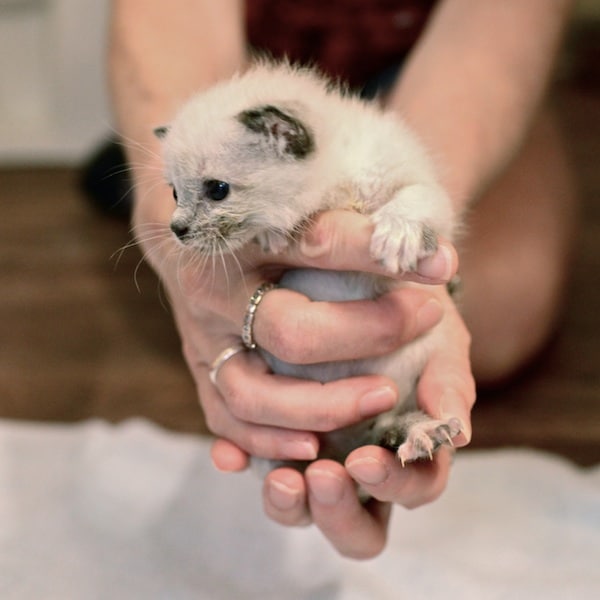 From a medical point of view, what sort of state was she in?
Her temperature was dangerously low, she had two holes in her side filled with maggots, and she was so weak she barely moved while the vet team fought to save her life. She was also severely dehydrated. She was having problems breathing, and the vet team feared the maggots may have damaged her lungs. She was put on antibiotics and fluids therapy. I also tube fed her for the first week, as she was too weak to eat on her own.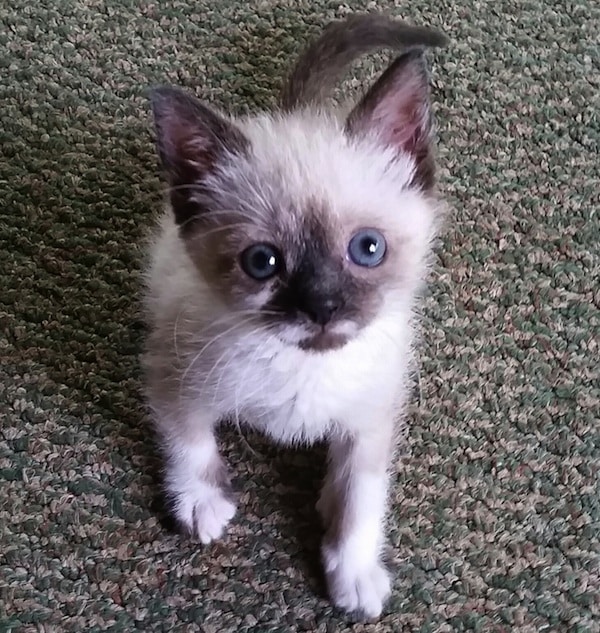 What was the most heartbreaking obstacle to her recovery?
After the first couple of days, as Tanzy grew stronger and finally started to move around, I noticed her back legs were not moving at all. We already guessed some larger animal had grabbed her while she was a newborn because of the puncture wounds filled with maggots, but then it became apparent that she had been shaken, causing permanent spinal damage and making her a paraplegic. She would never be a regular kitten who could run and jump.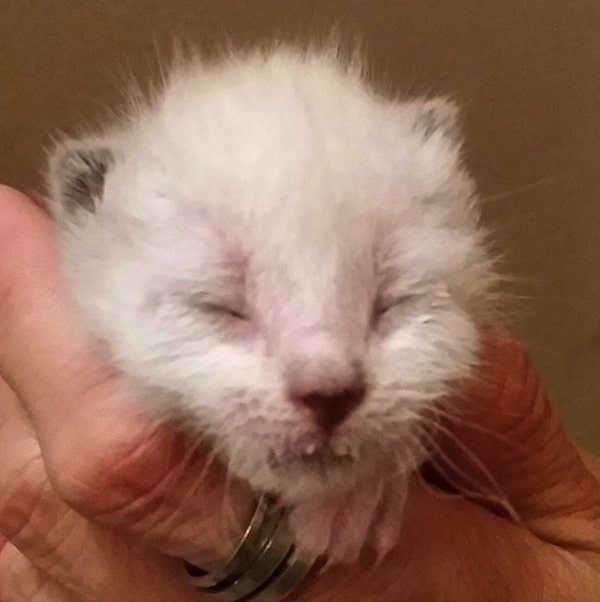 How did you and Tanzy bond while you were hand-raising her?
When you stay up all night with a tiny creature who needs you desperately — you feed her, you keep her warm, you give her medicine, and you hope and pray she will make it — it's impossible not to form a strong bond. When she finally got some strength and gently touched her paw to my hand while I was feeding her, my heart melted.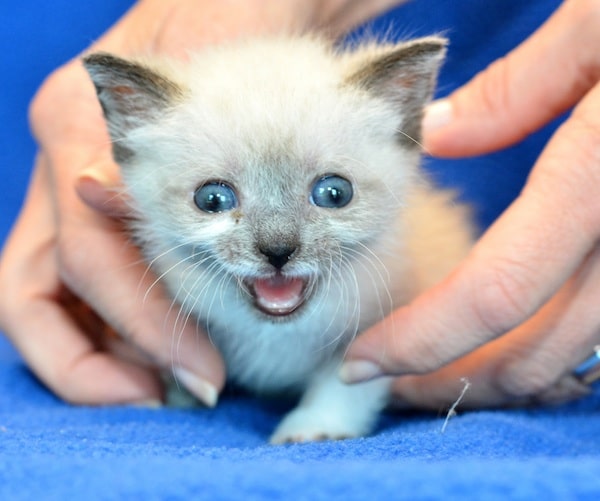 When did you start to notice Tanzy's personality coming through?
She starting showing who she really is when she was about three weeks old. She is one of the most determined, brave, feisty and lovable little girls I've met. She is not going to let her paraplegia slow her down, she has no idea she's different, and she really believes she can do anything she sets her mind to. She spent a couple of weeks wondering how to get up on the sofa without help — and she kept trying until she did it! Now she's up there all the time.
I've had a few people look at her and say, "The poor thing," and I know without a doubt that if Tanzy could understand and could answer, she would say, "Why, what's wrong with me?!"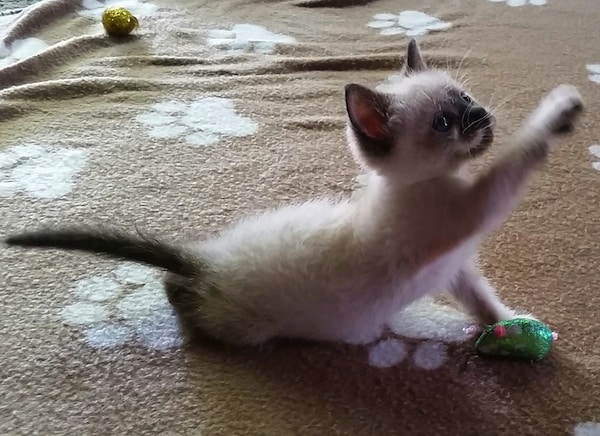 How do other cats interact with her, especially with her back legs?
They don't seem to interact with her any differently at all. That's the great thing about animals — they don't judge, they don't feel sorry for her, they just accept that's how she is.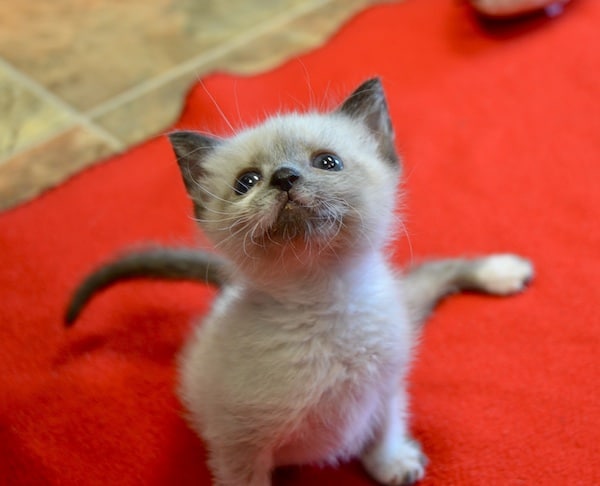 Finally, what's the story behind her name?
She is my precious jewel. Plus her eyes are the color of tanzanite, so I thought it suited her.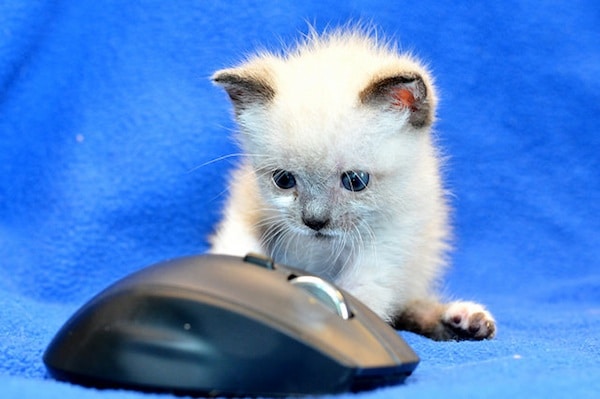 You can keep up to speed with Tanzy's progress over at her Facebook page. (Warning: You might be subjected to many more uber cute pictures of her. Be strong!)
Read stories of rescue and love on Catster:
About Phillip Mlynar: The self-appointed world's foremost expert on rappers' cats. When not penning posts on rap music, he can be found building DIY cat towers for his adopted domestic shorthair, Mimosa, and collecting Le Creuset cookware (in red). He has also invented cat sushi, but it's not quite what you think it is.