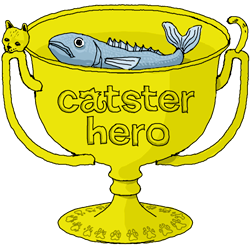 It's a sunny Saturday afternoon, and Midtown Memphis is busy with foot traffic. And nowhere is it thicker than the corner of Cooper and Young. On one block, there's a record store. On another, an Irish pub. Across the street, a Thai place. A few doors down, an upscale Chinese restaurant. Walk two blocks one way, and there's the neighborhood farmer's market. A few blocks the other way, there's a video rental store.
For a city that lost so much of its population the last 40 years, there are blocks that have come back, where bike lanes hum with traffic and where the hip come to sip craft beers, buy local foods and, if they have a minute, check out the kitties.
The House of Mews, a cat rescue nonprofit, sits in an old storefront looking out at the sea of cool. The cats were here before the hipsters. They were here before the neighborhood became cool. The cats, and the House of Mews director, Elain Harvey, moved into the neighborhood 20 years ago, when there was nowhere else to go.
"There's a lot of these business that have come and gone, and they smell prettier than we do," said Harvey. "Most of these businesses were not here when we moved in."
More than the neighborhood has changed. Twenty years ago, the city was a different place, and so was society. Before cats took over our collective subconscious via the Internet, cats, at least in Memphis, were pretty much on their own.
"When we started this were no rescue groups," Harvey said. "There was the Humane Society, and even they euthanized. There were no other groups. We're the first and oldest legal cat house here in Memphis."
The House of Mews began sort of suddenly as an effort to save of dozens of mistreated cats. Harvey said years ago she was a customer at a plant nursery, which was an informal home to dozens of cats, none of which were in good shape.
"I didn't think they were being taken care of, so I snuck back there and I began taking care of the animals, volunteering," she said. "I was getting ready to go to Greece on vacation but I couldn't just leave the animals. I was going there three hours every morning, so I had to find a way to get volunteers involved because was going to be in Greece for quite a while."
Harvey said she put some fliers up at Kroger seeking volunteers, and she got help. But even the volunteers weren't enough. Harvey said the nursery owed the government $250,000 in back taxes, and the nursery would be shuttered. Harvey said she figured the animals would be euthanized.
"I hired a friendly attorney for 30 cents to get a restraining order," she said. "We lost the case but the TV station caught wind of this and new people fell out of the bushes to buy the place from him."
Harvey and her volunteers suddenly had time to find homes for the cats.
"We took all of them except for the ones the owner said were his," she said. "I think he had at least 60 cats there … we took the remaining 30 that hadn't been adopted."
Thus began the House of Mews.
These days, a little more than 100 cats await adoption in the 3,000 square-foot store, and for the most part, they wait peaceably.
"There are never any cat fights," Harvey said. "Though you might hear a little bit of hissing if someone's upset."
Cats with poor social skills are latched in boxes and sometimes a large adult cat will meow piteously outside a box, begging to be let inside and escape other cats and the people.
In the years since House of Mews began, about 30 rescue groups emerged, though many of these operate through a network of volunteers who house cats in their homes.
"Most don't have their own building so what they do is foster them out, and then bring the cats to Petco," Harvey said.
And while having a storefront in a popular part of the city provides visibility for the cats, Harvey said she may end up having to foster out her cats and follow the model used by so many other groups.
"We may, at some point, end up doing that because this is getting so expensive, it's ridiculous," she said.
The House of Mews relies on volunteers to help, but Harvey is still the backbone of the operation. Days at the House of Mews typically begin around 7 a.m. and she wraps up at 9 p.m., and sometimes Harvey works both shifts.
"I do 70 hours a week to keep this place," she said. And even still, despite the store's popularity, despite the high foot traffic, despite being the oldest legal cat house in Memphis and despite the increasing popularity of cats, Harvey worries about the future.
"That's one thing I had to learn, how to raise money," she said. "Quarterly we put cards in the mail and we have a 5k Meowathon that raises money. We had our 11th one last year. That brings in $30,000 or so, but our revenue has gone down every year since we've been in this store."
Harvey said she needs a space that offers some retail space, somewhere to sell cat-related things to raise money for the nonprofit.
"We've lost revenue due to not having retail space, and we've lost revenue because of the air quality and people complain about that. So that's part of it, and it's too small of a space. It's cute but it's too small."
Technology has helped some. The House of Mews has an Amazon.com wish list with a list of supplies donors can buy for the nonprofit. And, Harvey said, she's got a deal with Kroger where people can give their Kroger Plus points to the state.
But for now, the cat house stays. In October the House of Mews will turn 20, and in the past two decades, Harvey estimates she's adopted out some 9,000 cats and she's turned a small, smelly cat house into a popular attraction in a very hip area.
Saturday mornings, she sees evidence of her store's popularity. "People will come down here and you can see their fingerprints on the glass in the morning," she said. "In the beginning, people came for some of the other entertainment, but now we bring our own entertainment down here. Saturdays are packing with people coming in here with the cats and lowering their blood pressure."
Keep up with House of Mews on Facebook and Twitter.
Read related stories on Catster: 
About the author: Jesse lives in Clarksdale, Mississippi, with two cats and four chickens in total harmony with all.