If you're looking for the perfect gift for the cats and cat lovers in your life, why not consider an eco-friendly present? Green gift options have come a long way over the past few years. They're cute, delightful, and priced about the same as less eco-friendly options. So why not choose a gift this holiday season that your cats are sure to love and that's also loving to Mother Earth?
Here are 10 fabulous green gift suggestions to simplify your holiday shopping — including a last-minute gift idea, too.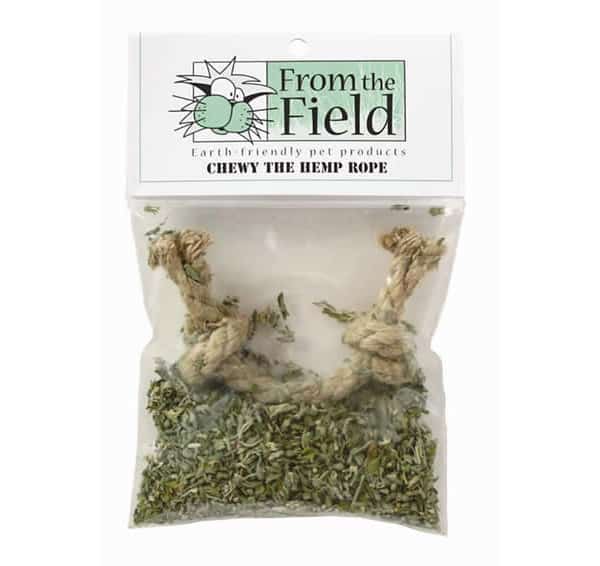 If your cats love to celebrate the holidays, here's a way for them to tie one on without getting too loopy. Chewy the Hemp rope is a double-knotted rope toy that's strong and durable. It's also marinated in potent all-natural catnip to guarantee your cats will certainly be feeling festive with this toy.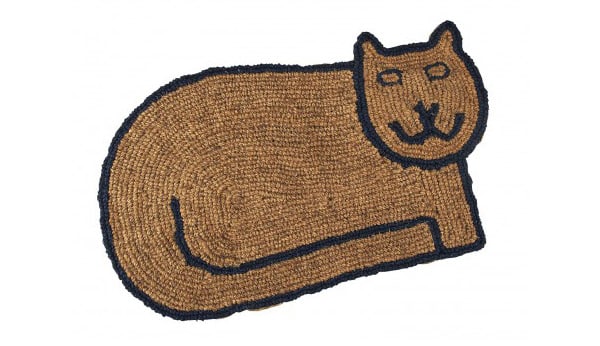 This beautiful doormat is a wonderful way to be welcomed home each day, which makes it a great gift for the cat lovers in your life and maybe yourself, too. The Kitty Clean doormat is hand-braided from natural coir fibers. Coir is made from the outer husks of coconuts. It's sturdy, long lasting and water resistant. And, not only is the kitty mat eco-friendly, it also supports fair trade for women artisans in Bangladesh.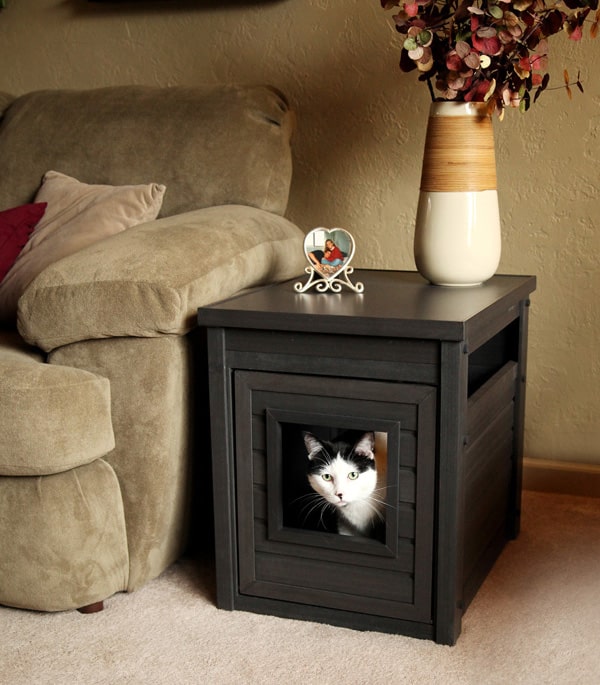 Here's a stylish and eco-friendly way to conceal your cat's litter box. The New Age Pet Litter Loo also doubles as a modern-looking end table. Inside, there's plenty of room for your cat to do her business and the front door folds down for easy cleaning. Plus, there are two side vents to keep the air flowing inside. The Litter Loo is made from ecoFLEX, which is a completely biodegradable and compostable plastic. This end table is so attractive, you could even forgo the litter box and use it as a cozy cat condo. Throw a soft cushion inside and your cat's got a new place to nap.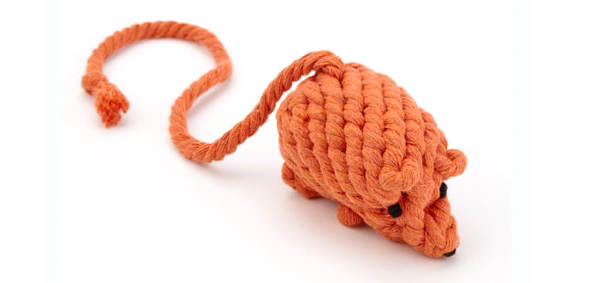 Cats can never have too many mouse toys. Here's a fun and cute critter that your cat will love to pounce on. The Harry Barker rope mouse cat toy is made from recycled cotton yarn that is colored with chemical-free dyes. This makes the rope safe for pets to chew on for hours. The mouse is also machine washable so you can toss it in the wash instead of the trash when it gets ratty looking.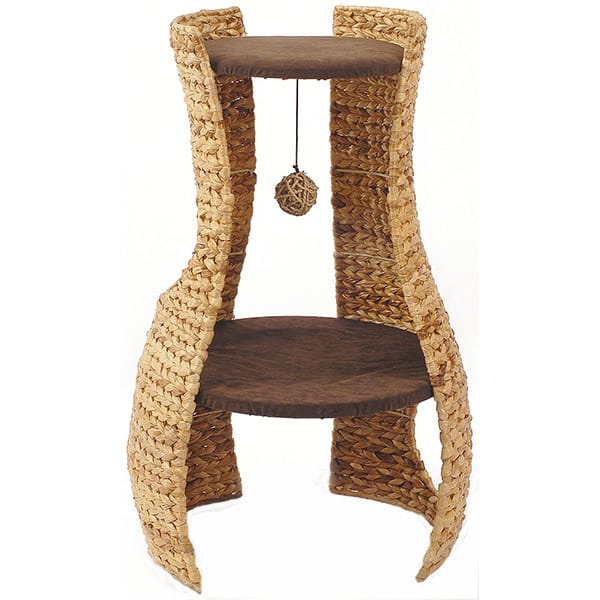 Here's a great gift for the eco-Zen cat lover in your life. It's the Catit two-story hangout. This beautiful perch is made from banana leaf panels which are naturally shred resistant. And, when your kitty is finished with being in the nap zone, she can activate her play chakras by swatting the natural seagrass hanging toy. The hangout also comes in a three-story version too.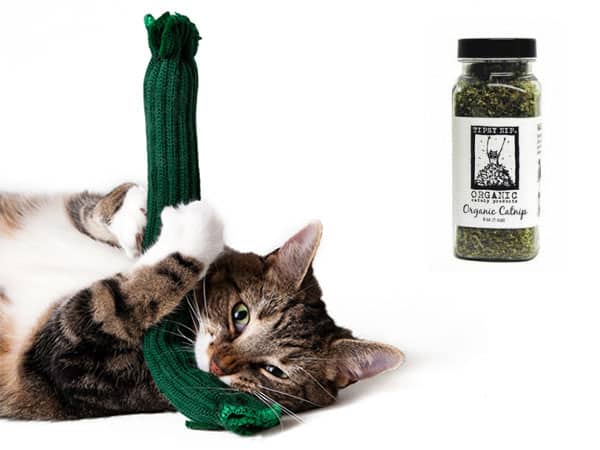 If your cat loves to wrestle, then she'll love the Tipsy Nip Play Pack. This combo includes a jar of Tipsy Nip high potency organic catnip and a 6-inch Tickle Pickle. The pickle is a soft pickle-shaped cat toy that's filled with 100-percent organic catnip. There are no added fillers or polyester stuffing in this pickle. It's just pure organic catnip.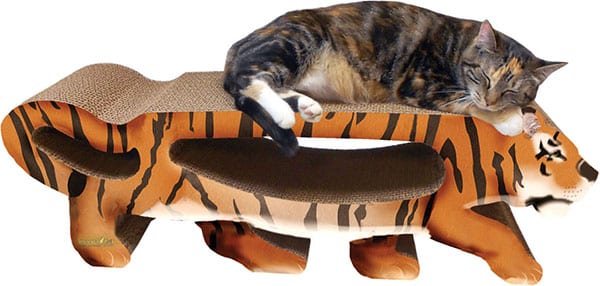 Here's an eco-friendly scratching post that's ideal for homes with multiple cats or for one extra-spoiled cat. The giant Tiger Scratch 'N Shape has plenty of room for scratching, lounging and napping. The scratcher is made in the USA from 100-percent post-consumer recycled paper. It's also fully recyclable and comes with a bag of organic catnip.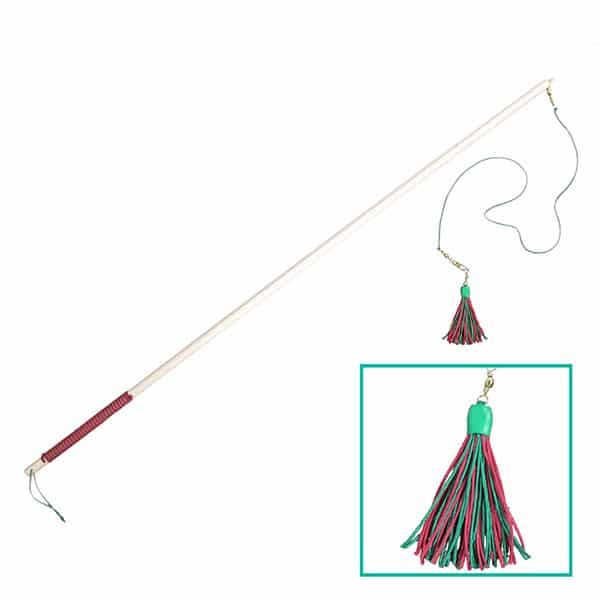 This natural wand toy from Mountain Cat Trees is made from a hardwood dowel and hemp twine, which is dyed with food-grade coloring. It's available in a combination of Christmas colors just for the holiday season. When the tassels get worn out, you can easily replace them by simply unhooking the old attachment and adding a new one.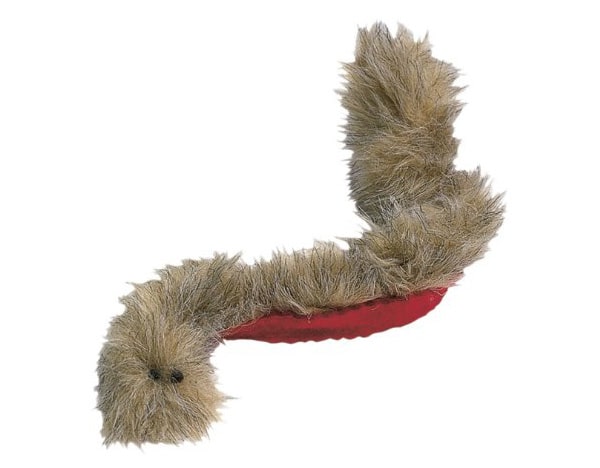 Made in the USA by West Paw Design, the Crawly Critter will worm its way into your cat's heart by becoming one of her favorite toys. It's filled with premium certified organic catnip. At 11-inches long, this eco-friendly toy is perfect for pouncing, attacking and wrestling.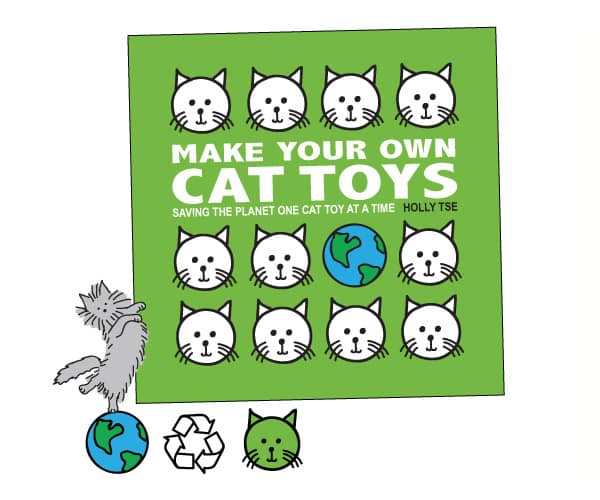 Here's the ideal last-minute gift for cat lovers who want to reduce, reuse and recycle. Instead of buying something for the stocking, this ebook can be delivered digitally to any email inbox. The ebook features over 50 cat toys that can be made in minutes from recyclables or old stuff already around the home. A hard copy version is also available, but as a lifelong environmentalist and the author of Make Your Own Cat Toys, I'd recommend the digital option to reduce your holiday carbon footprint.
About Holly Tse: Holly Tse is a green cat expert and lifelong environmentalist. Practicing Taoist, Dragon Spirit Guide and Chinese Reflexologist who has experienced more than nine past lives and can bend reality at will. Totally into alternative healing, but her Achilles' heel is reality TV cooking shows. As a Canadian expat, she uses an American spell checker for her Catster articles. Check her out at her Chinese reflexology website.