It was mid-January. I was headed to a meeting when a coworker and friend flagged me down. "Help!" Toni said. "I have kittens in my back yard!"
It's a sure bet that Toni and her husband, Roger (a "sworn cat hater"), hadn't listed their backyard shed with any Feline Airbnb, yet a little black-and-white cat had claimed it as a lovely nursery anyway. Since that time they had spotted three tiny kittens frolicking in the snow.
Toni was concerned about kittens living outside in a Midwest winter. Yet these weren't companion animals. The mama cat was feral and would not allow people near her or her babies.
Roger — the "sworn cat hater" — made noises about relocating them. Yet cat food suddenly materialized on the deck, feeding the little family of four.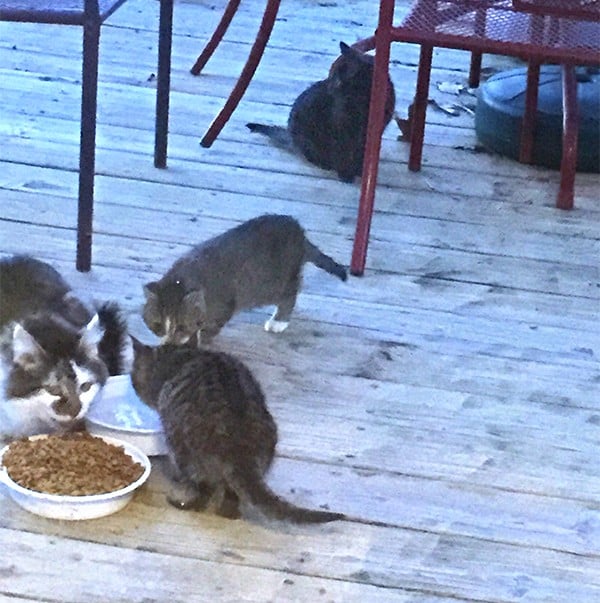 Toni was enthralled and would scoot along the cabinets where cat and kittens couldn't see her, then peek around the corner with her camera to get photos. Having lost a cat several years back, she longed to hold the kittens, but each time they caught sight of her, they ran away.
"The mama cat and one of the babies would run off the minute they noticed me," Toni told me. "But the black kitten and the gray tabby were a little more tolerant. Or maybe they were just hungrier."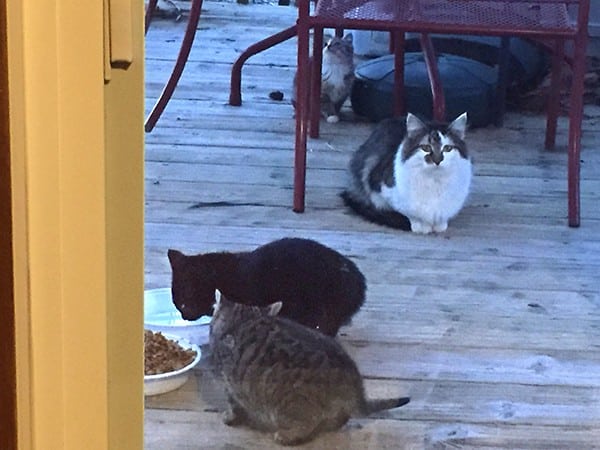 This went on for a month. Now the kittens were bigger, and Toni worried the mama cat might go into heat again. She told Roger they had to somehow catch her and get her spayed, "or we'll soon have 40 cats in our back yard."
She had no idea where to begin.
Most cities in the U.S. have animal shelters that offer low cost spay/neuter clinics. Some veterinarians offer it, as well. Alley Cat Allies offers a Feral Friends Network portal to help people in need with assistance in their area. In Toni's case, a local clinic would spay the mama cat if someone would drop her off and then pick her up the next day.
We also chatted a bit about TNR and the idea of relocating community cats. Chances are, Toni and Roger would discover another (unspayed) cat filling the void left by the one they had removed.
Then there was the matter of three little kittens.
These guys were young enough, and it was possible they could be socialized and then given to a local shelter for adoption. Although Toni had no experience socializing fearful kittens, she was game to try. And Roger — the "sworn cat hater" — agreed.
It didn't quite work out in that order.
"The gray tabby was the first cat we caught, and it was right away — within a couple hours of putting the trap out," she said. "We caught the black kitten that evening, too."
But now what? Toni was determined to do everything she could for these feral kittens. I connected her with experienced volunteers from a local shelter. (For anyone without the benefit of seasoned cat people, Alley Cat Allies has a good knowledge repository here.)
Toni and Roger placed the kittens in an old dog crate in their kitchen, where Toni spent hours just sitting, allowing them to become accustomed to her voice and the scent of humans. She placed a small box inside the crate to provide them a place to retreat.
One bit of advice she found especially helpful: Tasty food is your best friend in these situations. Turkey baby food (with no spices or additional ingredients) was especially appealing. She also plugged in a calming pheromone diffuser nearby.
During the next few weeks, the kittens began to tremble less and ventured closer to the front of the crate where Toni sat. They began reaching for the tantalizing feathers at the end of a wand toy. Then Toni opened the front door of the crate. She did nothing else, just sat there with the door open, offering up tasty bits of food and waving the feathers enticingly.
"This was the point where I finally got to touch them," she told me. "As long as they had food to eat, they would allow me to pet them."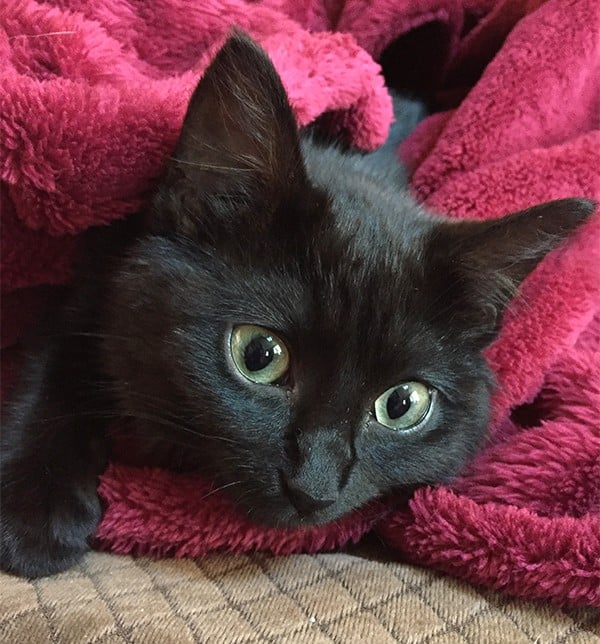 Weeks went by, and I talked with Toni often to hear about the kittens' progress. Then one day, I received a text with a photo attached.
"LOOK!!!!!" Toni wrote.
There she was, sitting in her kitchen with the black kitten curled in her lap. The kittens were ready to be turned over to a shelter for adoption. Roger planned to drop them off while Toni was at work. But the "sworn cat-hater" had other plans.
He had seen how she felt about these kittens, the little black one in particular, so their no-cat family became a one-kitten family.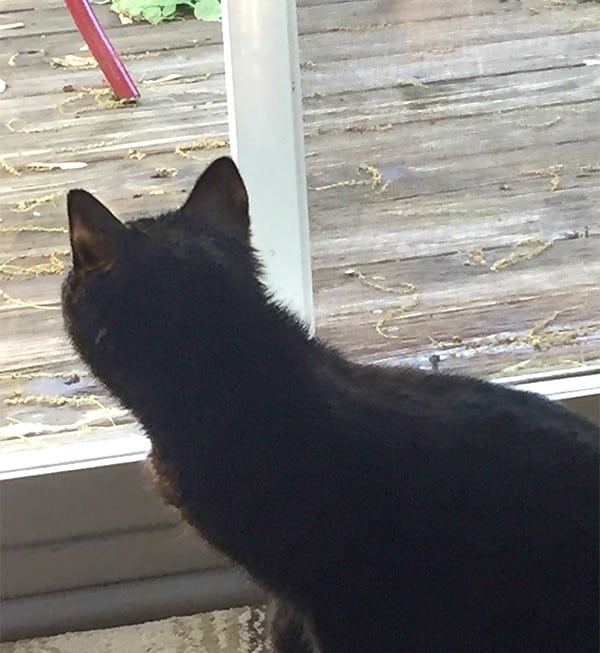 Toni and I had lunch the next day, when Roger called to say he was worried about the gray kitten. He had seemed so frightened in the shelter environment. As they talked, Toni mentioned the things she had done that the kitten had liked. Roger — the "sworn cat hater" — immediately called the shelter back to let them know what the tabby's preferences were, and how they should behave around him.
That was April. Since then, the mama cat was trapped, neutered, and returned to the backyard. Toni and Roger even catch sight of her from time to time. The third kitten was eventually caught, too. Toni's daughter ended up adopting him, a calico she named Morty.
The little black kitten — Gracie — has blossomed. Initially Toni kept her isolated in a large bathroom. She wanted the kitten to adjust to the house slowly after her weeks in a dog crate — and she also didn't want Gracie to annoy Roger, or give him any reason to regret the new family member.
She needn't have worried.
"Gracie has done just great," Toni said. "It took a couple of weeks, but she now freely scampers around the entire house."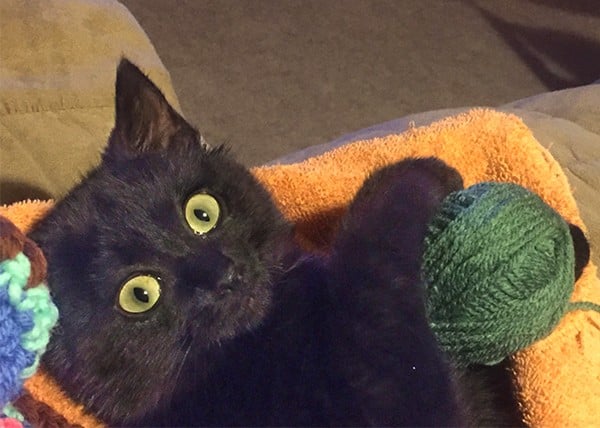 But what of Roger, the "sworn cat hater?"
"I think she hooked Roger the moment he picked up a wand toy and she began playing with him," she said. "We hadn't had an animal in our home since our beloved dog, Stormy, died two years ago."
"Gracie is just so funny, and she keeps both of us laughing. Roger loves her, too," she said. "Oh, and he also gave her a middle name — She is now known as Gracie May."
I think it's safe to say this "sworn cat hater" is a reformed cat hater, and well on his way to being a cool cat guy.