I love thinking about cats acting like humans, and I sometimes run across hilarious photos of kitties doing just that! Sure, they're not wearing the cute little overalls and dapper suits like the cats of Mainzer's postcards, but they look pretty darn adorable.
Here are nine such kitties who might pass as fuzzy little humans.
1. Game cat
"I have irritable vowel syndrome." Photo: Katy Herman
This cat is fascinated with the Scrabble board and all the little tiles. He looks like he's planning a high-scoring word, doesn't he? He's going to block a triple word score and then throw down a bingo. Suck it, opponent cat. 
2. Magazine cat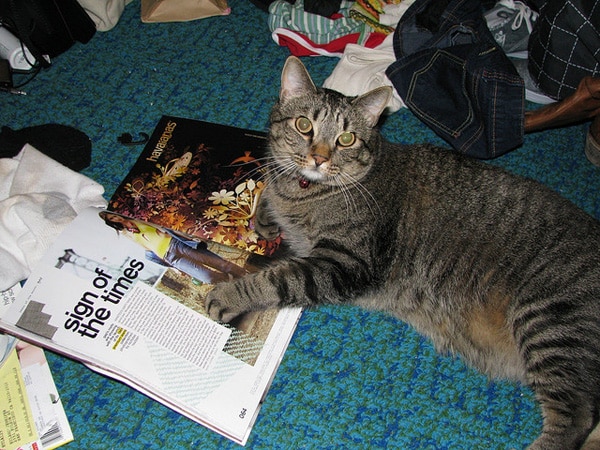 "This is a collector's issue." Photo: Eric Lewis
"Sign of the Times," indeed. Cats with magazine subscriptions, tearing out the annoying cardboard inserts, reading interesting articles while crouched in the litter box. Cats want to keep up with current events and fashion trends just like the rest of us.
3. Jerry Lee Lewis cat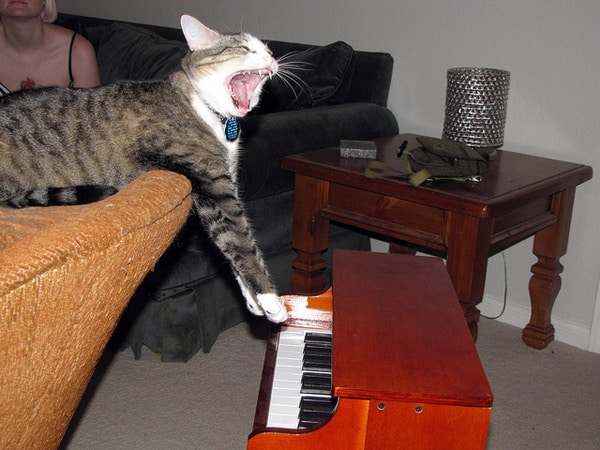 There's always that guy at parties. Photo: Sean Michael Ragan
This crazy dude lets loose and plays with all four feet when he's high on the nip. Cats come from all around to watch his wild brand of entertainment. I think I heard once that he married a cousin from his aunt Bootsy's litter, but no one can confirm it.
4. Couch potato cat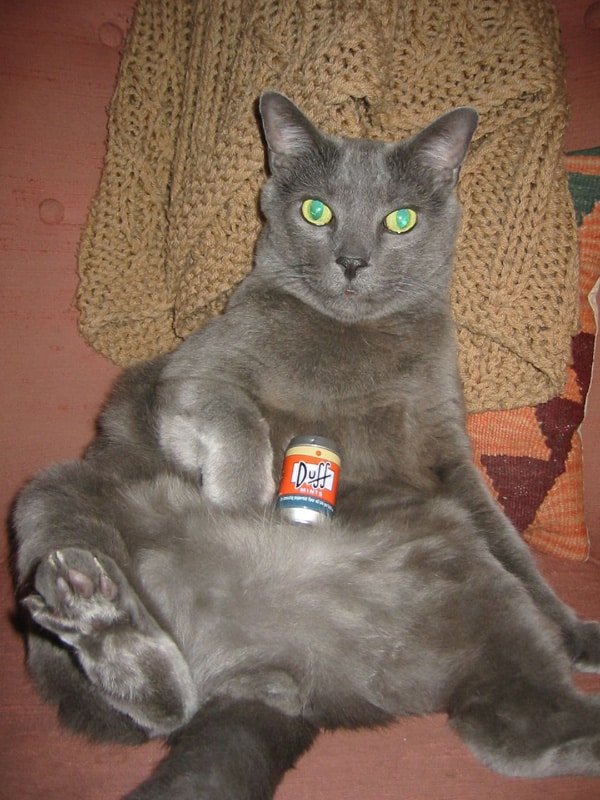 Just another Saturday night. Photo: WorldIslandInfo.com
This guy hangs out Al Bundy-style watching football all weekend, yelling at the television screen. He always has a bowl of snacks within paw's reach and cold one resting on his belly. Sometimes he falls asleep sitting in that position — sometimes he rolls off the sofa.
5. Driver cat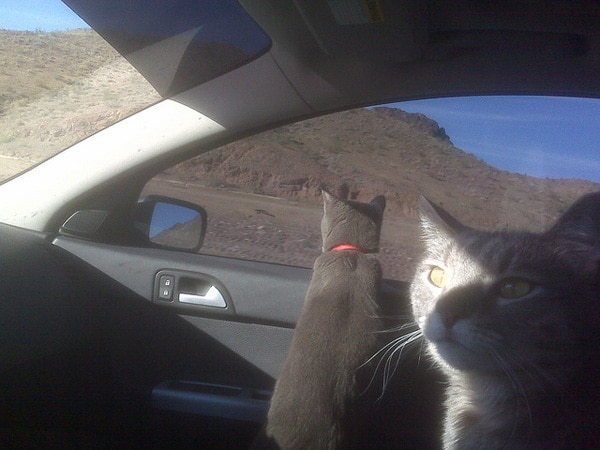 "Oreo farted! Open the windows!"Photo: rectorhughes
Most cats don't like the car, but I like to imagine a kitty behind the wheel, off on an adventure. His car is packed with friends and road snacks. They of course make multiple pit stops when driving through beach towns. I mean, who can resist those giant litter boxes? There's always one cat in the car who becomes annoying and everyone regrets inviting him. They laugh about "accidentally" leaving him at one of the pit stops, except they're kind of serious.
6. Fashion-challenged cat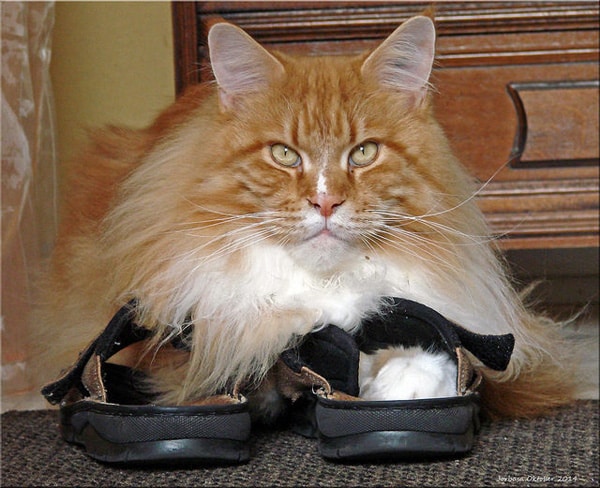 Photo: Barbara Muller Walter'>
"They fit me perfectly." Photo: Barbara Muller Walter
This guy's gonna wear his sandals any way he damn well pleases. They're more comfortable when worn backwards, and he thinks he looks downright swell. His friends sometimes make fun of him, but he's the only one of them with a hot girlfriend, so he doesn't give a rip.
7. Binge-watching cat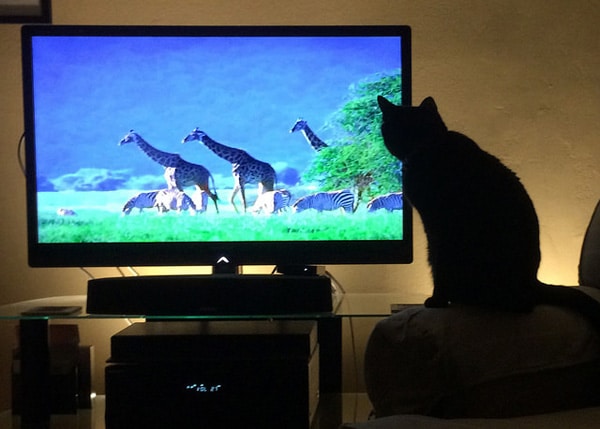 "I can't wait for season two." Photo: J_KehoePhotos
Netflix is both a blessing and a curse. This cat's completely immersed in his exciting nature show and has decided to blow off his entire day of birdwatching. Plus, his mom's been calling him for hours, probably wanting to talk about cousin Pumpkin's ear mites, so he silences his phone. No distractions, please. And no spoilers!
8. Facebook cat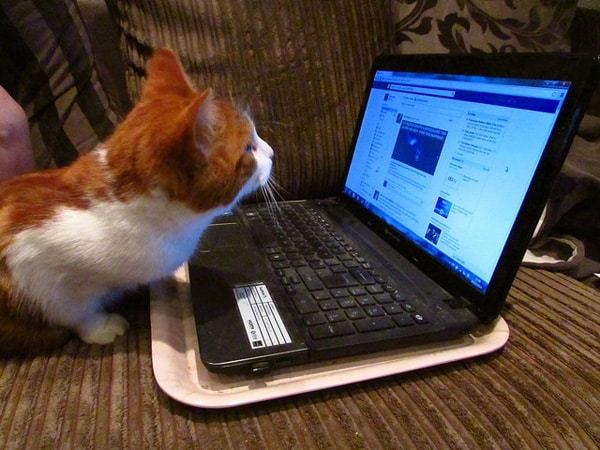 "Score!" Photo: Alex Blake
This cat just discovered his old girlfriend's relationship status is "complicated," and is planning on swooping in to win her back. The other guy is such a dirtbag and always posts those tacky litter-box selfies. She deserves better than that. He begins to stalk her profile. 
9. Brunch cat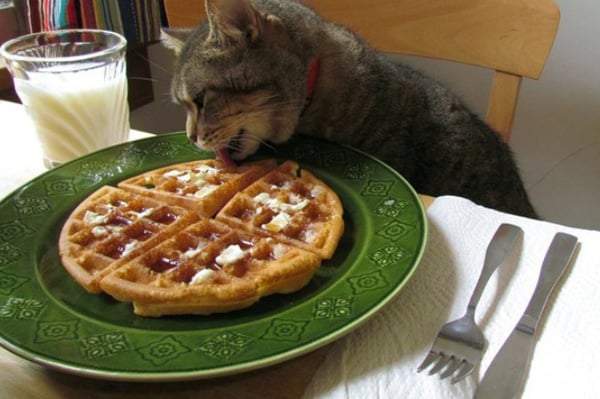 "I love a nice brunch." Photo: Marina Dickey
What's more delicious than eating a giant waffle in the middle of the day? Brunch is the best, and this kitty's ready to dig in, even before the other guests arrive. Some friends think she's rude, but she doesn't listen to them. Hey, this is a waffle in the middle of the day. She's all over it, and I don't blame her one bit.
Does your cat ever look like he or she's a human? Tell us about it in the comments! 
Read more by Angie Bailey:
About the Author: Angie Bailey is an eternal optimist with an adoration of all things silly. Loves pre-adolescent boy humor, puns, making up parody songs, thinking about cats doing people things and The Smiths. Writes Catladyland, a cat humor blog, Texts from Mittens (originated right here on Catster) and authored whiskerslist: the kitty classifieds, a silly book about cats wheeling and dealing online. Partner in a production company and writes and acts in comedy web series that features sketches and mockumentaries. Mother to two humans and three cats, all of which want her to make them food.