Editor's note: This story originally appeared in the May/June 2015 issue of Catster print magazine. Click here to subscribe to Catster magazine.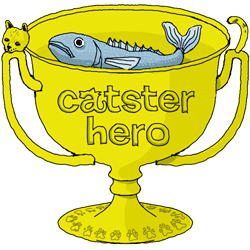 The subject of feral cats evokes many emotions. These outdoorsy, free-wheeling felines are often vilified or romanticized, and the subject can be as polarizing as politics. Some misguided individuals claim community cats live short, sad lives, but those beliefs are unfounded. Feral cats are just like you and me: We all have good days (yum, tuna!) and bad days (drat, raccoons ate my lunch), and days where we seize the opportunity to redefine ourselves.
Almost two decades ago, Sweetie Pie, a beautiful brown tabby with dainty paws seemingly dipped in white paint, and her doppelganger, Granny, were abandoned at a recreation trail along San Francisco Bay. They fit the feral cat stereotype by staunchly avoiding people. They mated with the other unsterilized, abandoned cats, and soon their group grew to nearly 200 cats.
Luckily, caring volunteers, members of the community, and city government got together and created Project Bay Cat, a humane trap-neuter-return and colony-management program to help the cats. Almost all the cats were spayed or neutered. Kittens were rescued and adopted out. Volunteers built feeding stations and shelters for the unadoptable cats, and they committed to providing them with daily food, water, and monitoring.
Finally, they were getting the care they deserved. But life, even for fortunate cats, can be unpredictable, and when Sweetie Pie lost her best friend, her life took an unexpected turn.
Harry was Sweetie Pie's comrade. Their life together was a pas de deux, and when Harry passed away because of old age, the solo act was not working for Sweetie Pie. The senior, deaf cat was suddenly all alone. She had never been all by herself before, and throughout her 18 years had never accepted human touch. But her health was faltering, and the folks at Project Bay Cat found her a foster home.
Patra Albrecht, a longtime volunteer, agreed to provide all the care and patience the beloved cat required. Sweetie Pie had not been in a home before, so the situation might have seemed daunting. Yet she weighed a mere four pounds and came down with an upper respiratory infection, so the amenities of a loving home were welcome.
Sweetie Pie doesn't just accept her new digs, she relishes every moment. Even Patra's gentle caresses now relax the cat who for years had avoided human contact. Sweetie Pie purrs the moment she's touched. And a surprise awaited.
See, this wasn't Patra's first time acclimating feral cats for retirement. She had taken in another cat who for years had eschewed people: Granny, who volunteers believe is Sweetie Pie's sister. Last year, Granny began losing weight, though her appetite was ravenous. When a veterinarian determined the cat needed a diseased thyroid removed, she went to Patra's home to recover following the surgery. Granny quickly realized that life indoors was incredible and that she loved watching TV, especially from her preferred spot: her new mom's lap.
After all these years apart, Granny and Sweetie Pie are being reintroduced to one another in a home that will ensure their golden years are glorious. From prowling the nighttime shoreline to watching Dancing with the Stars, these two kitties show that love saves the day.
Learn more about Project Bay Cat on its website and its Facebook page.