The feline leukemia virus, or FeLV, is a serious and incurable disease that suppresses the immune system and makes cats susceptible to a wide variety of diseases and symptoms. While FeLV-positive cats do face additional challenges, the disease is not always a death sentence, and many cats do go on to live long, happy lives. There are many FeLV-positive cats in need of forever homes, and while not everyone is able to welcome one into their life, they can make great companions.
I recently got to know some FeLV-positive cats at House of Dreams, a cat shelter in Portland, OR. House of Dreams is a no-kill, free-roam shelter with a special area for cats with feline leukemia. It is in an actual house in a residential neighborhood; from the outside you would never know that it is home to more than 50 cats.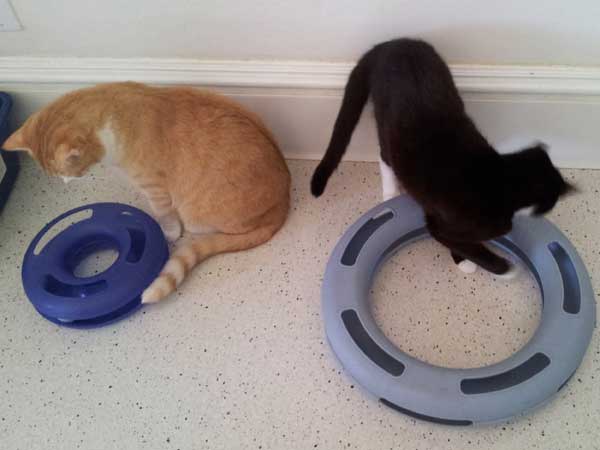 When I walked in I saw contently purring cats on shelves, in windows, and on top of the refrigerator. There was even a cat in the kitchen sink when I went to wash my hands! While House of Dreams does try to adopt as many cats out to good homes as possible, it is also designed to provide a happy life for the many cats who may never be adopted. No cat wants to live out the rest of her days in a cage, and at House of Dreams, cats feel right at home. During my time there, I saw cats playing, climbing, and cuddling with one another.
While House of Dreams has a separate section for FeLV-positive cats, it still offers plenty of cozy spots to nap and plenty of space to play and explore. It is one of the few shelters in the area that accepts FeLV-positive cats and is currently home to 15, with more cats on the waiting list. Eileen Shatrosky, the founder of House of Dreams, gave me a tour and introduced me to all the kitties.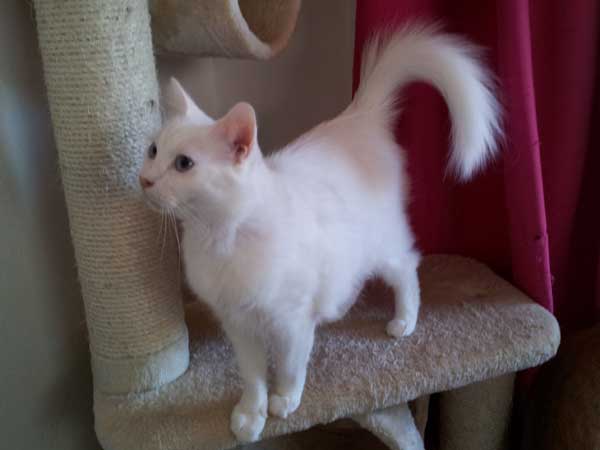 I made friends with several cats, from Aischa, who is 11, to Coco, who is just 15 weeks old and completely adorable. Coco is a longhaired black-and-white kitten and a recent addition to House of Dreams. She is still in a cage until she is fully vaccinated, but she is as playful and loving as any kitten.
Many of the cats are very bonded with one another, and some even routinely share cat beds and cuddle as they sleep. Only one cat, Aurora (who has a stunning smoke coat), would rather not socialize, but even she seems perfectly content to share a space with the other cats as long as she doesn't have to interact too much.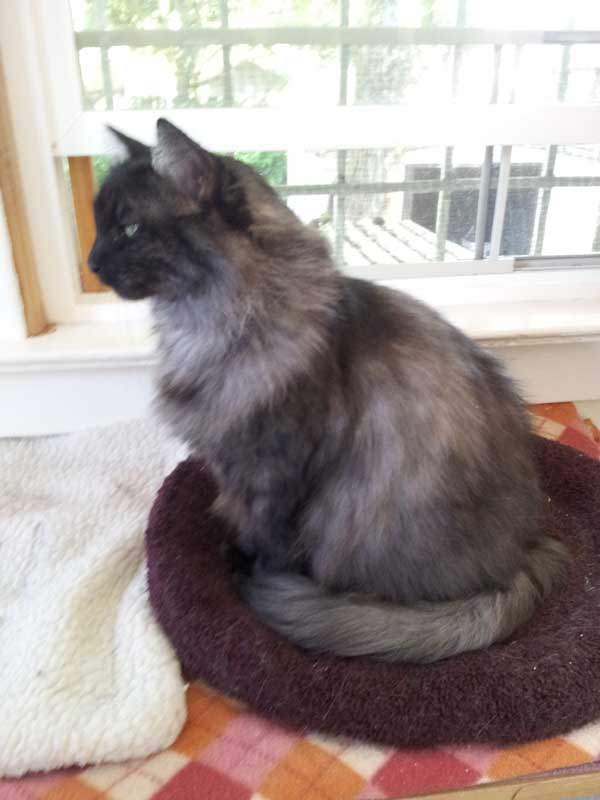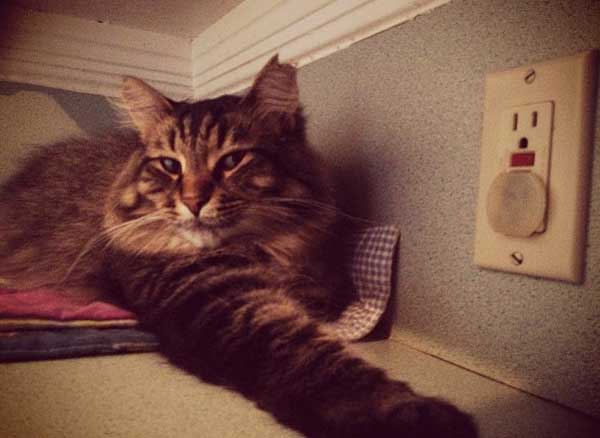 "My feeling is there's a sweetness about [FeLV-positive cats] that no other cat possesses," Eileen says. "I believe in my heart that they know something is different about them, but they accept what has been given to them and get on with life, living each day to the fullest."
Many FeLV-positive cats at House of Dreams have lived long lives — a cat named Pablo lived to the age of 15, and current resident Willie is 23! Many have also been adopted into loving homes. But with limited space, a waiting list, and calls coming from all over the country trying to find a place for even more FeLV-positive cats, every space is valuable. The more cats who are adopted, the more spaces there are for cats in need. House of Dreams can help educate people about the needs of FeLV-positive cats and walk them through anything that might happen with their new feline friend.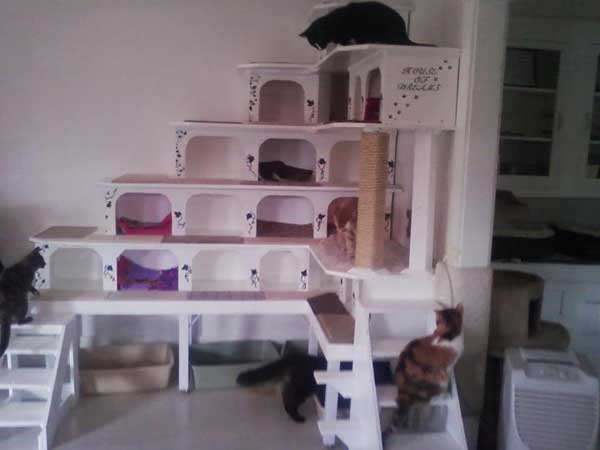 One complication in adopting a cat infected with FeLV is that the virus is contagious and can be transmitted through saliva. FeLV-positive cats should be kept indoors and separated from cats without the virus, since it can be shared through grooming, biting, shared food and water dishes, and litter boxes. The virus cannot, however, be transmitted to humans or other animals, and can only be spread through moist contact — so if a FeLV-positive cat lives in a different part of your home than an FeLV-negative cat, the negative cat will not be exposed. Of course, having to keep cats separated might not be a practical option for everyone.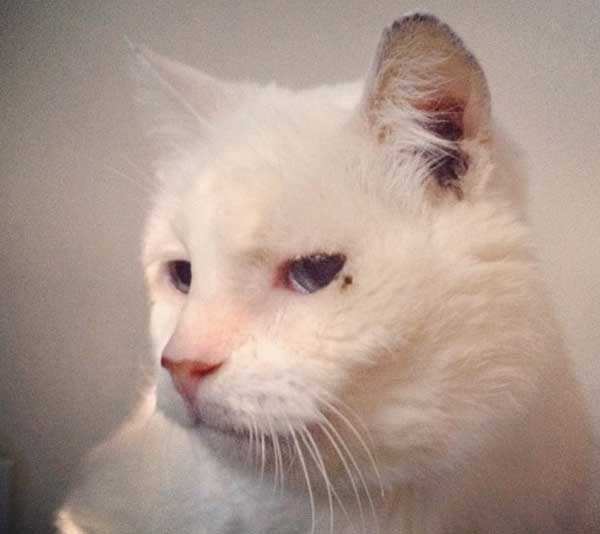 Adopting a cat with FeLV can be extra work, but that doesn't mean they can't be great pets. According to Eileen, "You need to watch them. You have to watch their immune system, you watch their eating habits, you make sure they're not becoming anemic. But they can live a good life."
In addition to anemia, cats infected with FeLV can get liver disease, intestinal disease, and cancer. If the immune system is depressed by the virus, the cat can be susceptible to infectious diseases and poor healing of wounds. FeLV-positive cats may sometimes have a harder time, but, as Eileen told me, "They need a chance just like any other cat does."
If you want to learn more about feline leukemia, check out Catster's Primer on Feline Leukemia and Winn Feline Foundation's article on FeLV.
Do you know of a rescue hero ÔÇö cat, human, or group ÔÇö we should profile on Catster? Write us at [email protected].