To Brandy the Cat, the hierarchy in our house goes like this:
Brandy
My husband, aka Her Jester
Her toy lamb, "Lamby"
Me
Then, mewling at the bottom, my poor little scaredy-cat, Tailsy
My husband and Brandy have this weird bond, and she doesn't even TRY to hide the fact that she prefers him — even though I give her expensive raw food, bring her offerings of freeze dried treats, and find her new and fun whale-shaped scratching apparatus. I think it has something to do with the beginning of their relationship.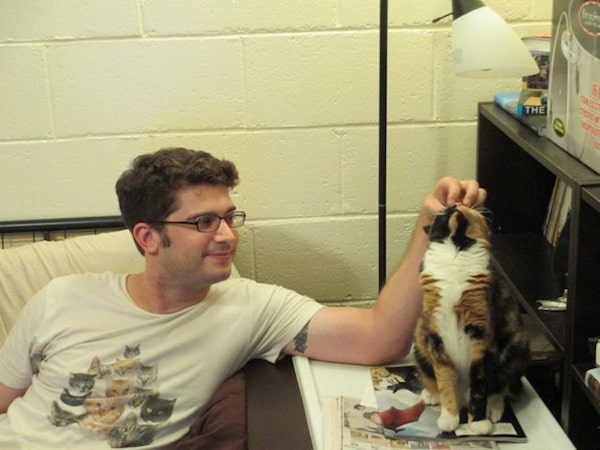 Way back in the dark ages of 2000, my husband adopted a little ball of tricolor fluff named Brandy the Cat (that is in fact, her proper name). The first thing she did when he got her back to his New York apartment was hide between the fridge and the wall, and appear to "die." My husband freaked out. He tried to get her out but her body was rigid and unmoving. He tried to tempt her with cat food, tuna, catnip — to no avail. He really believed that somehow he had killed his new cat.
Finally, after calling in reinforcements (his cat-whisperer roommate) and camping out on the kitchen floor for a few hours, my husband walked away to call a vet about his new kitty's, uh, "condition." Within in minutes, Brandy emerged yowling at him with a gleam in her eye that could only be translated as, "Gotcha. I have you exactly where I want you now."
And that's how it's been for almost 13 years. She owns him.
When I come home from work, I often hear conversations between the two of them through the open window.
"Brandy, I'll feed you when it's feeding time, don't try to trick me … you're so beautiful."
"Meow, meow. Meeeew."
When I enter, she looks at me witheringly as if to say, "You again, Human Female. You interrupted us."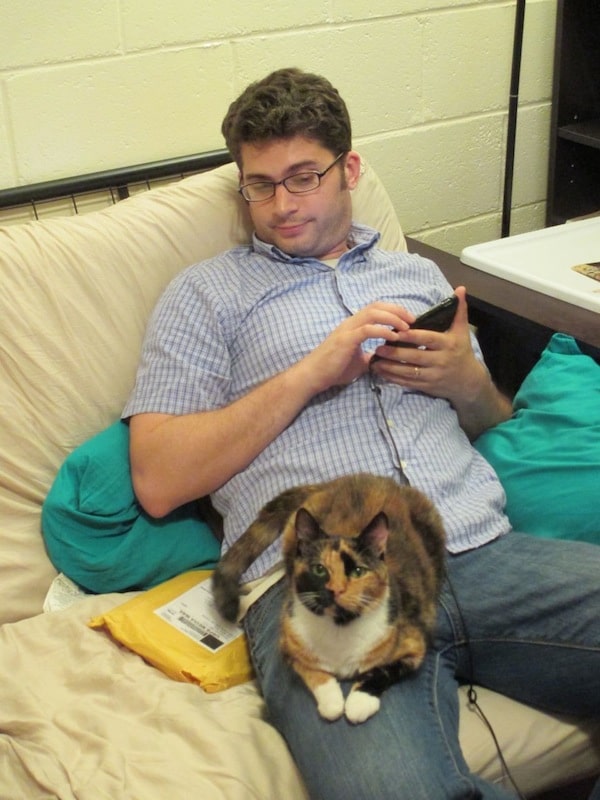 She always chooses his lap to sit on, "kitty kisses" are his domain alone, and if I even ATTEMPT to climb into bed when she's occupying his attention — I kid you not — she will bite me.
Sure, she can be sweet to me, and I am devoted to her very much BECAUSE of her cranky, demanding spirit, but if she's in a mood, I am most certainly the one to be punished. Until my husband goes away.
And then, it's UPGRADE TIME!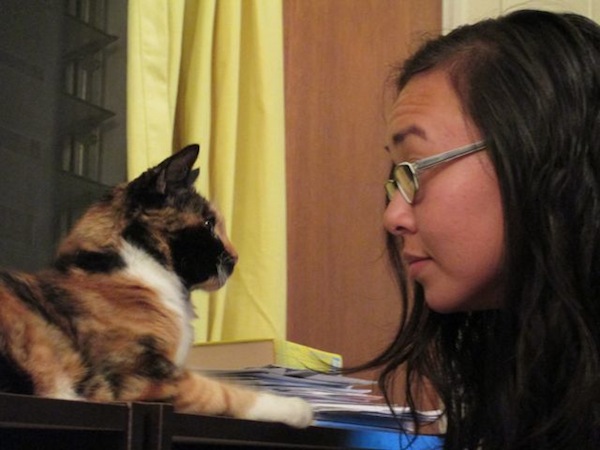 You see, my husband is a Ph.D student in Japanese theatre, so that means he has to regularly go to Japan for long periods. And when he's gone, I suddenly become the apple of her eye, the tuna in her turkey. (I make the cats a little "tuna turkey" for Thanksgiving every year — don't you?)
If it's possible, she actually becomes adoring to me. Following me around, chirping hello to me when I come home, insisting on snuggling up on my tummy when I sleep. I am even the recipient of some "much needed" grooming.
She also chooses to sit on MY computer. (Okay, it's the only one, BUT STILL.)
I woke up once to find her nuzzling against my cheek, purring, and for a moment, I feared that this was the day she was finally going to do me in. Nope, she was just being LOVING. And while yes, of course, I do miss my husband when he's away for months or weeks at a time, a part me — my overachieving, "LOVE ME!" side — gets a little giddy over the favor I will receive from The Grand High Dowager of our home.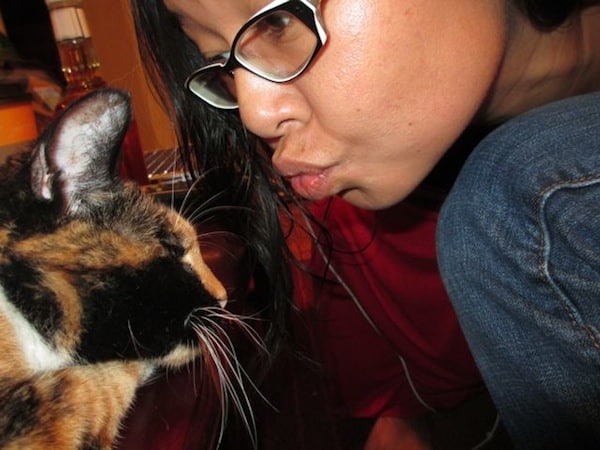 Perhaps, and I'm not oblivious to this possibility, it's that with my husband gone, that fear of abandonment kicks in (as that's how he came by her in the first place) and she holds tight to me, afraid that the end is nigh. Once, I went away for a couple weeks when my husband was in Japan, and she had only herself and our roommate to torture.
When I returned, it was the saddest thing I've ever seen. It makes my heart hurt just to think about it. Brandy was a matted, stinky mess of fur, as she'd stopped cleaning herself while I was gone. The moment I sat down on the bed with her for some quality snuggle time, she furiously got to cleaning herself AND me, almost euphorically. I will never do that to her again.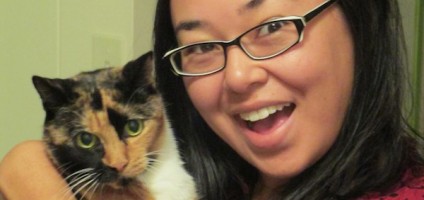 So whether she regularly admits it or not, she needs me, and I need her. We are each other's comfort when our "main man" is gone. In the loneliest days, when my husband first went away for a whole year, nothing brought me more comfort than her little smiling, blinking "hellos" and gentle paw taps for attention, as I typed on my computer.
Even Tailsy (our largely antisocial, camera-shy kitty), who is most often met with disdain or the "you ruined everything" stare, is thrown a bone. Hisses are replaced with vaguely acknowledging glances, and the coveted spot by the screen door is begrudgingly shared.
In the coming weeks, as we prepare for my husband to go off and get his Japanese on, we are both a little wary and sad. Brandy knows something is up, and I am steeling myself against a heavy case of "The Lonelies." But one thing is for sure, I am looking forward to the bounty of affection that will be imparted upon me.
I love Brandy the Cat no matter what, and she knows that (hence the abuse). But when she actively returns the love, the victory is so, so sweet.
Read more by Louise Hung: