My friend Patrick and his three cats are world travelers. They've traveled together to several states from the East Coast to the West Coast. Internationally, the cats have been to Mexico and Vietnam with Patrick, and they almost got to visit China, too. I spoke with him recently about his experiences, and he had some tips to share.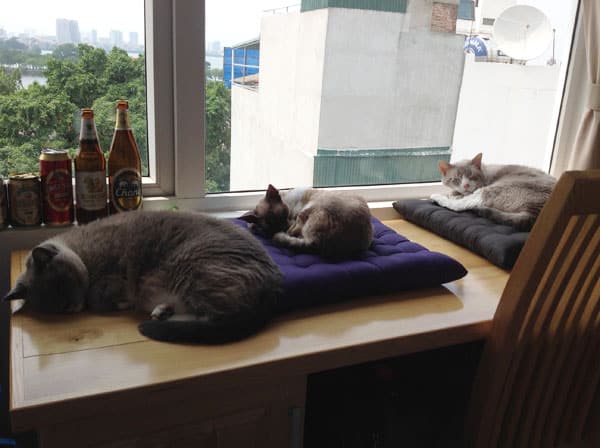 His kitties are Huck, a male Siamese-tabby mix adopted from a rescue in Atlanta at eight weeks; Finn, a male Blue-Point Siamese with some white mixed in, adopted from a rescue in Atlanta at six weeks of age; and Sawyer, a chocolate-colored Cornish Rex from a breeder in California. Patrick was in California on business and attended a cat show, thinking it would be a great place to see the latest cat toys and treats. Little did he know that breeders would be there with their cats. At the back of the auditorium he saw this beautiful Cornish Rex, his first time seeing the breed. Within a few days Sawyer was part of the family.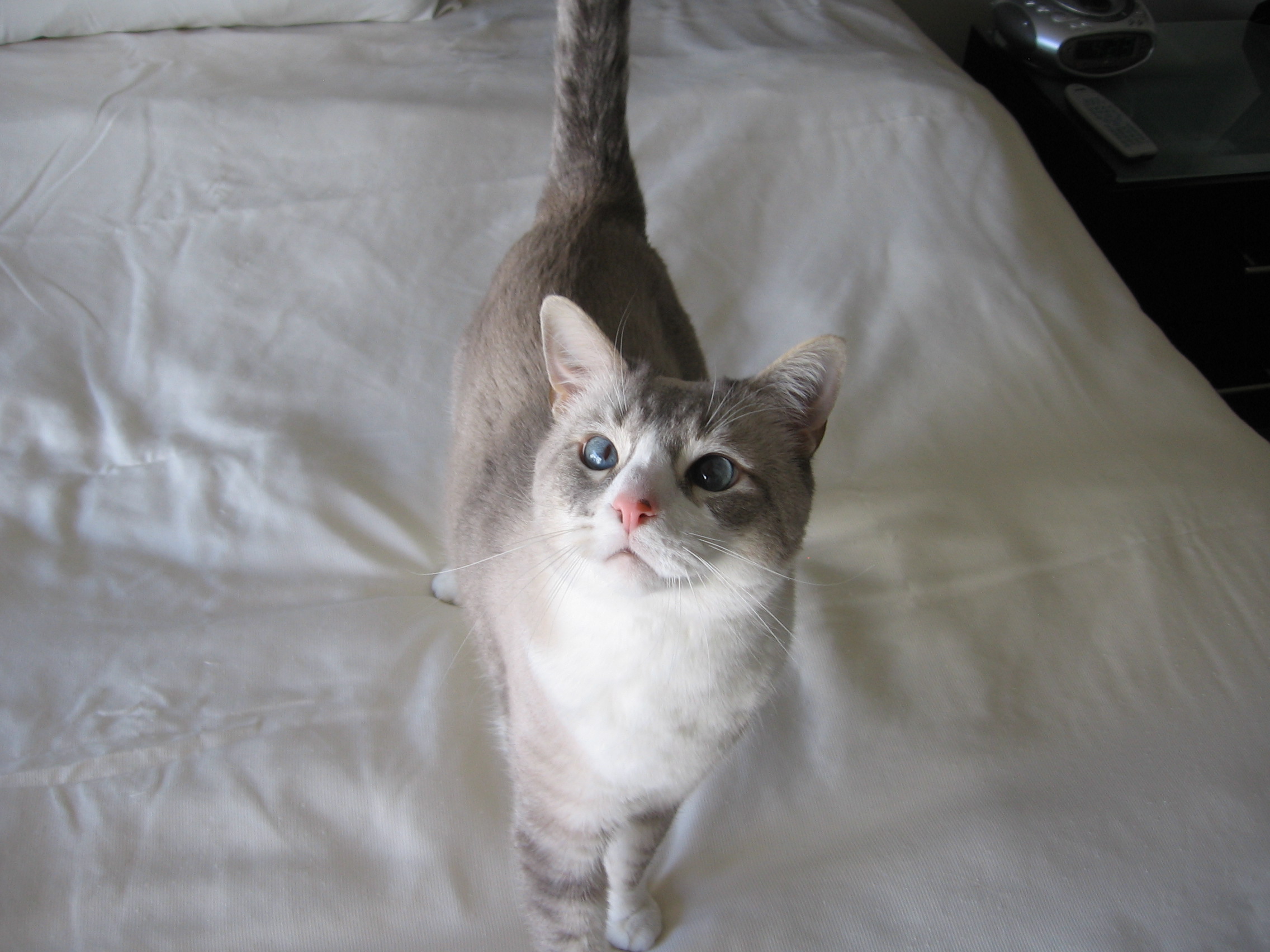 Patrick works as a software consultant in the International division of his company and is often sent on far-flung assignments. Some last for a few weeks while others have lasted as long as four years. He does research to determine whether he'll be able to bring his cats. If it's a short trip, he might choose to leave them in the care of a pet sitter in their own home. But most of the time, they accompany him.
Patrick carries each cat in an individual plastic cat crate that has been approved by the airlines. (You can visit airline website for specific crate requirements.) He doesn't medicate them because he'd rather they be alert.
"I found medicating them really didn't help and actually could make them sick when traveling," Patrick said.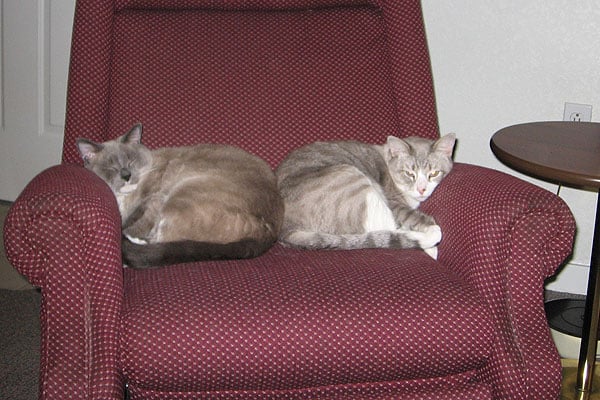 The flights can be stressful for Patrick and the kitties. Before leaving the cats with the airlines to handle, Patrick makes sure each crate is secure. He puts several necessities in the crate with them including a piddle pad, a towel with Patrick's scent on it, a toy, and some pieces of ice in a bowl or a wet sponge to help them stay hydrated. He tried placing food and water inside the crate during one trip. However, he found the food was untouched and the water spilled and made a mess.
"I find the airlines are somewhat vague on what is required and each have their own requirements," Patrick said. "Making sure the door and sides are latched and secure is important. Using plastic twist ties can add to the security is a good idea."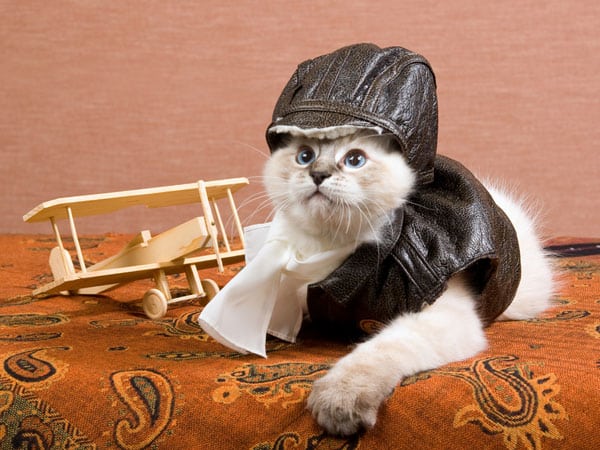 "None of the cats has ever gotten sick or urinated during the trips," Patrick said. "Once we arrive to our final destination, it takes them several days to get adjusted."
Domestic travel is a little easier than international. Each airline has its own rules for traveling with your cat, in addition to the Federal Aviation Administration rules. You must use specific airline-friendly crates and apply for the necessary travel arrangements and certificates. This usually requires you to have the most recent veterinary records, proof of recent rabies vacccination, microchip verification, and a stamp from an approved U.S. Department of Agriculture veterinarian.
International travel requires additional effort because each country has its own regulations. Checking with his local vet is always Patrick's first stop. Other information is located on the USDA website. Patrick also reviews his destination country's embassy website to learn the rules for bringing cats with him.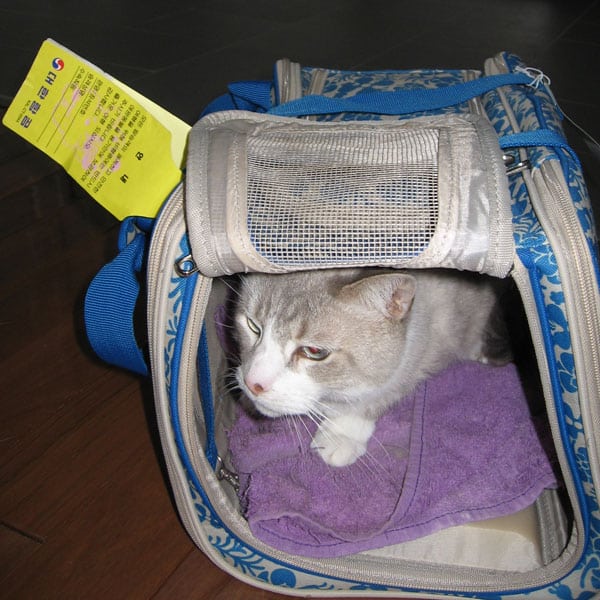 Patrick has been fortunate with most countries regarding quarantine laws. In Mexico, his cats were held up in customs for a few days because of some paperwork and fees. Per the suggestion of the airline, he hired a broker in Mexico to handle paperwork and procedures on his behalf. While the broker got his cats released to him, the process was more difficult than he believed it should have been. Thankfully, getting his cats out of Mexico for the flight back home went more smoothly.
"It was supposed to be easier having a pet broker handle everything but it was more like a nightmare," Patrick said. "They fed and took care of my cats but [the cats] were not supposed to be held at all. You have to watch out for some unscrupulous people out there."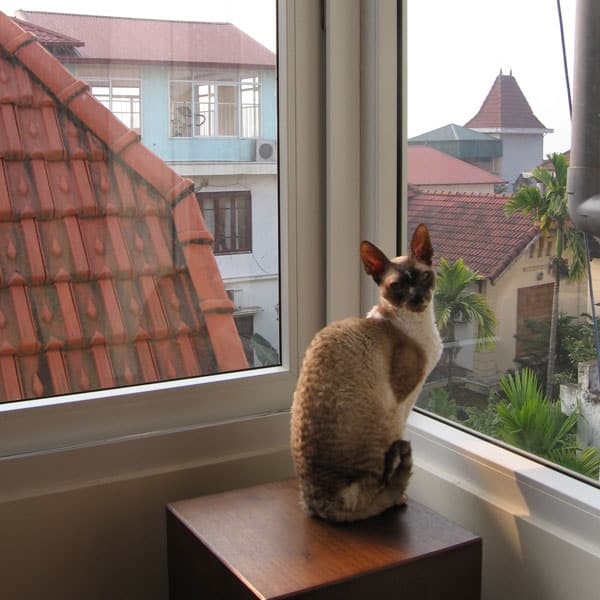 Patrick and his cats have lived in an apartment in Vietnam since August 2013. Fortunately, the long-haul flight to Vietnam went well; Patrick was delayed a little longer than expected in customs, but all three kitties were waiting for him in the baggage claim area.
Once they arrive in new homes and settle in, life is pretty normal.
"I go to work, they always stay inside, and I come home from work," Patrick said. "I get a co-worker or a trusted caretaker to watch the cats if I travel for work or pleasure."
When Patrick thought he would be going to China, he researched the country's quarantine laws and learned that while quarantine is mandatory, you can do it inside your home, although the government maintains the authority to perform surprise inspections to ensure the animals are indoor-only and are well cared for. Unfortunately, his work project was shortened and the China trip was scratched.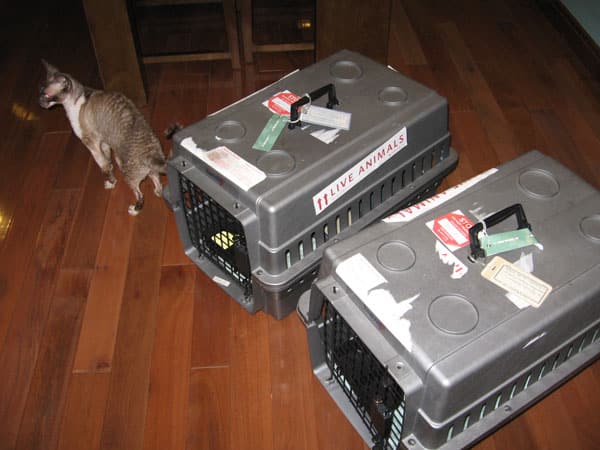 There are always adjustments in new countries. Patrick has found that most nations he has visited treat the cats like any other animal.
"They don't understand that they are family to people from the U.S. I often receive funny looks from people who don't understand that I treat them like my kids," he said.
In his experience the cat food available in stores has often been lesser quality than what's available in the U.S.
"It's very difficult to find grain free, special diet or perscription foods," he said, adding that westernized pet food stores or local vets are sources for higher quality food. Even then, he sometimes has found the brand his cats prefer but not always the selection.
Finding a vet while away from home can be a challenge as well. Patrick asks co-workers for recommendations and does some local research, but depending on where he is, the right vet can be many miles away. Patrick finds that most vets he deals with speak English. He will sometimes bring a colleague along just in case. The price for an office visit and any treatments are usually less expensive than in the U.S. but that can vary.

Despite the challenges of travel, Patrick says that having Huck, Finn, and Sawyer with him is overall less stressful for everyone. They provide each other with love and support even though they're in unfamiliar parts of the world.
"I really don't get homesick, and I love to travel," he said. "I'm usually busy during the weekdays with work and exploring the countries on the weekends."
The cats are fine as long as they have their food, treats, toys, and a comfortable place to sleep. Of course having their human daddy their doesn't hurt either.
Read more about traveling and cats:
About Tim Link: All American guy, loves to rock out to Queen while consuming pizza and Pinot Noir, prefers to associate with open minded people who love all critters, considered to be the literal voice for all animals ÔÇô Author, writer, radio host, Reiki Master, Animal Communicator and consultant. www.wagging-tales.com